Equation library item
HelpNDoc's built-in equation editor can be used to define mathematical expressions. The editor generates images of the defined expression, which is displayed in all supported documentation formats.
Overview of the user interface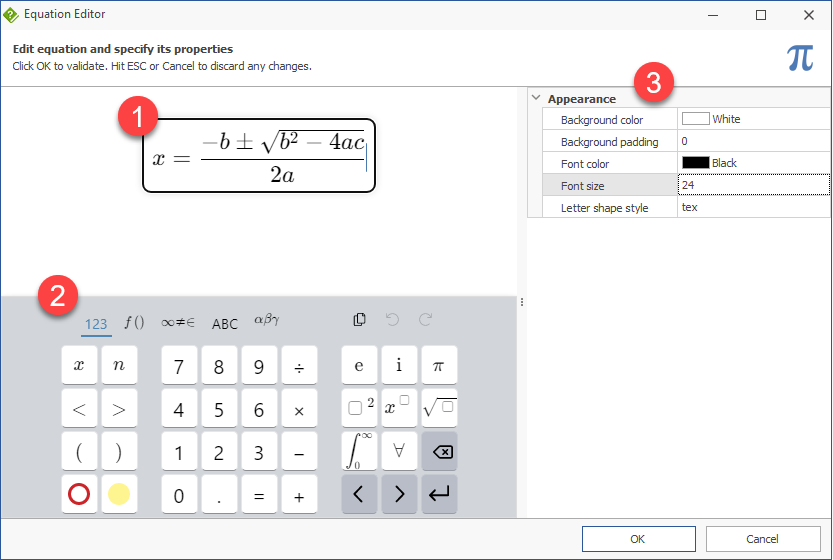 1. Equation editor
Input equation content using either the physical or virtual keyboard.
2. Virtual keyboard
Displayed when the equation is focused, the virtual keyboard can be used to input various notations and features of the equation editor. See also the physical keyboard shortcuts available to manage the equation.
3. Appearance and properties
Define various settings about the currently edited equation:
Property

Description

Background color

Define the background color of the equation

Background padding

Define a padding around the equation content which is filed by the background color

Font color

Define the color of the equation content

Font size

Define the size of the font

Letter shape style

Control which letters are automatically italicized:

| | | | | |
| --- | --- | --- | --- | --- |
| | xyz | ABC | αβɣ | ΓΔΘ |
| iso | xyz | ABC | αβɣ | ΓΔΘ |
| tex | xyz | ABC | αβɣ | ΓΔΘ |
| french | xyz | ABC | αβɣ | ΓΔΘ |
| upright | xyz | ABC | αβɣ | ΓΔΘ |