Painlessly create the most attractive documentation
HelpNDoc includes an extremely easy to use editor to customize the style of the generated DocX and PDF documents: a few seconds are required to set up customized page settings, cover pages, headers, footers, table of contents and titles styles.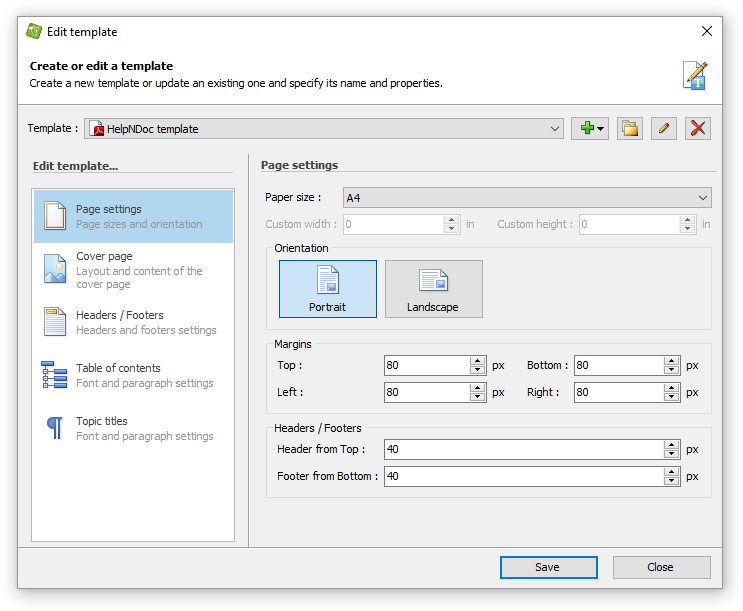 Writing relevant content is an essential part of creating the most useful manuals, documentations or eBooks and it would be a waste if readers don't take the time to navigate through this great content as they find it ugly or with an outdated look. Thanks to HelpNDoc's powerful template editor, it is extremely easy to create customized styles for your Word DocX and PDF documents.
You can customize page settings such as paper size, orientation and margins as well as headers and footer position within the page in a few seconds. The WYSIWYG cover page, header and footer editor provides advanced formatting options to help create the most unique customized look. And the text layout editor is the perfect way to customize the table of contents and titles of your documents.
Reuse and duplicate your templates in a click
Each template created in HelpNDoc is saved on the disk and can be reused for multiple projects: creating a branded documentation is as easy as selecting a custom template.

Once a template has been created, it can easily be re-used for other documentation files thus allowing the creation of multiple homogeneous documents without extra work: HelpNDoc will read the template at generation time and use its settings for the newly generated documentation. Need to change the logo or the look of those generated documentation files ? Just edit the template once, and re-generate them in a few clicks.