HelpNDoc: The Powerful and User-Friendly Help Authoring Tool for Markdown Documents
The HelpNDoc help authoring tool can be used to import, edit, and export Markdown documents. HelpNDoc provides many features that are beneficial for technical writers, such as a topic editor, spell checker, media library, and more. Markdown support in HelpNDoc allows you to take advantage of the simplicity and flexibility of the Markdown syntax while benefiting from all of HelpNDoc's features. HelpNDoc makes it easy to produce high-quality documentation in multiple formats from a single source.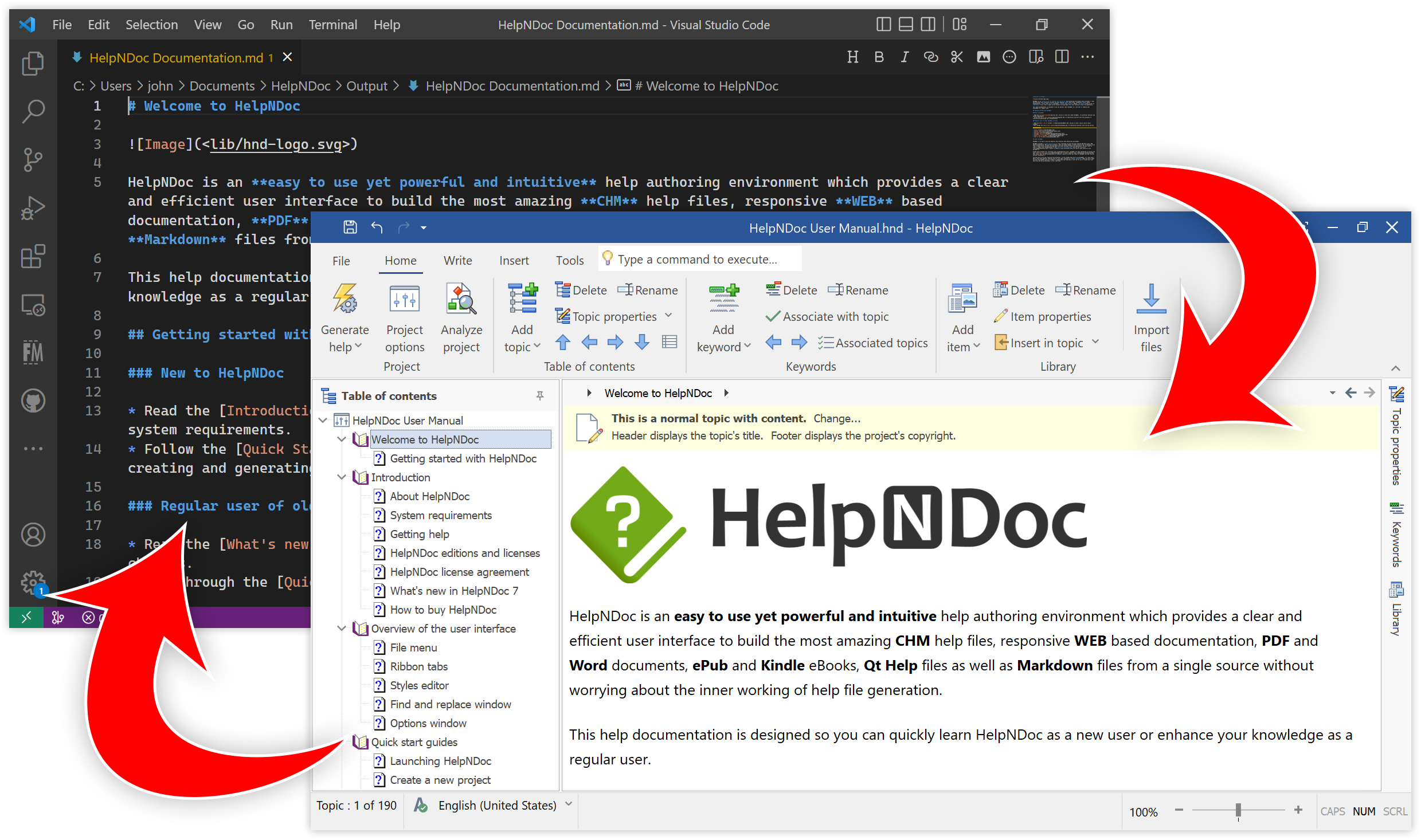 What is Markdown and how is it used?
Markdown is used by a variety of audiences, including software developers and technical writers as it is a simple formatting syntax that focuses on content rather than style.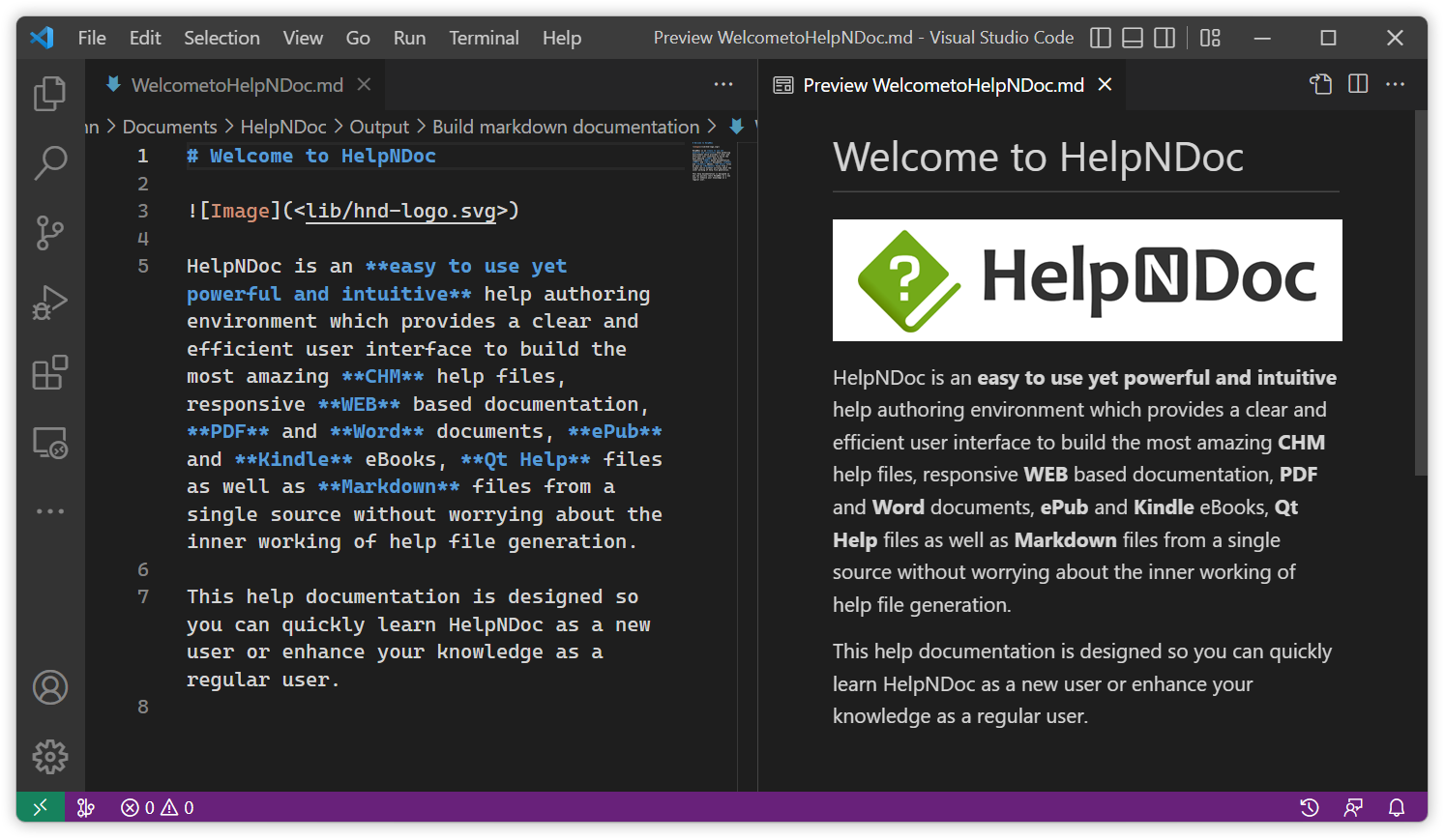 Markdown's easy-to-read, easy-to-write plain text format makes it ideal for data exchange and format conversion: many tools can parse Markdown documents to process their content and convert them to other formats such as HTML.
However, the Markdown syntax has several shortcomings when used as a documentation format: it is not designed for long-form documents, it lacks structure and cross-references, it is very hard to manage related media items…
That's where a help authoring tool such as HelpNDoc comes in: it can import, edit and export Markdown documents while providing all the features needed to produce high-quality, structured, and error-free documentation in a short amount of time. And it's Free 😍
HelpNDoc makes the complicated process of help file generation simpler and more efficient
If you are looking for a good no fuss Html Help creation application, look no further than HelpNDoc
Only a few days were necessary to transform our papers in a fully integrated Help file
I downloaded and tested quite a few of the "best" products and non held a candle
No other HTML creators out there come close in style, ease of use, and with such a reasonable price tag
How to use something else for creating help files .chm ? Impossible
It is truly a relief to finally find a help file development product such as yours
Awesome product as I have been looking for something clean and easy to use and HelpNDoc is certainly it
It is far above any of the other free or inexpensive help creators that I've looked at
I have dreamt of this program for years. Thanks
I do not think help creation can get any simpler
HelpNDoc is by far the most fast, stable and easy-to-use help authoring tool I had used ever!
Excellent product at an excellent price in a market dominated by providers thinking that a HAT should cost as much as an entire development IDE
HelpNDoc remains the only serious way to build CHM docs for me. Thank you again!
Benefits of using a help authoring tool such as HelpNDoc to produce Markdown documents
The HelpNDoc help authoring tool is a fully featured help authoring environment, which can be used to write and produce help files, user documentation, eBooks, documentation websites and more. It can also generate Markdown documents from a single source.
There are many benefits to using HelpNDoc over a plain text editor to produce Markdown documents:
HelpNDoc can generate a table of contents, an index, and cross-references automatically. Using HelpNDoc's straightforward table of contents editor, its user-friendly topic editor, its keywords manager, and its powerful library of media items, it is very easy to produce complex and structured documentation.
The editing interface is designed for long-form documentation with features such as heading levels, styles, spell checking, images, and more.
HelpNDoc simplifies content reuse thanks to snippets and images which can be edited from a single place and automatically updated wherever they are used throughout the project.
HelpNDoc projects contain every topic and media element in a single file, making it easy to work on large documentation over time.
In addition to Markdown, HelpNDoc can generate output in multiple formats from the same source project, including CHM, DocX, PDF, Web Help, eBooks, Qt Help, and more.
Already have Markdown content? You can import it to your HelpNDoc project!
If you already have Markdown content, HelpNDoc can import it and convert it to one of its native topics, or split it based on heading levels to produce a complete project hierarchy. This allows you to take advantage of HelpNDoc's features without rewriting your existing content.
Import a Markdown document into your documentation project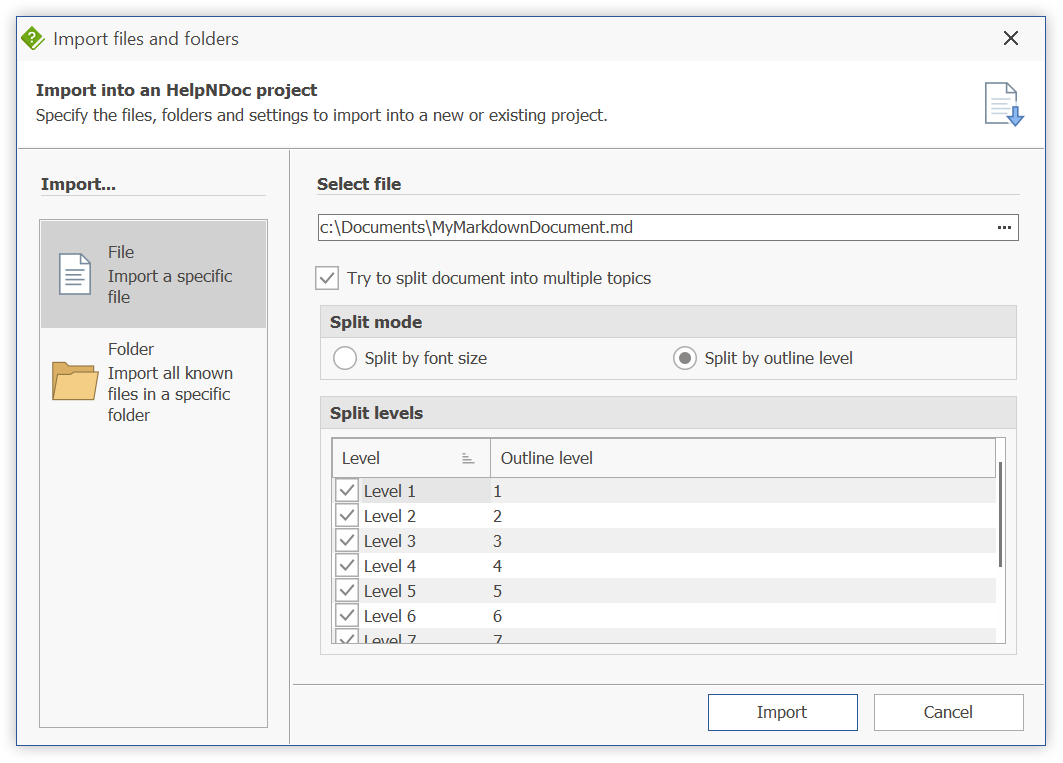 HelpNDoc can import any Markdown document into existing documentation projects, or split it based on its content to produce a complete hierarchy of topics. Simply open HelpNDoc, select the "Import" command from the "File" menu, and choose the Markdown file to import.
HelpNDoc can also import folders containing multiple Markdown documents (or any other formats supported) into a new or existing documentation project, creating one topic per document.
Import Markdown documents at generation time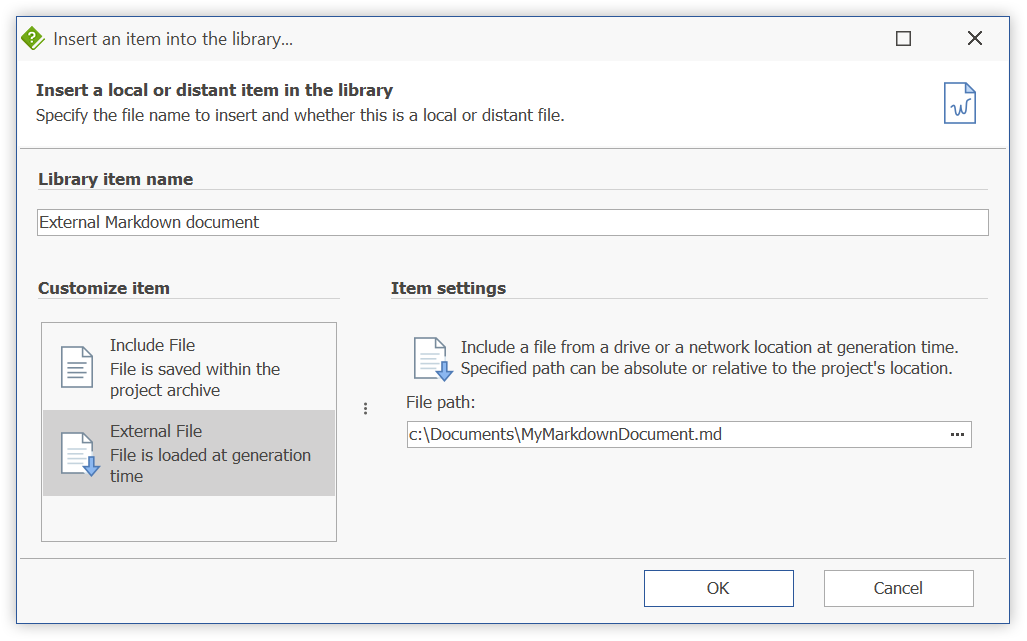 If you'd rather manage your Markdown documents outside of HelpNDoc, it can also import external Markdown documents at generation time. This allows you to use HelpNDoc's powerful generation engine without having to convert your content first.
To do this, simply add the document to your library as an "External File", place it anywhere in your topics, and HelpNDoc will automatically load and import it the next time the documentation is generated.
Other features and benefits of the HelpNDoc help authoring tool
In addition to being able to import and export Markdown documents, HelpNDoc also provides many other features that can be useful for technical writers.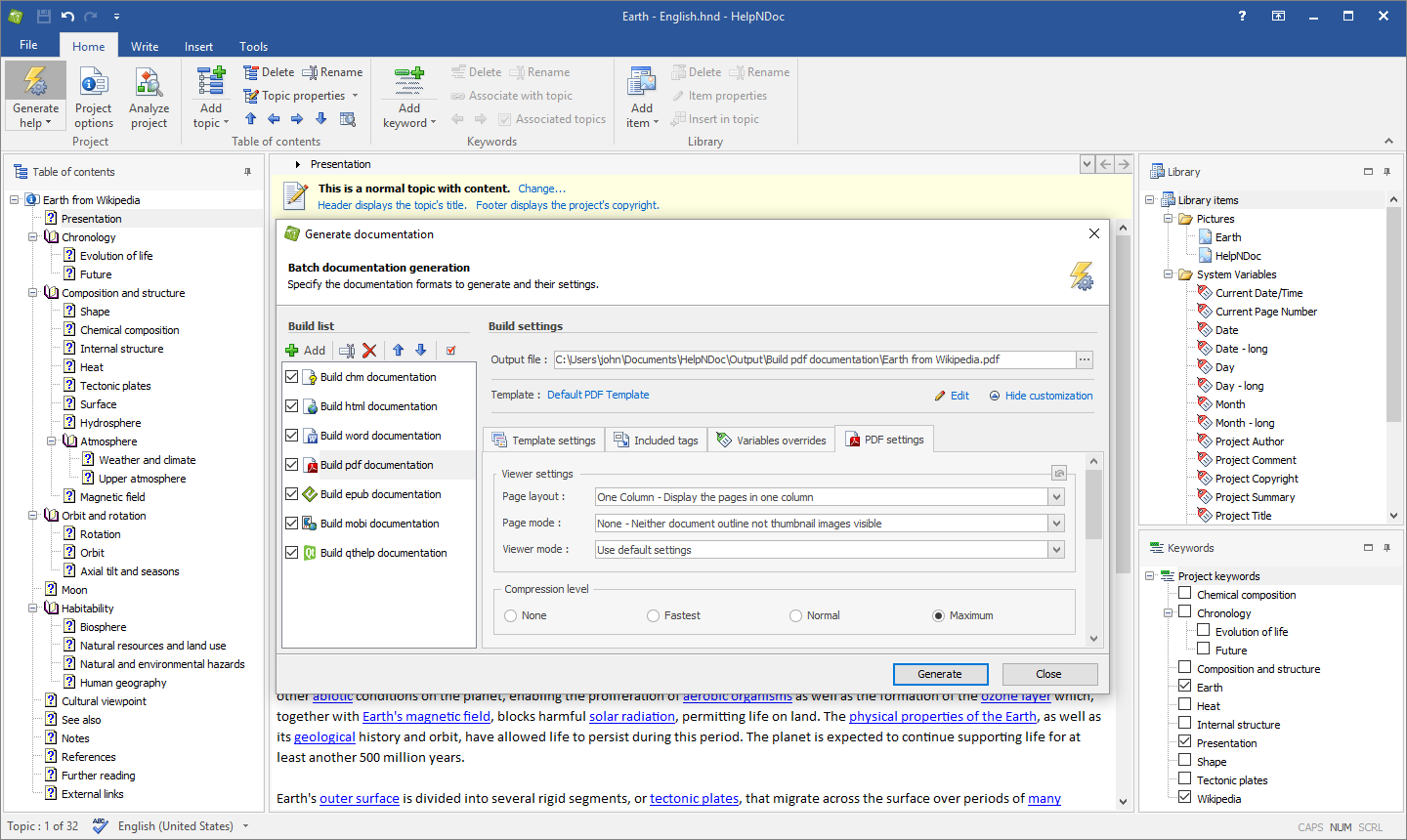 Here are some of the features and benefits of the HelpNDoc help authoring tool:
It includes a WYSIWYG editor for those who prefer a what-you-see-is-what-you-get interface.
It has a built-in live spell checker to make sure that your documentation is error-free.
It features a media library to easily manage images, videos, and other media items from a central place.
A project analyzer is available to check for broken links, unavailable media items, misspellings, and more.
It includes a comprehensive help file and dozens of step-by-step guides to help get started.
It is Free for personal use and reasonably priced for other usages.
Want to create great documentations?
HelpNDoc is free, fully functional, and easy to use.
Produce your first multi-format documentation in the next minute or so.
HelpNDoc is a powerful and user-friendly help authoring tool that can be used to import, edit, and export Markdown documents. It provides many features that are beneficial for technical writers, such as a WYSIWYG editor, spell checker, media library, and more.
To learn more about HelpNDoc, check its feature page. You can also download HelpNDoc today for free and see how it can help you create better documentation! Have any questions, our HelpNDoc experts are here to help.