HelpNDoc 2.0.1.4 is ready to download, featuring PDF table of content generation, HTML keywords generation and various bug fixes including the generated PDF file which wasn't always created in the specified path. As a reminder, there's only 23 days left to benefit for the special introductory discount for both the Standard and Professional Edition, which will expire the 30th of June.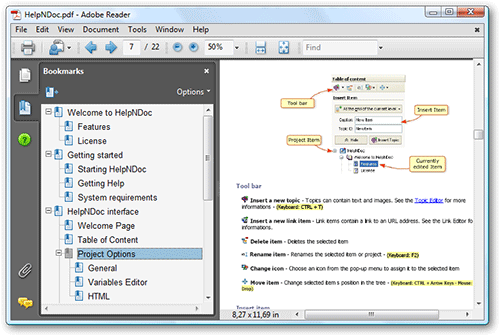 PDF Generation has been greatly enhanced and will now output the table of content of your generated documentation. This will be shown in the "Bookmarks" section of the Adobe Reader and includes link topics too: the user will be sent to the specified URL.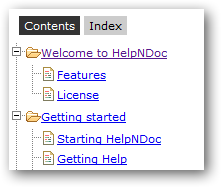 HTML Keywords are now automatically generated too. The HTML table of content contains a link to the "Index" section where all specified keywords are listed and linked to their associated topics. If a keyword is associated to multiple topics, HelpNDoc provides the list to the end-user.
Download the Freeware Edition of HelpNDoc or order now to benefit for the special discount before the 30th of June.
Change log
Version 2.0.1.4 – Release date: Jun 7, 2009
PDF generator creates the documentation's table of content

HTML documentation generator outputs the project Keywords

Spell checker button wasn't always enabled

Fixed the check for updates link

Access violation in some rare conditions when exporting Word and PDF documents

Exported PDF documentation wasn't always generated in the specified path
See also
---