HelpNDoc 2.1 is ready to download, featuring the much requested search functionality in the HTML generated documentation as well as various robustness improvements. As always, HelpNDoc is available for free for personal use without any limitation and is very low priced for commercial use.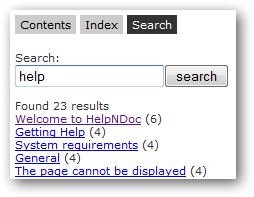 HelpNDoc 2.1 introduces a custom made JavaScript search engine to power the client-side searching functionality of the HTML generated documentation. This means that, without any complicated server-side technology, users will be able to search your HTML documentation with ease and speed.
PDF Generation is now more robust and the external files functionality has been totally rewritten to better handle HTML and Word documentation import. It is now easier than ever to include external files in topics.
Download the Freeware Edition of HelpNDoc or order the full version now.
Change log
Version 2.1.0.2 – Release date: Aug 2, 2009
Search functionality in HTML documentation

PDF Encoding bug

PDF Generation exception when bookmarks were not correctly set

Word generator produces smaller file sizes

External file's DOC import is more robust

External file's HTML import wasn't working properly

Fixed relative links in CHM generation so it behaves the same way as HTML documentation
See also...
---