The new HelpNDoc 2.2 is available for immediate download and provides lots of additions and improvements such as the enhanced PDF exporter which can generate 128-bit encrypted and compressed documentation with customizable user permissions and detailed viewer preferences.
PDF Encryption and viewer layout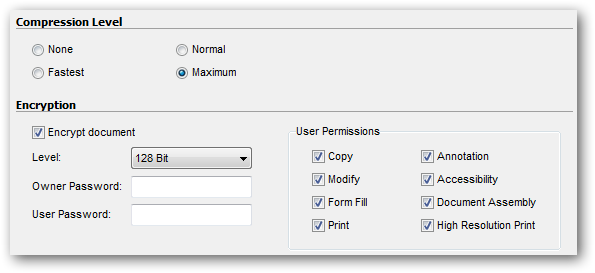 HelpNDoc now provides the ability to compress and encrypt the generated PDF documentation. Secured 40-bit or 128-bit password protected PDF documents can easily be configured to forbid user actions such as printing, modifying, copying…
The PDF viewer layout can now be fine-tuned to look exactly as you'd like. You can create a single page or multiple page flow, hide menus and toolbars or even show your documentation full screen if you'd like to create a PDF powerpoint-like presentation.
Extended table of content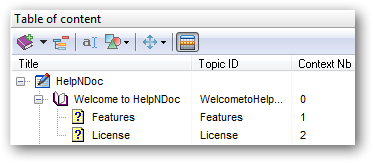 The table of content has been updated to provide an optional extended version. Just hitting the "extended" button will display a multi-column table of content where you can easily and rapidly edit the Topic ID and context numbers for each individual topic.
Enhancements and bug fixes
HelpNDoc 2.2 now includes an option to export a collapsed version of the HTML table of content by default, the possibility to insert page breaks within a topic and various bug fixes. Have a look at the detailed change log for more information.
Change log
Version 2.2.0.3 – Release date: Sep 5, 2009
Extended Table of content: Easily and rapidly edit topic ID and Context number

HTML Table of content can now optionaly be collapsed when generated

Advanced PDF output options: document encryption, compression and fine layout tuning

Possibility to insert / remove extra page breaks within the documentation

HTML search engine did not provide search results for numeric characters

HTML keywords would not always correctly show up with quoted topic titles

Incorrect character escaping in HTML table of content

Topic ID field didn't allow the underscore character
See also
---