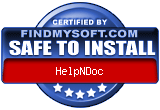 A new review from George Norman at FindMySoft.com finds HelpNDoc powerful, easy and safe to install. "If you decide to download and install the IBE Software-developed application HelpNDoc on your system, you will enjoy the functionality of an easy to use, powerful and intuitive tool to create help files" says the review before pointing out that HelpNDoc is "free of charge. This means you can get HelpNDoc, enjoy the functionality it provides, and keep your hard earned money in your pocket".
The review also mentions that HelpNDoc "download weighs in at a mere 3.5MB; even on a less than spectacular internet connection, it will not take long for a 3.5MB download to complete" and insists on the fact that the installation "is a simple, straightforward process that completes in just about as little time as it took to download the application".
In addition to the great HelpNDoc review, FindMySoft did an anti-virus check using the latest version of Kaspersky anti-virus and found out that HelpNDoc is "Safe to Install". "This means that the software contains no viruses, spyware, adware, trojans or backdoors and installing it poses no threat to the operating system. HelpNDoc can be installed with no concern by any computer user".

---