This is with great pleasure that we announce the immediate availability of HelpNDoc 3.0 which can be downloaded and used freely for personal and evaluation purposes. Have a look at the feature tour page to have an overall look of all the new and updated features of HelpNDoc 3.
Completely rewritten yet easier to use than ever
Fruit of many months of development, HelpNDoc 3 is a major new version as almost every aspect has been rewritten and reworked to provide a faster, simpler and more powerful environment to write and publish help and documentations.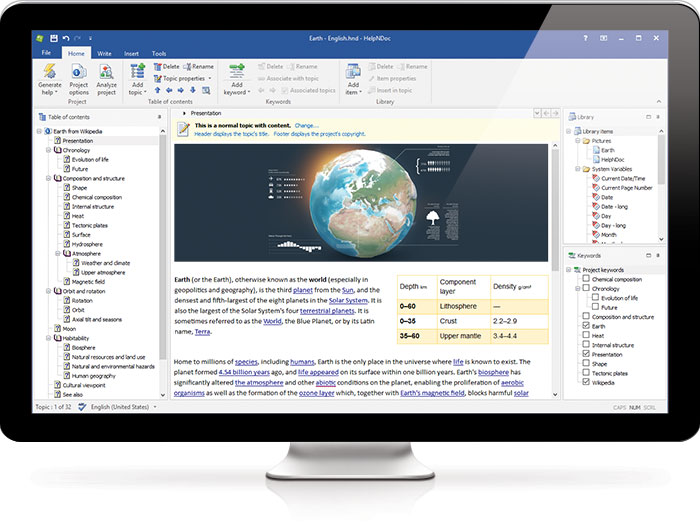 Behind a completely new user interface, which is easier and faster to use, HelpNDoc's back-end has seen many major enhancements starting with a powerful template system where almost every aspect of the generated documentation can be tweaked. Thanks to the template system, HelpNDoc 3 can be instructed on how to generate documentation: full multi-page or single page HTML and IPhone templates are included to show how powerful the template system is. Indeed, HelpNDoc can now generate complete IPhone websites / documentation pages out of the box. Code generation now uses templates too so many more programming languages can be included very easily!
Powerful new features
HelpNDoc can now handle styles which simplify the process of formatting documentation: change the default style and all topics using it will be updated.
The library has also been extended to provide a unique place where media elements (such as pictures, movies, documents, HTML codes or variables) are managed. This means that pictures can now be shared amongst multiple topics and can easily be changed from the library.
Still free for personal use
But we haven't change the best part: HelpNDoc is still completely free for personal use and evaluation purposes! Just download HelpNDoc now to see how fast you'll produce your next documentation and you'll never look back.
Change log
Version 3.0.0.223 – Release date: Aug 23, 2011
Initial release of HelpNDoc 3.0
See also
---