We created a new HTML5 template based on the JQuery Mobile framework for the next version of HelpNDoc and we didn't see any reason not to release it before as it is compatible with any version of HelpNDoc 3. So if you don't want to wait, you can download the new HTML template and read on for more information and installation instruction.
Create web-sites and documentation for mobile devices
HelpNDoc's JQuery Mobile template can generate touch-optimized documentation for the vast majority of smart-phones and tablets available on the market today including iOS, Android, BlackBerry, and Windows phone devices.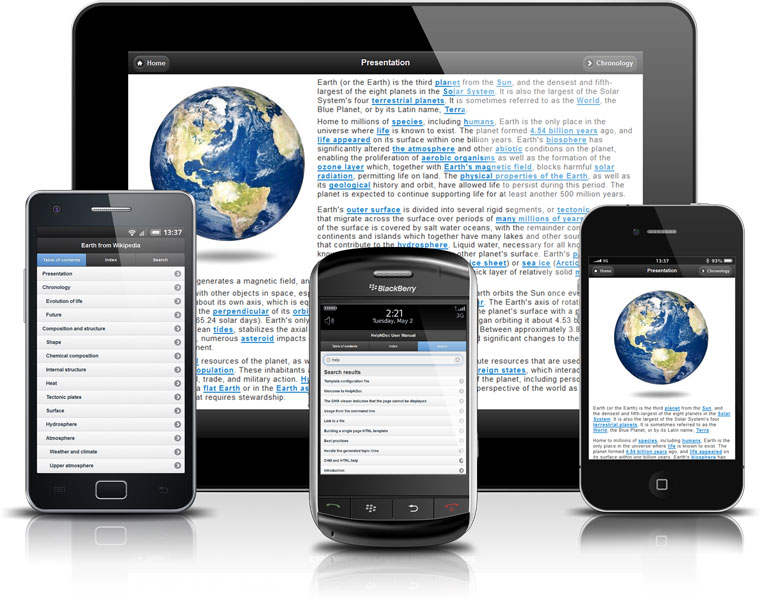 The JQuery mobile framework leverages the popular JQuery Javascript framework to provide an unified, HTML5-based, user interface system for all popular mobile device platforms. It has been tested on a great number of mobile devices and operating systems including iOS, Android, BlackBerry, Bada, Windows Phone, Palm WebOS, Symbian and MeeGo.
Using this HelpNDoc template, you can easily and rapidly export your documentation to all those devices by the click of a button: have a look at HelpNDoc's own documentation generated using the JQuery mobile template from your smart-phone or tablet to see what it is capable of.
HelpNDoc template installation and usage instructions
Make sure HelpNDoc is closed
Download the HelpNDoc JQuery mobile template
Locate your personal HelpNDoc HTML template directory, usually located in "My Documents\HelpNDoc\Templates\html\"
Un-compress the content of the archive inside this HTML template directory
Launch HelpNDoc and generate documentation by choosing the JQuery template in the generation dialog
---