We are glad to announce the immediate availability of HelpNDoc 3.4 with amazing new features and enhancements such as new customization capabilities for templates as well as enhanced HTML and CHM documentation generation to cite a few. HelpNDoc 3.4 brings many requested additions and fixes such as the HTML table of contents which now correctly selects the currently viewed topic.
Advanced customization options for CHM and HTML documentation
The template system has been enhanced to be easily customizable from withing HelpNDoc: this provides an easy way to customize the documentation's look and feel or behavior.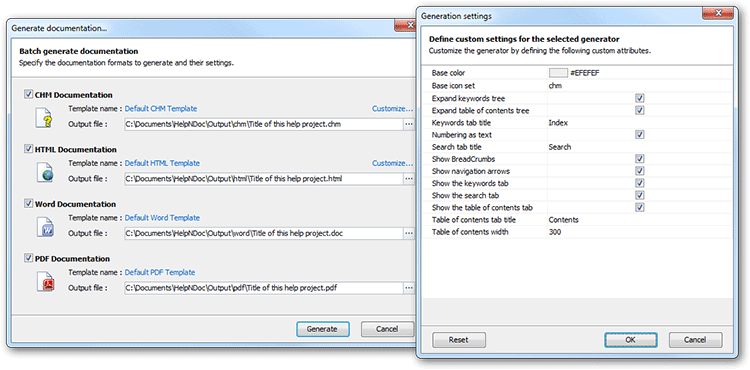 Template authors now have the possibility to define template variables, which can be modified intuitively from HelpNDoc to modify the template at generation time. The default CHM and HTML templates have been enhanced to include various variables: they will control various elements such as the base color, the table of contents behavior or the text of the tabs to name a few. These variables can be modified by using the "Customize" link in the documentation generation dialog. The default templates now include variables to customize:
The visibility of the breadcrumbs
The visibility of the navigation arrow
The possibility to generate numbering as text to look closer to what is set in HelpNDoc
The visibility and caption text of the various HTML tabs (HTML)
The expansion state of the table of contents (HTML)
The width of the navigation pane (HTML)
A customizable icon set (HTML)
Documentation generation enhancements
In addition to those enhancements, HelpNDoc 3.4 generates an enhanced table of contents for HTML based documentation, which adds various benefits including automatic synchronization with the currently viewed topic.
PDF and Word documentation haven't been forgotten and can now automatically generate numberings for topic heading. Not only that, but numberings can be defined per-level and uses a very powerful substitution algorithm to allow the creation of virtually any kind of numberings imaginable: this includes numeric, lowercase or uppercase letters, roman characters… Have a look at the documentation to learn more.
Fixes and enhancements
Various parts of HelpNDoc have been enhanced in this new version: a bug prevented children topics' content from being copied/pasted correctly while pasted pictures could become broken if dragged before the topic had been saved. See the detailed list below to learn more about all the changes in this new version of HelpNDoc and download your updated free version from the download section.
Change log
Version 3.4.0.166 – Release date: Mar 6, 2012
CHM and HTML Templates can now support customization from within HelpNDoc

Various HTML template customization settings added: base color, visible tabs, expansion status, texts, icon sets...

CHM and HTML Templates: Export numbered lists as text by default which usually looks closer to original. Customizable in template settings

HTML Template: The table of contents tree is now synchronized with the displayed topic

HTML Template: Icons set in HelpNDoc are now used in the table of contents

CHM Template: Set the table of contents font from HelpNDoc

PDF and Word Templates: It is now possible to use numbering for topic headings

Copying and pasting multiple topics did not correctly paste their content

CHM Template: CHM file couldn't be open using the help ID

iPhone template enhancement: the footer DIV wasn't closed properly

Style were not always correctly applied to selected text

Word and PDF generators sometimes didn't take the updated style properties into account

Fixed a rare exception which could occur when the live spell check was enabled and a table cell was edited

Custom dictionary file was always overwritten when HelpNDoc was updated

Terms were not always correctly encoded in the HTML search engine

Word and PDF generators did focus the first topic after generation

Word generator didn't display errors when launched from the quick generate popup

Word and PDF generators could produce memory leaks after generation

Pasted pictures could become broken if dragged before the topic had been saved

Code template for "C/C++ Defines" didn't generate correct code

Table columns and rows are now easier to select with the mouse
See also...
---