We are glad to announce the immediate availability of HelpNDoc 3.5 and we have many new features and fixes to show in this new version, starting with the new eBook generators, which can produce standard EPub and Kindle eBooks. Other documentation formats have been enhanced while HelpNDoc's user interface and documentation has been translated to French. Read on to learn more and download your updated version now.
Generate eBooks compatible with the majority of tablets out there
Tablets and e-readers sales (including the iPad and the Amazon Kindle) are rapidly increasing as more and more people find them useful as reading devices. Easily make your documentation available to tablet owners with thanks to HelpNDoc.
HelpNDoc is now able to generate the two most common eBook formats which are the ePub format (handled by the vast majority of tablets including the iPad) and the MobiPocket/Kindle format (handled by Amazon's Kindle reader). Both formats are optimized to produce the best possible output for the majority of tablets. Producing your first eBook is fast and easy: just click the generate button and HelpNDoc will take care of everything for you.

Many great enhancements everywhere
HelpNDoc is easier and faster to work with and produces even better results. Many parts of HelpNDoc 3.5, including its look and feel and documentation output, have been reviewed and enhanced.
This new version of HelpNDoc provides many enhancements in all generated formats. CHM and HTML documentation can now optionally skip the default font to rely on the web-browser's default instead and can use percentage as font-size. ASP or PHP code added to the templates won't be altered anymore to be able to produce more dynamic on-line manuals. The keyword popup in HTML documentation now displays a close button. Regarding Word and PDF documentation, it is now possible to generate them in landscape mode.
HelpNDoc itself has seen many enhancements too. The insert hyperlink dialog is now resizable and it is possible to move topics in the table of contents with keyboard shortcuts again. Long operations will display a percentage in the generation log window and check-boxes in the keyword editor are correctly displayed on all systems. Various other small fixes, enhancements and optimizations have made their way into this new update.
Parlez-vous Français ?
This new version of HelpNDoc introduces localization for the French language: the HelpNDoc application has been localized, as well as its documentation and initial tutorial project. To install HelpNDoc in French, simply choose that language when installing it: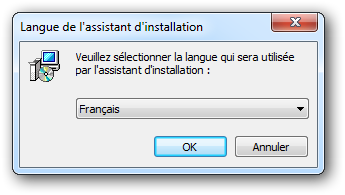 New price for Professional Edition starting June, 30th
HelpNDoc Professional Edition's price will be set to 249 € after the 30th of June. If you need to buy this edition of HelpNDoc, update or upgrade your version of HelpNDoc, you might consider doing it before that date in order to benefit from the older price.
Change log
Version 3.5.0.284 – Release date: May 14, 2012
HelpNDoc software and help file has been translated to French

HelpNDoc can now generate standard EPub EBooks

HelpNDoc can now generate Mobipocket/Kindle EBooks

HTML based documentation can now optionally skip exporting the default font style to rely on the web-browser's settings

HTML based documentation can now optionally use percentage for the font size instead of points

Insert hyperlink dialog window is now resizable and size is saved for next time it is used

Re-introduced shortcuts to move, add or delete topics (CTRL+Arrows, CTRL+[SHIFT+]INSERT, CTRL+DELETE)

It is now possible to generate Word and PDF documentation in landscape mode

Completed percentage in the generation log window for long actions

Internet Explorer could display an error about invalid characters in the table of contents for HTML documentation

HTML based generators won't alter PHP or ASP code at generation time

Relative topic links were not working for CHM documentations anymore

Bullets and numberings are not generated as texts by default for HTML based documentation anymore as it didn't always produce good results

"Enum" template settings could be rendered incorrectly in the generation settings dialog's list

HelpNDoc could take a long time to launch if a recent networked location was not available

An error occurred when clearing a text template variable in the customize dialog

Checkbox controls were not displayed in the keywords panel when Windows themes were not enabled

Keyword popup in HTML documentation now displays a close button
See also
---