We are glad to announce the immediate availability of HelpNDoc 3.6 with great new features such as a whole new build system which can generate multiple versions of your documentation, support for hidden topics which won't be generated in the final documentation and various enhancements and fixes. HelpNDoc 3.6 can be downloaded and used for free for personal and evaluation purposes.
Customize your documentation generation workflow painlessly
HelpNDoc's new build system provides an easy way to define the order and settings of your documentation generation process: producing a new version of your documentation is as easy as adding a new build.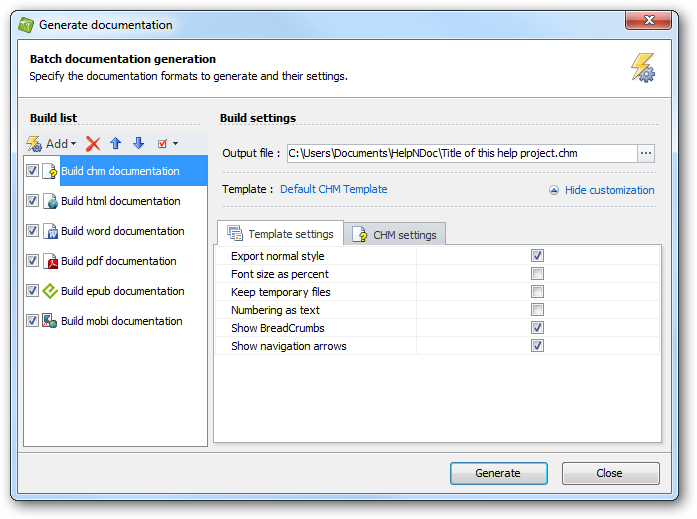 Not only can HelpNDoc generate multiple documentation formats, it can now generate multiple versions for each of those formats thanks to the new build system. This gives you total control over the documentation generation process as each build can be named, ordered, enabled and have its settings customized very easily.
Wonder if your HTML documentation would be better with an expanded table of contents or without ? Or want generate a CHM documentation with a specific template for one client and use a different one for another client ? Just create new builds and adjust their settings: HelpNDoc will produce multiple versions of your documentation for you. It's that easy.
We believe existing users of HelpNDoc will instantly love the new build system and will rapidly feel at home as we have gone through great lengths to make it as similar to previous versions as possible while providing an easy way to access and customize the build settings. New users won't believe how fast and easy it has been to produce their first multi-format help files, documentations and eBooks.
Warning: If you are using HelpNDoc's command line option, you'll need to update your scripts/process as it has changed due to the new build system.
Hide work-in-progress topics from public eyes
Need to provide a development version of your documentation but some of your topics are not as polished as you'd like ? Just mark them as hidden and they won't be generated at all.
HelpNDoc 3.6 lets you hide topics from the final generated documentation: each topic marked as hidden, as well as their children, won't be generated and won't appear in the table of contents of any documentation format or build. This much requested feature provides a great way of managing work-in-progress topics or documentation specific instructions hidden from public eyes.
Various enhancements and fixes
HelpNDoc is now able to correctly open and include relative external library items and provides better editing support for bullets and numberings. Most documentation formats have been enhanced and fixed based on discovered issues. Learn more in the detailed change log below and download your free version of HelpNDoc now.
Change log
Version 3.6.0.345 – Release date: Jul 11, 2012
New build system: create as many customized build of any documentation format as needed. Warning: command line changes

Added support for invisible topics: invisible topics and their children won't be generated in any documentation format

Relative external library items are now imported at generation time

It is now possible to indent bullets and numbering with the TAB key

EPub and Mobi generators didn't correctly generate link topic kinds

EPub generator didn't correctly escape Some characters which could lead to errors on the iPad

Norwegian dictionary from OpenOffice.org didn't install correctly

The default HTML template generated un-balanced HTML comments

RTF importer didn't correctly import relative hyperlinks

Empty topics could produce corrupted PDF table of contents

HTML documentation could cause errors when tabs where hidden

HTML search engine didn't find words containing the "T" character

Color dialog now saves custom colors

HTML based generators will correctly update topic files when the character case has changed
See also
---