We are glad to announce the release of HelpNDoc 3.9 which features an enhanced importer and includes many great productivity enhancements as well as bug fixes. The new importer can import whole folders and sub-folders including multiple file formats, thus reducing the time required to create a new project out of existing documents. To speed up documentation authoring, this new update provides additional keyboard shortcuts, fast incremental search in all trees, enhanced user interface and resource usage. Read on to learn more about this update and download the free version of HelpNDoc 3.9 right now.
Convert multiple files and folders to documentation projects
Use the new folder importer to import multiple types of files at once to speed up the creation of new help, documentation or manuals.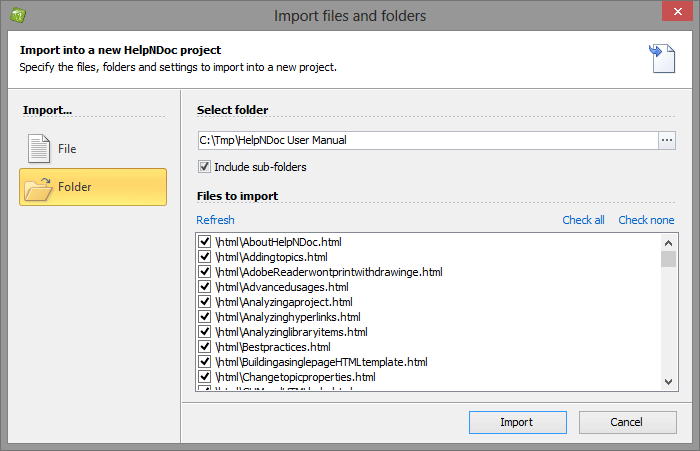 HelpNDoc's updated importer is able to locate all readable files in a directory and import them all at once: each file is added as a new topic and its content imported. Starting a new project is now faster and easier than ever!
Faster and easier documentation authoring
Many enhancements have been added to this new update to provide an easier and faster help authoring experience.
HelpNDoc 3.9 introduces many shortcuts to quickly navigate throughout the user interface: use the CTRL+F2 through F6 keyboard shortcuts to quickly focus the table of contents, topic editor, library, keyword editor… Use the space keyboard shortcut to associate the currently focused keyword with the current topic. Incremental searching has been added: start typing a node caption to focus it in any of the trees.
Additionally, you can now customize HelpNDoc's user interface layout as you like and it will be saved an restored when the program restarts. The styles gallery will also resize itself to fit the whole available space.
Finally, many performance improvements and bug fixes made it in this update. Learn more in the detailed change log below and download your free version of HelpNDoc now.
Change log
Version 3.9.0.595 – Release date: Mar 26, 2013
Enhanced importer: import multiple files at once into a new project and import various file types

Incremental search in various places: start typing a node caption to search for it and focus it

New keyboard shortcuts to navigate through the user interface: CTRL + F1 through F6

Use the SPACE keyboard shortcut to associate a keyword with the current topic

Panels positions and sizes are now persistent and will be restored when HelpNDoc is restarted

Use the /reset command line option to reset forms size and position as well as panels layout

Installer and uninstalled now warns if HelpNDoc is already running

Greatly reduced memory usage when generating documents with large number of pictures except for Word generator

The styles gallery now resizes itself to fit the whole available space

Command line silent mode wasn't working correctly anymore

Better error message when the project file is locked by another application or instance of HelpNDoc

Reduced flicker in the ribbon bar when resizing the main window

Removed XSS vulnerability in HTML generated documentation

Fixed possible error of the Javascript search engine in the default HTML template
See also
---