This is with great pleasure that we announce the immediate availability of HelpNDoc 4.0 which can be downloaded and used freely for personal and evaluation purposes. HelpNDoc 4 introduces a full-featured template editor for Word and PDF documentation formats, including cover page, headers and footers editors. It can now generate DocX Word files, and includes a rewritten style system, an advanced script editor, rich text snippets library items and much more. Read on to learn more about this major update and download the free version of HelpNDoc 4.0 right now.
Easily customize your Word and PDF documentations
Word and PDF documentation formats can now contain fully customized cover pages, headers and footers with advanced features such as specific headers and footers for first or even pages.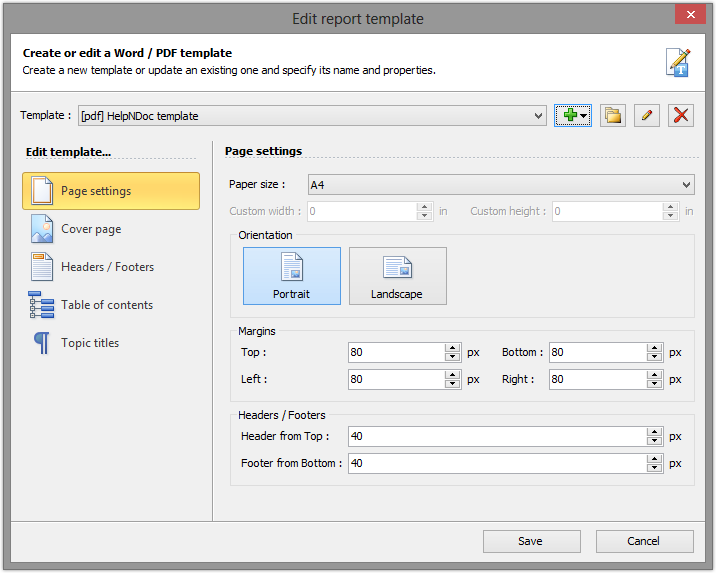 Using the new report template editor, it is now easier than ever to manage and customize Word and PDF documentation templates. The new template editor provides easy customization for page settings, the cover page, headers and footers (including specific ones for cover and even pages), table of contents as well as topic titles look and feel. It also dramatically simplifies the creation, duplication and deletion of templates.
The rewritten Word generator can now produce standard DocX documents as well as optionally create RTF files.
Redesigned style system for easier and faster documentation styling
Thanks to styles, a lot of time can be gained when updating the look of a documentation project: modifying the font or paragraph properties of a style will update the whole project. HelpNDoc 4 adds inheritance and more.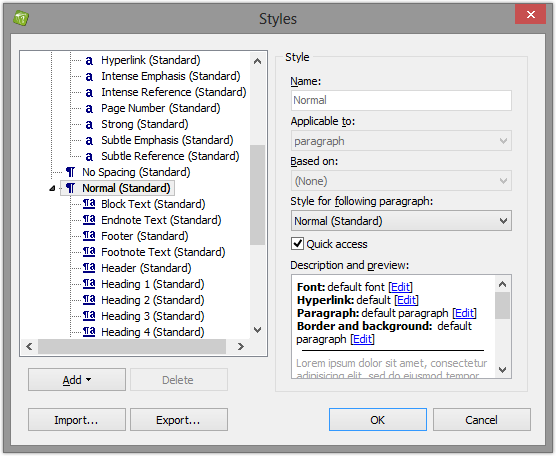 Styles are now more robust and trustworthy. They can hierarchically inherit from parents and override only some settings. They can be loaded, saved, and a custom set of style can be defined for new projects. Hyperlinks now also use styles for easier and faster project-wide updates. HelpNDoc 4 also provides a style inspector to analyze edited content.
Infinite possibilities with the new script editor
Everything is scriptable in HelpNDoc: the new script editor can run custom scripts and allows limitless automated actions to be performed on new or existing projects.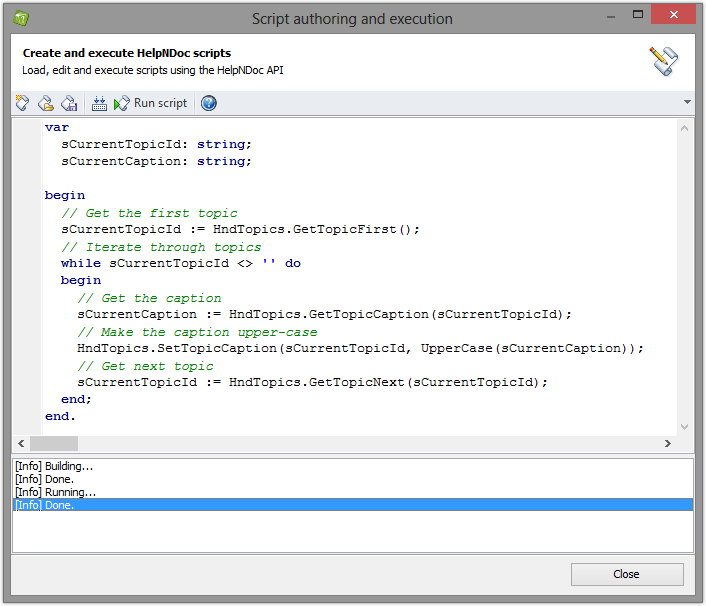 The new script editor provides a great way to automate various tasks in new or existing HelpNDoc projects: everything in HelpNDoc can be scripted, from topic creation to library items content… the possibilities are infinite. You need to re-order topics ? Create a bunch of new topics programmatically ? Replace all library items ? Just launch the Script Editor from the Tools ribbon tab, type in some instructions and hit run: HelpNDoc will do the hard work for you.
Sprechen Sie Deutsch?
This new major update of HelpNDoc introduces localization for the German language: the user interface as well as tutorial project have been translated. To run HelpNDoc in German, simply choose that language when installing it, or select the German language in the options dialog.
Enhancements and bug fixes
Many new features and bug fixes made it to this amazing update. A few of them include:
New rich text snippets library items: create reusable rich text contents (including texts, pictures, links…) and place them anywhere in the project
The HTML search engine has been rewritten to rank results, search for parts of words and exclude words prefixed with the "-" character
We added the ability to import files and folders within the current project
HTML documentation format provides better SEO through smarter generation of Help IDs when creating topics with accented characters
Added customization option for the date / time related system variables. They will also use the project language settings to display localized date / time
Much much more. See change log below…
As always, HelpNDoc is completely free for personal use and evaluation purposes so download your free version now to get started and experiment with this amazing update.
Change log
Version 4.0.3.164 – Release date: Oct 9, 2013
Redesigned style system: styles can inherit from parents, can be saved, and custom styles can be used for new projects

The Word generator will now generate standard DOCX documents by default. RTF option is still available in build settings

New Word and PDF template editor: customize page layout, cover page, headers, footers, titles, table of contents...

New Snippet library item: Add formatted content to the library and re-use it throughout the project

Style inspector popup window to get information about the current text and paragraph styles

Script editor to edit and run scripts and automate tasks within HelpNDoc

Hyperlinks will now use styles for easier project-wide modification

Items with anchors will now display a hint with the anchor name when the mouse is over

HTML search engine is smarter: it can search parts of words, results are ranked and words can be excluded by prefixing them with a "-" character

New system variables for Word and PDF documentations: display the current page number and the total number of pages

External topics can now use relative paths for external files

Importing a file or a folder won't automatically create a new project anymore: they will be imported in the current project if already open

Merging library items will now display a waiting dialog

HelpNDoc's user interface is now translated in German

System variables with date and time are now customizable in project options and will be localized according to project language settings

Copy/Paste of topics between instances of HelpNDoc now correctly include pictures

PDF documents could contain un-readable characters in the table of contents when encrypted

CTRL+F1 keyboard shortcut was showing the help file instead of just collapsing the ribbon bar

Word generator now uses less memory to generate big documentation files

iPhone template didn't include custom styles for topic content

Google Chrome users can now use the HTML search engine locally

Library items shown in popups were not always sorted

Word and PDF templates can hide page numbers in the table of contents

HTML search engine didn't clear its data between two generation which could lead to outdated search data

HTML search engine will now correctly display link topic kinds

Help ID generation is smarter: accented characters are replaced by ASCII equivalent for better SEO

Cursor position in topic editor was not always reset when moving from one topic to another

Initial Help ID for new topics was incorrectly generated using another topic's caption

The table of contents title for Word and PDF documentation formats wasn't correctly generated when it contained Chinese characters

CHM importer can now correctly handle links with anchors

External topics were not exported to Word and PDF documentation formats

XSS safety algorithm in the HTML template could break links to topics with caption containing "script" or "javascript"

Word and PDF documentation formats didn't correctly generate relative hyperlinks

Save a project as the same opened file shows an odd error message

Images were not scaled correctly anymore when too big for Word and PDF documentation formats

Hyperlink action provided a different window when used from the popup menu

Updated OpenOffice.org dictionary download URL

The font sizes combo box were not reliable anymore for the topic editor, snippet editor, and some template editor properties

Some characters in hyperlinks could create corrupted DOCX files

Tables could not be seen in editor anymore when borders were hidden

Added an error message when trying to add a condition within a table

Some formatting could produce invalid DOCX documents

Import folder dialog will now automatically refresh the "files to import" list when browse button is used

Dragging and dropping a picture when in a table would make it disappear

Faster project opening: initial topic was loaded twice

Last topic edited was loaded empty if the project is immediately re-opened

Link to URL or file topic will now correctly show the URL or file

ePub and Kindle documentation were adding and extra colon character instead of spaces

New project dialog uses the dictionary defined by the language property for live spell

Generating a project from command line with included external HTML documents was not always including them

Hyperlinks are now trimmed from the Insert/Edit hyperlink window

JQuery HTML template had encoding and tag problems

The help window was shown behind the script editor window

Can't import HelpNDoc v2.x projects anymore: use version 3.9 to convert older projects first
See also
---