We are thrilled to announce the release of HelpNDoc 4.2 which is available as a free download starting now. HelpNDoc 4.2 adds folders to categorize library items, multi-selection to the library and keywords and is able to store the expansion state of all trees in the project amongst many other additions and bug fixes. Read on to learn more and download your free version now.
Organize your library items in folders
The library can rapidly get cluttered and finding the right item could become a slow task. By using the new "folder" library item, you can easily organize your items for faster browsing.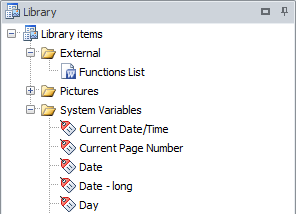 The library contains all media elements (pictures and movies), documents, HTML code, variables and snippets used by your project. It is the central place where reusable items are picked to be placed in your topics and where they are updated. The library can become quite crowded over time and it is becoming harder to navigate and find the element you are looking for.
That's why the update introduces folders in the library: a folder can contain one or more library items as well as other folders and can be, well, folded. That way, you can easily group library items the way you like (for example alphabetically, by type, or subject) and it will be easier to find them.
Trees expansion status and enhancements
The table of contents, library, and keywords expansion status will now be saved in your project: next time it will be loaded, HelpNDoc will be able to retrieve the status and display them the way they were when the project was saved.
The library and keywords trees will now accept multiple selection for faster item moving and deletion: it is possible, for example, to select multiple library items and drop them in a topic, or delete them all at once
Better translation and other enhancements
Template variables can now be translated in the template.info files. Existing variables have been translated to French and German. The various generators will now provide additional information in case of a problem and various reported problems have been fixed as indicated in the change log below.
Change log
Version 4.2.0.299 – Release date: Feb 6, 2014
Library items can now be grouped in folders for easier navigation and management

Multi-selection has been enabled for library items and keywords for multiple deletion/moving

Table of contents, keywords and library items tree nodes expansion status is now saved to and restored from project

Template variables names and descriptions can be translated. Existing variables have been translated to French and German

It is now possible to remove the cover picture for ePub and Kindle documentation formats

Generators log will now provide additional details in case an exception occurs

The OK and Cancel buttons were not visible in the import style dialog for French and German translations

It wasn't possible to change picture width, height, spacing or alt text from the ribbon tab anymore

Better importing of tables in RTF files

Drag and drop in the topic editor could insert content in the wrong position

It is now easier to move keywords in the hierarchy when drag and dropping them

Changing the output file path in the generator window was not always saved correctly

Scripts: THndIntegerArray was not declared therefore HndTopics.GetTopicIndexHierarchy was not working correctly

Some style properties could be incorrectly loaded after importing the default.hnd style sheet

JavaScript search engine didn't correctly escape URLs for external topics which could break the search feature

The DocX and RTF generation could fail unexpectedly for some projects

Inserting or importing multiple HTML files in a project could result in very slow and resource hungry generation

Topic icon wasn't always correctly updated when changing topic
See also
---