We are glad to announce the release of HelpNDoc 4.5 which is available completely free for personal use and evaluation purposes starting now. HelpNDoc 4.5 is now able to import ePub files, can optionally disable PDF bookmarks, and fixes various problems including content saving for East-European and Asian systems. Read on to learn more or download your free version now.
Import existing ePub eBooks
ePub Electronic Books (eBooks) are publications which can be viewed on any computer, smart phone, tablet or e-Reader. They can be generated by HelpNDoc or a third party eBook creation software and they can now be seamlessly imported as an HelpNDoc project.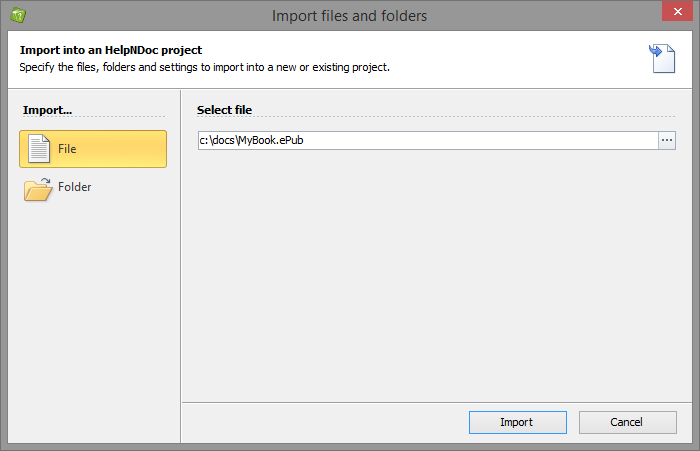 In addition to text files, HTML web-pages and Word documents, HelpNDoc can now decompile ePub files to import their hierarchical content in a new or existing project. This makes it easy to re-use and adapt existing content as well as convert existing ePub eBook files to any documentation format handled by HelpNDoc: CHM, HTML, Word DocX or RTF, PDF, ePub and Kindle format.
Better PDF and HTML generation
You can now optionally disable bookmark generation for PDF documents: bookmarks are used in the various PDF readers to display the table of contents in a dedicated pane. The PDF generator has also been fixed as it could also crash for projects containing the "Myriad Pro" font.
HelpNDoc will now generate better HTML web-sites with enhanced SEO through the use of keywords in topics meta tags.
Important fixes and enhancements
Recent versions of HelpNDoc were not able to save topic content for some Eastern European and Asian Windows locales. This has now been fixed. We reduced HelpNDoc's memory usage for large projects and we fixed a bug which propagated some topics' properties changes to all topics instead of the selected one. Many other enhancements and fixes are included in that release as indicated in the change log below.
Change log
Version 4.5.0.497 – Release date: Aug 20, 2014
New EPub importer: decompile and import ePub eBooks into new or existing HelpNDoc projects

Added option to disable bookmarks generation in PDF documentation output

Default HTML template will now add each topic's keywords in the head meta keywords meta for better SEO

Topic content couldn't be saved and loaded for some systems with Asian or East-European languages locales

Reduced memory consumption when projects are open

Setting some specific topic properties such as "Include in builds" could incorrectly update multiple topics

PDF generator could crash with projects containing the "Myriad Pro" font

Help file was not showing when HelpNDoc was opened by double clicking and HND project file

Files with and .xhtml extension where not imported

Better German and French translations
See also...
---