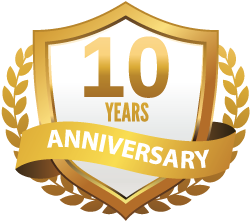 We are extremely happy and honored to celebrate HelpNDoc's 10 years anniversary: HelpNDoc version 1.0 was released on December of 2004 and we still can't believe how far it has evolved, and how popular and essential it is today for a constantly growing number of users. And if HelpNDoc is still alive today, it is because many of you believed in it, talked about it, sent us encouragements, suggestions, bug reports, wish lists… and bought licenses: we can't thank you enough for your continued support throughout the years! It was extremely fun and rewarding to develop and support HelpNDoc for the last 10 years. It was also challenging at times to fight irritating bugs and implement advanced features while making sure we didn't add too much complexity. And if we had to pick the one thing which helped us move forward and which we will always treasure, it is the amazing number of e-mails we received all these years containing texts such as: "Amazing software", "I've been looking for such a software for years", "I can't believe how easy it is" or simply "Thanks". So as a way to thank you all, we are teaming up with BitsDuJour for 24 hours only to provide a 60% discount on HelpNDoc Professional Edition!. Update: The discount is now over. Thank you to all who participated.
A bit of history: HelpNDoc's origins
Spoiler alert: we needed it, so we created it. You liked it, so we enhanced it. It's as simple as that!
HelpNDoc was created because we were frustrated by how complex and expensive help authoring tools were. We needed a quick and easy way to create documentation for our software so we tried many tools available at the time. We couldn't believe how hard it was to master those tools and how expensive they were (and these statements are still valid today for most of them by the way). We were also forced to trial those software within a very short period of time (usually 30 days) to make sure it answered our needs. But with such complexity and plenty of other work to do, we felt this was frustrating to be given this little time to evaluate such a huge investment.
So as software developers we thought we could create something to help us write and produce documentation more easily and rapidly: HelpNDoc 0.1 was born. It was rough around the edges and very limited at the time but with a few enhancements here and there, versions 0.x served us well. It continued to evolve internally for quite some time until it hit us: why not publish it for others like us who were tired of expensive and complex authoring tools ? And why not make it free, without any limitations, for personal use and evaluation purposes to help people make sure this is a suitable tool for what they were trying to achieve ? That's how HelpNDoc 1.0 was released 10 years ago today!
HelpNDoc returns in HelpNDoc II
We took the time but we finally did it: HelpNDoc 2.0 introduced Word and PDF generation.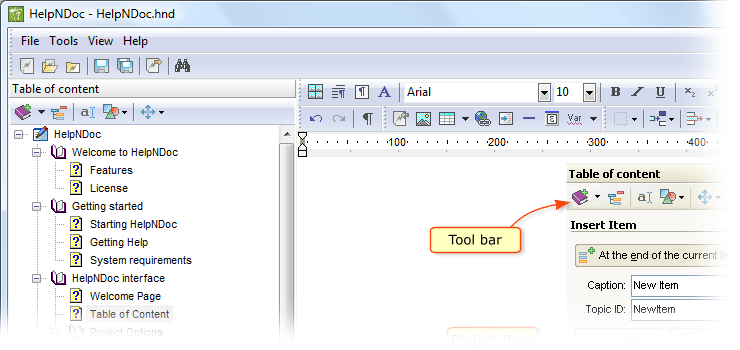 At that time, HelpNDoc 1.x was able to generate CHM and HTML documentation formats only. It was well received and we had nice feedback from its users. But two of the most requested missing features were Word and PDF documentation generation: after much effort to implement them right, those were introduced in HelpNDoc 2.0. And this helped HelpNDoc become more and more popular as we enhanced it throughout the 2.x release cycle. While many users were happy they could use it for free, some told us they have been using the free Personal Edition for multiple years before they purchased it, just as a way to say thank you and support future development. Most told us how easy HelpNDoc was to use. We couldn't be more thrilled to read such comments as this is why we started it in the first place!
HelpNDoc 2.x saw a huge number of new users. It was also built on top of pieces of code and a user interface developed for the 1.x circle which was starting to show its age. It was time to shake things up.
HelpNDoc 3: let's rewrite everything
By introducing more and more features, the HelpNDoc 2 code base and user interface started to become more and more complex. Something had to be done!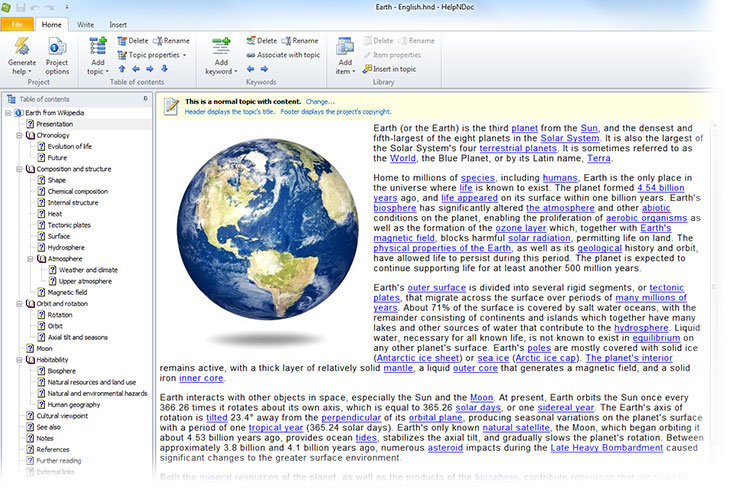 We started HelpNDoc because we thought alternatives were too complex (and too expensive). And it was a time when we had many features we wanted to add to HelpNDoc: it was becoming clear that we had to do something to make sure those ideas could be implemented without adding too much complexity. That's why we chose to rewrite everything from the ground-up while focusing on future extensibility. We chose to stand on the shoulders of giants by adopting Microsoft Office's then new ribbon concept: what other software was as complex as the Microsoft Office suite yet so widely used ? We thought this was a perfect and smart way to provide many features while keeping everything simple enough. After a lot of work, HelpNDoc 3.0 was finally released with a lot of new features: new UI, template system, styles, code generation, enhanced library… this was a ground-breaking release which helped HelpNDoc evolve into what it is today: current versions are still using the bases developed for HelpNDoc 3.0!
And HelpNDoc 3 was a huge success as what mattered the most was still praised by its users: high simplicity and small price. We were thrilled! This major rewrite allowed users to leverage the template system to create truly unique documentation and manuals, while helping us implement many additional features during the 3.x release cycle: ePub and Kindle output formats, multiple builds, conditional content generation, a powerful project analyzer and much more…
May the 4th be with you!
HelpNDoc 3's core was solid enough so we could build upon it to implement the most advanced features.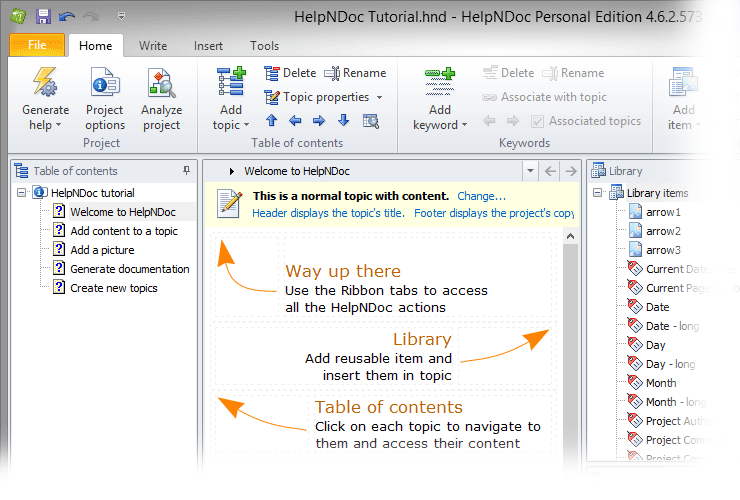 With HelpNDoc 4.0 we decided to open its API thus providing an unprecedented way to automate documentation creation and management. We also enhanced styles and provided a full-featured Word and PDF template editor. Version 4 is an amazing success and received its second bronze award in a row from readers of the Visual Studio Magazine: from its humble beginnings as an internal tool written to help us easily produce our own documentation, HelpNDoc has grown so far as being able to be selected as one of the top three help authoring tools out there. We couldn't be prouder!
HelpNDoc 4 is still being enhanced daily (current version is 4.6 at the time of writing) in many ways. And we also make it easier than ever to start and learn it thanks to dozens of easy to follow step-by-step (video) guides.
Many follow-ups are planed
And that's not the end! Many more versions of HelpNDoc are planed for the years to come.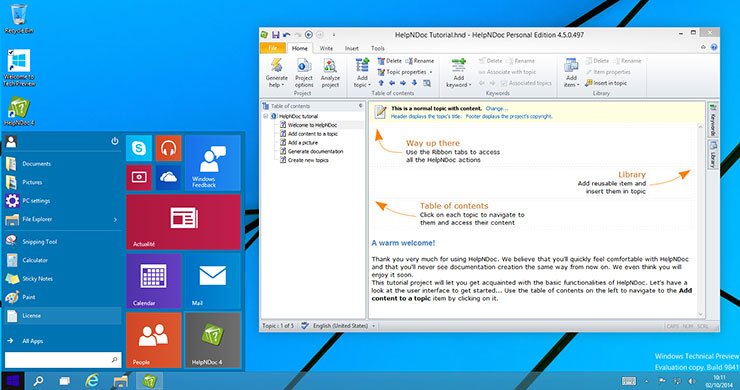 We really wish we were able to provide you with some insights of what we have planed for the future of HelpNDoc. But for obvious reasons, this has to be kept secret until the very last minute. But suffice it to say that whatever we do, we will always make sure we stay true to our tag line "Enjoy Documenting" by continuing to provide additional tools and helpers to help you write the most amazing help files, web-sites, manuals, eBooks (and much more) as fast and as easily as possible. And with the right price too: HelpNDoc is still today one of the least expensive help authoring tools available on the market. And 10 years later, we are still so confident that HelpNDoc is worth it, that we continue to provide a completely free yet fully functional Personal Edition of HelpNDoc: you can still use it and evaluate it for years without paying anything. You can choose to never purchase a license of HelpNDoc for that mater, and we won't give you 30 days, 60 days, or even 6 months to make that choice: we give you years to evaluate it and make up your mind!
A huge thank you
Because without you, there wouldn't be a 10th anniversary to celebrate.
Thanks to your continued support during those 10 years, your suggestions, bug reports, congratulations… we have been able to make HelpNDoc what it is today. And we are going to continue doing so for many years to come. And for that, we can't thank you enough!
As previously mentioned, we are celebrating this 10 years anniversary by providing a huge 60% discount for 24 hours only. So if you have tried HelpNDoc and feel you need a license, now is the time. But hurry up as there won't be any extension this time! And if you haven't tried HelpNDoc yet, we welcome you to download the free fully functional Personal Edition for as long as you'd like and let us know what you think about it!
---