We previously covered how to embed a YouTube video in your CHM or HTML help files. While YouTube is a great platform to share videos, some might prefer one of its main competitor, Vimeo. Fortunately, integrating a Vimeo video into your CHM or HTML help files is extremely easy with HelpNDoc.
Get the Vimeo video's embed code
Vimeo's share button can be used to get its embed code. The following steps explain how to get that code.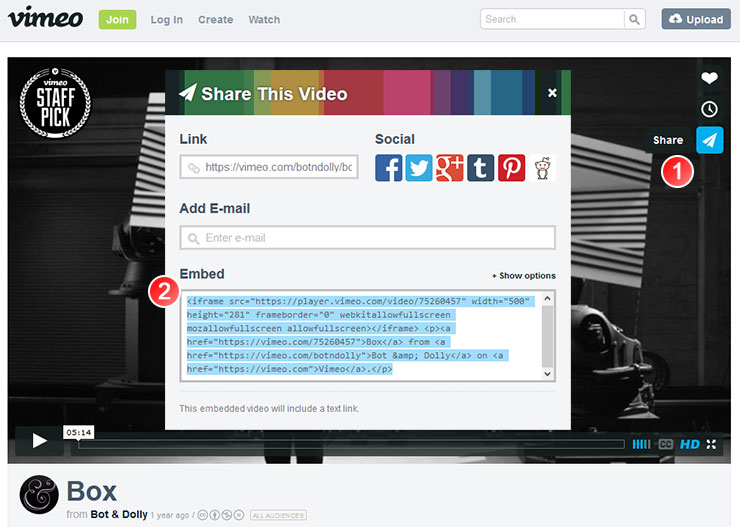 First, locate the video on the Vimeo web-site. Then follow those easy steps:
Click the Share button visible on the right side of the video: the "Share This Video" panel appears as an overlay
Select the code in the Embed section and copy it. This is the complete HTML code required to embed the Vimeo video in the final documentation. You can also click "Show options" to customize the embedded video to suit your requirements.
Embed the HTML code in your documentation using HelpNDoc
HelpNDoc provides an easy to use and intuitive user interface but it doesn't mean that you can't use advanced features such as adding your own low-level HTML code.

Once your HelpNDoc project is open, you can insert the HTML code we've just copied from Vimeo's web-site:
Select the Insert ribbon tab at the top of HelpNDoc's main window by clicking it
Click Insert HTML code then Insert another HTML code in the Library Items group
A new window appears: choose a name, paste the HTML code and hit OK
That's it! HelpNDoc now displays a green place-holder showing where the Vimeo video's HTML code will be generated. It will take care of the rest: producing your documentation containing the Vimeo video we've just added.
Going a little bit further
HelpNDoc contains many advanced features to help you produce the most amazing documentation as easily and rapidly as possible.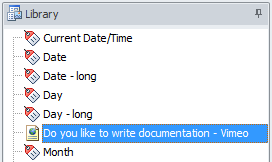 Once you have added the Vimeo video in your project, it is now part of the library and can be re-used in any topic.
If the Vimeo video has to be changed in the future, simply edit this library item as needed, and HelpNDoc will automatically update all topics using it.
See also
---