We are glad to announce the immediate availability of HelpNDoc 4.8 which is available completely free for personal use and evaluation purposes. HelpNDoc 4.8 provides many new features and enhancements including a new keyboard shortcuts to insert hyperlinks and library items at an amazing speed, the possibility to override variables for each build and much more. Read on to learn more of download your free version of HelpNDoc now.
Quickly insert hyperlinks and library items
With the CTRL+SPACE keyboard shortcut, it is now possible to rapidly insert links to other topics as well as library items (pictures, movies…) available in the project.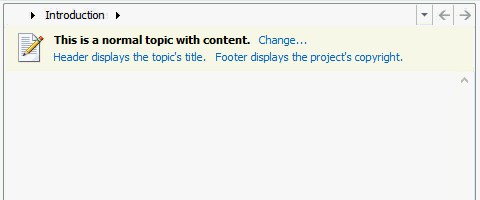 In addition to textual content, great documentation files need library items such as pictures, documents and movies as well as contextual hyperlinks. And while it is very important to stay focused on the content when writing a documentation or help file, it is not easy when spending time on the user interface to create hyperlinks, or locate and insert the correct picture at the right place… That's why HelpNDoc introduces the CTRL+SPACE keyboard shortcut to quickly insert hyperlinks and library items. Try it and you won't be able to do without it. Here is how this work:
Start typing the name of a topic from your project then hit CTRL+SPACE: HelpNDoc will provide a list of related topics. Use the arrows to select the correct one and hit Enter: HelpNDoc will create a link to that topic
Type an exclamation mark (!) followed by the name of a library item then hit CTRL+SPACE: HelpNDoc will provide a list of related items. Select the correct one and insert it in your topic using the Enter key
And that's it! With this simple keyboard shortcut, you will be able to speed up your writing process while keeping focused on the most important: writing great documentation.
More powerful build system
It was already possible to override custom variables from the command line but there were no easy way to do that using HelpNDoc user interface. This new version adds easy variable overriding for each build.

Variables are textual place-holders which can change over time. It can be used for a product version, a client name, a date… Up until now, it was only possible to change the value of a variable once for the whole project. HelpNDoc 4.8 now provides a way to easily override variables for each build: this makes it possible to create different builds with different content without using conditional generation.
This new update also adds the /l command line argument to export the output of command line generation to a file. It includes various script samples and adds additional scripting methods and enhances HTML based outputs amongst other fixes and enhancements as detailed on the change log below.
Ready for Windows 10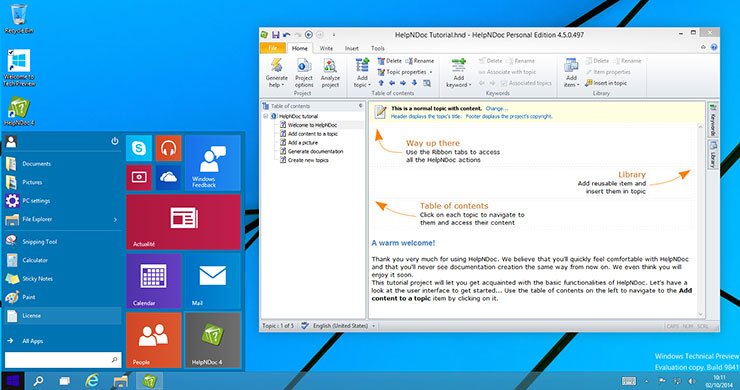 Microsoft has provided multiple beta versions of Windows 10 throughout the development process and we have been monitoring those updates to make sure HelpNDoc works as expected. We are glad to report that HelpNDoc works fine with Windows 10 out of the box.
Change log
Version 4.8.0.849 – Release date: Aug 4, 2015
Auto-completion: use the CTRL+Space keyboard shortcut to quickly create links or insert library items

It is now possible to override user-defined variables for each build in the build settings

New methods available to scripts and templates: HndBuild.GetBuildFirst and HndBuild.GetBuildWithName

Introduce the /l argument to log to a text file when using console line generation

Included sample scripts in HelpNDoc's installation directory

The THndBuildInfo, THndBuildInfoArray, THndTopicsAttachMode types are now accessible in scripts and templates

Switching builds in the generate documentation window will keep the currently visible customization tab

Under certain conditions an HTML-based template could produce inactive hyperlinks

The default HTML template will now be more reliable when selecting the currently viewed topic in the table of contents

The generated HTML could be corrupted when the current user didn't have the proper rights to access external library items

The table of contents hierarchy could be wrong under certain conditions when using conditional topic generation

Some parts of the user interface were not translated to French and German

Only one instance of the installer can be launched at the same time
See also
---