We are thrilled to announce the immediate availability of HelpNDoc 5.0, a major update of the popular help authoring tool which can be downloaded completely free for personal use and evaluation purposes. This new update includes a redesigned user interface, a completely rewritten responsive HTML template and much, much more. Read on to learn more and download your free version of HelpNDoc now.
New responsive HTML template
HelpNDoc's default HTML template has been rewritten from the ground up to use the latest web technologies and produce responsive HTML documentation web sites compatible with any screen sizes and devices.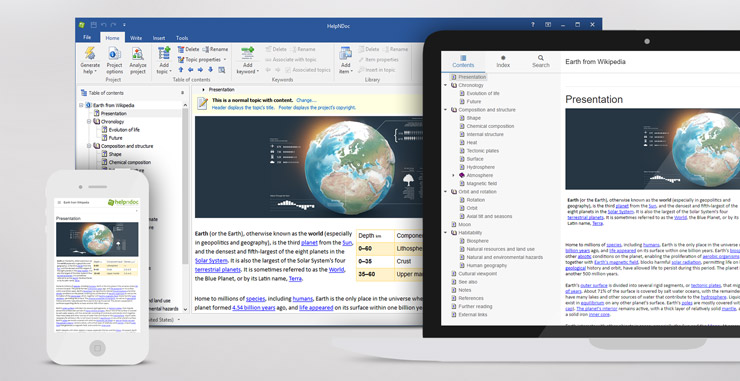 The new default HTML template can adapt itself to any screen size and devices. It has been optimized for speed and contains various SEO techniques to make sure search engines can easily crawl the whole documentation. It includes many new features and enhancements, such as easily customizable themes, logo, footer, CSS / JavaScript… Read more about this new amazing HTML template.
To overcome most web browser's security restrictions when browsing local content, HelpNDoc now includes a full featured HTTP Server: it is therefore possible to test your HTML documentation as it will appear when uploaded to a web-server.
This new version also includes a redesigned iOS HTML template, compatible with the iPhone and the iPad and using the latest iOS look and feel. It also features an update jQuery mobile template compatible with all Android devices and the vast majority of mobile phones and tablets.
Redesigned user interface
Because this is where you are spending most of your time, HelpNDoc's user interface has been re-designed to be more accessible and readable.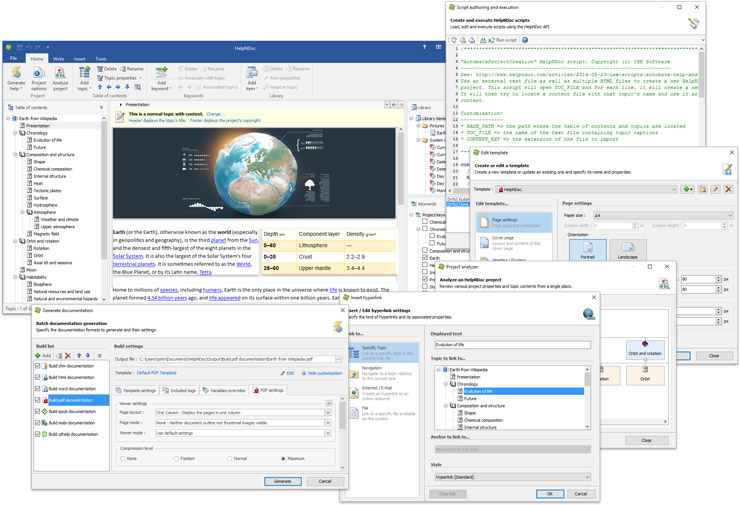 Following the steps of the latest Microsoft Office version, we have redesigned HelpNDoc's user interface. It now includes a modern, clean and readable look and feel, with the usual contextual ribbon bar, providing quick access to all HelpNDoc features.
We have speed up HelpNDoc's starting time and enhanced RSS feed handling on the welcome page to avoid random errors. HelpNDoc's project file format has been optimized and will result in faster saving and loading time. Projects are now locked to avoid being opened simultaneously in multiple instances of HelpNDoc.
HelpNDoc's topic editor has seen many enhancements including in tables, image resizing for high DPI screens… while the project analyzer has been simplified to provide easy access to filters and actions and better report topics linked to keywords.
Split imported Word documents and HTML files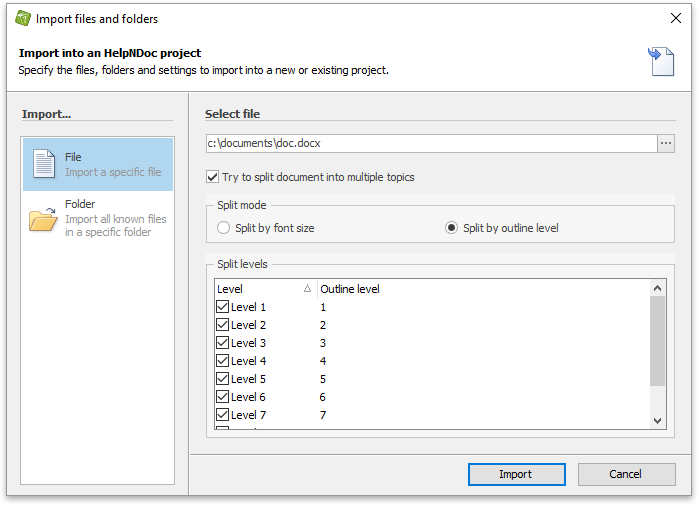 HelpNDoc's Word and HTML importers have been enhanced and can now split files into multiple topics. It is possible to split them by font size or outline level so that a single document can produce complete projects with a complex table of contents.
Enhanced Word and PDF generators
The PDF generator can now handle very large projects without memory limitations. Many fixes have been applied to both Word and PDF generators, including reducing the files size and generation time, topics numberings, page numbers in the table of contents…
Thank you for your continued support
With this 5th major update, we continue the work we've started more than 10 years ago: help you "enjoy documenting". This wouldn't have been possible without the continued support of all HelpNDoc users, providing valuable feedback and praises throughout the years. We would like to thank you for that! We will continue to work hard to enhance HelpNDoc and make sure your documentation, help, eBook… writing process is as fast, easy and enjoyable as possible. Do not hesitate to contact us to share your thoughts about HelpNDoc.
If you haven't downloaded HelpNDoc yet, please know that it is completely free and fully functional for personal use and evaluation purposes. So download your copy today and enjoy documenting!
Change log
Version 5.0.1.188 – Release date: Mar 7, 2017
Updated user interface: introduced Microsoft Office 2016 inspired look and feel

Completely rewritten HTML template: HTML5, compatible with all device sizes (responsive), easily customizable...

It is now possible to split imported files (Word documents, HTML files...) by font size or outline level

Topics can now be removed from the table of contents only by setting their visibility to "Hidden in table of contents"

Updated jQuery mobile HTML template to the latest version: performance improvements and better mobile compatibility

Added jQuery mobile themes to customize the look and feel of mobile HTML web-sites

Added the ability to alter the text flow around floating items by clearing text left, right or both

A local HTTP server is available to show the HTML documentation as if uploaded to a web-server

License check system: named license are activated via a license key while floating licenses are manager by a floating license server

PDF generator can now generate projects of any size without memory limitations

Enhanced RSS feed display in the welcome page: faster application loading time and less random errors

Optimized loading of library items content

Word and PDF generators will now correctly number table of content and topic titles when hidden topics are used

It wasn't possible to generate Qt Help files from the command line

HelpNDoc could produce an exception at closing time

Better handling of project locking: when a project is opened by an instance of HelpNDoc, it can't be opened by another instance

Invalid characters could be added to captions: they are now automatically removed

PDF generator didn't always respect the list of excluded PDF fonts thus sometimes creating larger PDF files

Clarified PDF settings dialog regarding user permission

Enhanced generation log summary to provide additional options: copy path, open location, open file, serve file

Reworked the project analyzer's user interface to simplify access to filters and actions

Keywords analyzer is now more useful as it displays a list of attached topics

Deleting multiple library items in the analyzer could take a long time

Legacy frame HTML template could show a JavaScript error if a topic wasn't in the table of contents

Page number approximation in generated Word documents is much more accurate. F9 field refresh is still needed to force field updates

The table of contents' page numbers in the generated Word documents were missing if the cover page was hidden

Quick generation output path will now use the output path setup in the options

Made sure a default topic is always selected at generation time to avoid generation problems

Topic titles could be incorrectly positioned after floating pictures in all documentation formats

Easier image resizing for high DPI screens

Better picture saving to RTF

Some links in custom HTML code could break HTML-based documentation generation

Won't show an exception anymore and lock the generation dialog when generating to an unwritable folder

Multiple speed enhancements and bug fixes

HelpNDoc is not tested on Windows XP anymore: Microsoft doesn't support Windows XP anymore
See also
---