We are glad to announce the immediate availability of HelpNDoc 5.5, a major update to the popular help authoring environment which can be downloaded completely free for personal use and evaluation purposes. This major update includes a project-wide spell checker, better Word and PDF documentation generation, user interface and speed enhancements and much more… HelpNDoc is completely free and fully functional for personal use and evaluation purposes and can be used to generate multiple print-related and web-related documentation formats from a single source. Download your free version of HelpNDoc now and read more to learn about this latest update.
Check spelling of the whole documentation project
HelpNDoc already includes a powerful multi-lingual live spell checker throughout the whole user interface. It is now accompanied by a project-wide spell checker to rapidly spot possible mistakes.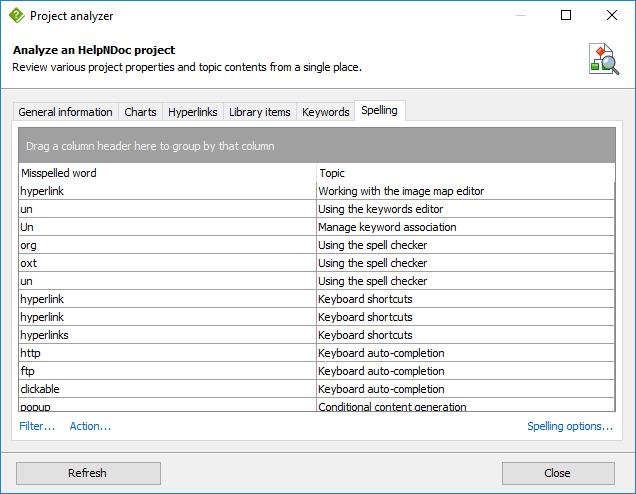 Checking spelling mistakes as you type your documentation is already very easy and reliable thanks to HelpNDoc's built-in live spell checker. But some mistakes could be missed during the writing process and it is now easier than ever to spot and fix them in the whole project: HelpNDoc's project analyzer includes a spell checker which will check all topics within the project and report all possible spelling mistakes. Sort, filter or group the misspelled words in the list to rapidly spot any error, then double-click the misspelled word, and it will be selected in the topic, ready to be fixed. Fast, reliable and easy!
Enhanced documentation generation engines and tweaked user interface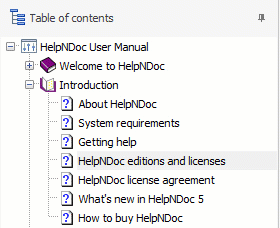 Most documentation generators and templates have been enhanced: Word documents' topic titles will stick to the same page as the following content when possible, Javascript search engine's speed and memory usage have been optimized for the HTML documentation format, CHM and HTML documentation format's arrows will now work as expected with relative blank topics…
This update also features a revised user interface: most scroll bars are now more discreet and will only appear when the mouse is over the control, while scalable icons rendering has been enhanced. We have also continued to enhance the user interface for High DPI screens.
Check the change log below to learn more about new features and updates in this version…
2017 was amazing, we expect 2018 to be even better
Thanks to your continued support, HelpNDoc has had an amazing year in 2017 with multiple incredibly useful enhancements and additions. There are more users of HelpNDoc than ever and your incredible feedback and support helped us release those multiple powerful updates. We can't thank you enough and we would like to cease this opportunity to wish you and your loved ones the best for 2018!
We are already hard at work on the amazing features and enhancements we plan to add to HelpNDoc in 2018 and, with your continued support, we are confident that 2018 will be the most amazing year so far with a simple goal: continue to enjoy documenting!
Change log
Version 5.5.0.486 – Release date: Jan 16, 2018
New project analyzer section: spell checker which will find misspelled words in the whole project

Topic titles will stick to the same page as the topic content in Word documents

Ability to add tab character in Word / PDF topic titles using the \t placeholder

Beta version of the floating license server for Linux and Mac OS X

New script to automate topic caption numbering based on its hierarchy level in the table of contents

Speed and memory improvements when generating search data for all HTML templates

Project analyzer now reports the number of words in the project

HTML templates' JavaScript search data could include content which wasn't included due to unmet conditions

CHM and HTML navigation arrows could include links to blank topics thus creating 404 not found errors

Default topic's content was added twice to JavaScript search engine database

Better high DPI screen support in various parts of HelpNDoc such as the topic editor...

Enhancements in HelpNDoc's user interface with better skin painting, less intrusive scrollbars, better scalable icons rendering...
See also
---