We are glad to announce the release of HelpNDoc 5.6, a major update of the popular help authoring tool which can be downloaded completely free for personal use and evaluation purposes. This major update includes dozens of syntax highlighters for multiple programming languages, better SEO for the HTML documentation formats, persistent customization for the quick access toolbar; enhanced documentation generation and much more. Download your free version of HelpNDoc now and read more to learn about this latest update.
Automatic syntax highlighting for various programming languages
Quickly and reliably highlight sample code using one of the dozens of customizable syntax highlighters available in HelpNDoc.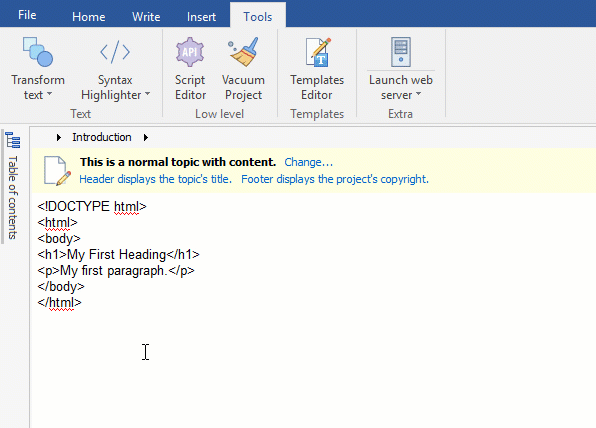 Adding sample code to a manual or user documentation can be a lengthy process: pasting the code is fast but readers expect the code to be highlighted in order to be more easily readable. Starting with HelpNDoc 5.6, it is possible to rapidly highlight a piece of code using one of the highlighters available. From C# to XML to HTML to SQL to CSS… simply select the code to highlight, click the desired highlighter, and let HelpNDoc do the hard work.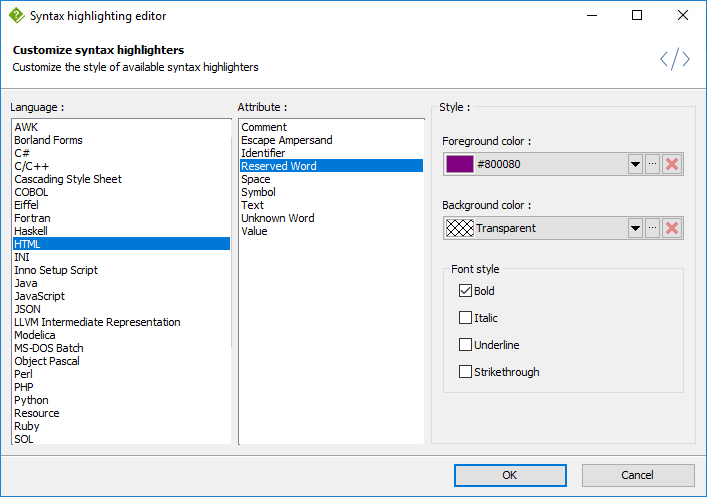 Don't like the default font style and colors used by the syntax highlighters ? Simply use the straightforward syntax highlighting editor to customize it according to your preferences.
Improved HTML documentation generation: better SEO, various bug fixes…
Topics' unique help identifiers (Help ID) are used to generate the generated topics' file name. Up until now, only alpha-numeric characters were allowed in Help Ids in order to be cross-documentation compatible. We have enhanced them to also allow dash "-" characters, offering a way to create clearer, search engine optimized URLs.
The updated HTML documentation generator now correctly handles "control clicking" on hyperlinks to open in a new window, has better support for the Wingdings font, and more…
Various bug fixes and enhancements
As always, we've solved multiple bug reports and features requests, such as the quick access toolbar's customization which is now saved and restored when the application starts. The ability to reach an anchor when CTRL + Clicking on a link in the topic editor. Enhancements in the project analyzer. Performance optimizations… And much more, as can be seen on the detailed change log below.
As always, HelpNDoc is completely free and fully functional for personal use and evaluation purposes. So download your copy now and enjoy documenting!
Change log
Version 5.6.1.532 – Release date: Mar 2, 2018
New customizable syntax highlighter with multiple built-in programming languages

Help IDs now allow the dash "-" character making it easier to create SEO hyperlinks

The quick access toolbar customization is now saved and restored when the application is launched

HTML generation now warns if the generated file name is the same as one of the topic's help id as it could cause problems

CTRL + Click on a topic link to an anchor in the topic editor will show the topic at the correct anchor's position

Project analyzer incorrectly checked spelling in hyperlinks

Fixes and performance enhancements in the HND project file format handling

Further enhancements to SVG icons rendering and High DPI monitor support

For HTML based documentation format, choosing a file name similar but with different case as one of the help ids could cause a file creation error

Using the default HTML template, CTRL + Clicking on hyperlinks didn't open in a new window / tab

Greatly reduced memory usage for Word and PDF generation of malformed projects with lots of different styles due to copy / paste from third party software

Some Wingdings characters were incorrectly exported to HTML based documentation formats only

The "ß" character is now replaced by "ss" when filtering topics' Help Ids

Moving library items or keywords just after changing their caption could cause an error

Optimized and improved debug code and reported debug information for the debug edition

Fixed obscure memory leaks
See also
---