Tired of manually updating the properties of newly created topics in your documentation projects ? Download the brand new HelpNDoc version 6.1 to be able to define the default properties to apply to new topics once and for all (such as icon, status, visibility…), thus eliminating a tedious and error-prone task and create better organized help files and manuals. This major update can also optionally load "HTML code" library items from the hard drive and export the whole content of a folder in your library. It includes updated spell checkers as well as multiple enhancements and bug fixes. Read on to learn more and download your free version of HelpNDoc now.
Define properties of newly created topics
HelpNDoc documentation projects can be set to create new topics with a predefined set of properties.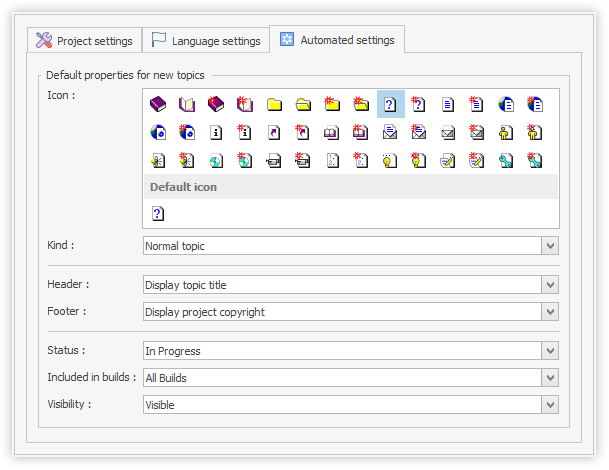 Topics, in your documentation projects, have multiple attached properties: a custom icon, a specific kind, a status, a specific visibility and so on… Those properties usually have to be edited one by one for each newly created topic. Starting with HelpNDoc 6.1, it is now possible to define a custom set of default properties: HelpNDoc will use them when it creates a new topic. It makes it possible to create new topics with the "In Progress" status or make them "Invisible" while you are working on them: simply define the default properties for new topics in your project settings and HelpNDoc will use them accordingly when a new topic is created.
Enhanced "Folder" and "HTML code" library items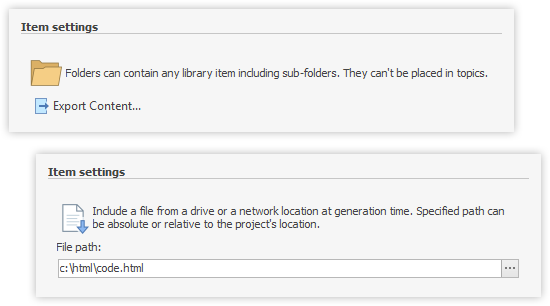 It is now possible to export all library items included in a folder: simply select a folder in your library, click "Item Properties" and choose "Export Content…" to export every items to an external location.
The HTML code library item has also been enhanced as it can now be loaded at generation time. Simply point to a file on your hard drive, and HelpNDoc will load its content next time you generate the documentation.
Updated spell checking dictionaries, better documentation generation and more

All spell checking dictionaries have been updated to their latest version, thus providing many enhancements and fixes to HelpNDoc's live spell checking feature.
This new update also includes enhancements to multiple documentation formats, such as faster HTML-based documentation generation, better link generation in CHM help files, more reliable QtHelp file and Word document generation…
This major update also includes the script to bulk edit the status of all topics, the ability to open a QtHelp project from the documentation generation dialog and multiple bug fixes as can be seen on the change log below.
As always, HelpNDoc is completely free for personal use and evaluation purposes so download your free version now to get started and experiment with this update, and feel free to contact us to share any thought you might have about HelpNDoc.
Change log
Version 6.1.0.206 – Release date: Apr 23, 2019
Define default topic properties in the project options, and new topics are automatically created using those properties

HTML code library items can now be external and therefore loaded from disk at generation time

It is now possible to export all the items contained in a library item folder to disk

Added script to bulk edit the status of all topics in the currently opened documentation project

Qt's assistant.exe program is now run to show the generated Qt Help file when clicking "Open file" after generation is complete

Updated all spelling dictionaries to their latest versions

It wasn't possible to edit the Spanish name and description of variables in the template editor

For English spell checkers, the live spell checker will now treat straight and curly apostrophes similarly: both "don't" and "don't" will be treated as correct

Topics without content were showing "not found" errors for Qt Help files

Optimized HTML generation which should generally result in fastest build times

Word / RTF documents import or paste could produce an exception

In rare conditions, generated Word DocX files could be corrupted

In CHM help files, links to files didn't show the "hand" cursor

HelpNDoc is not tested on Windows Vista anymore: Microsoft dropped support for Windows Vista on April, 2017
See also
---