We are thrilled to announce the immediate availability of HelpNDoc 6.3, a major update of the popular help authoring tool which can be downloaded completely free for personal use and evaluation purposes. This update can now display external pictures within the topic editor, it optionally cleans the output directory, and includes a greatly improved document importer, as well as many other enhancements and bug fixes. Read on to learn more and download your free version of HelpNDoc now.
Improved library and external library items
HelpNDoc's WYSIWYG topic editor can now display external pictures while the library items list has been enhanced.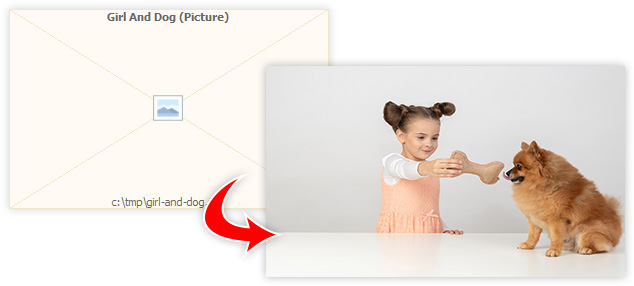 External pictures, placed in the library, are files which are located outside of the project, such as on a hard drive or network path. Up until now, HelpNDoc displayed placeholders in the topic editor, which were replaced at generation time by the external files' content. Starting with HelpNDoc 6.3, the topic editor will show the content of the external picture, making it easier and faster to work with external library items.
The library items list has also been enhanced and now displays an icon overlay to rapidly spot items imported from a file at generation time, or an URL at viewing time.
Copying and pasting topic content between two instances of HelpNDoc has also been fixed to correctly handle images.
Better Word and HTML document importer
HelpNDoc's document importer can split documents and create multiple topics based on either the heading level or font size. It has been significantly improved in this major update.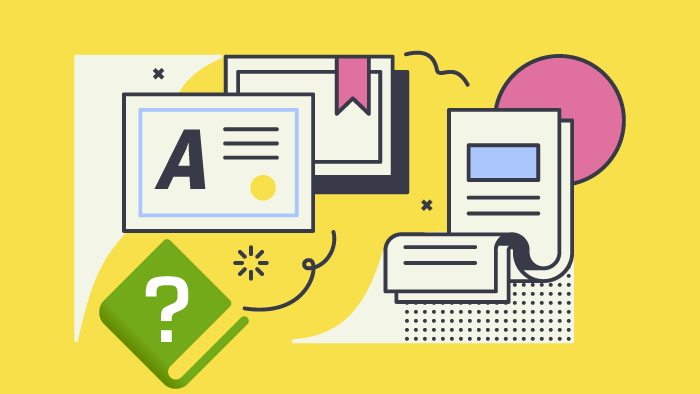 The Word and HTML document importer can now re-create hyperlinks when splitting an imported document. It means that, if you choose to split a Word document based on heading level or font size, HelpNDoc will automatically create all topics and update any hyperlinks to make sure that they target the correct topic. This makes it even easier to convert a Word document to a full featured CHM help file, HTML web-site or ePub / Kindle eBook.
The document and CHM importers have also been improved to better import anchors.
Improved documentation generation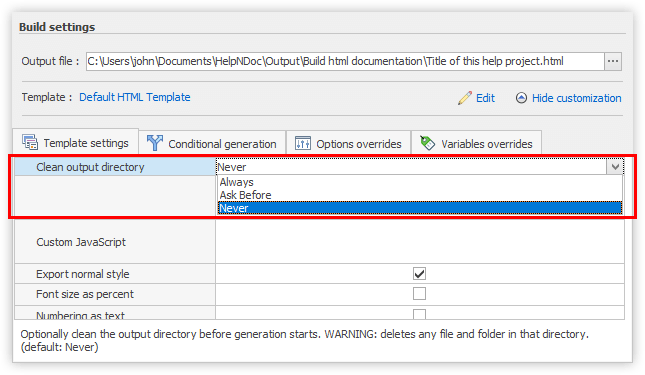 HTML based documentation formats (CHM, HTML, ePub, Kindle and Qt Help) can now optionally clean the output directory before generating the documentation, making it easier to create perfectly clean documentation without any deleted or outdated content: you can choose between "Never clean", "Always clean" or "Ask before cleaning" from the build settings to make sure that it fits your specific workflow.
Those documentation formats now correctly handle Unicode characters having codes greater than $FFFF (E.g. symbols, emoticons…) and the speed and memory needed to generate them have been optimized.
Enhancements and bug fixes
This update is packed with various enhancements and bug fixes such as an enhanced hyperlinks analyzer, improved dictionary installation, an enhanced script editor and much more, as can be seen on the change log below.
As always, HelpNDoc is completely free for personal use and evaluation purposes so download your free version now to get started and experiment with this update, and feel free to contact us to share any thought you might have about HelpNDoc.
Change log
Version 6.3.0.298 – Release date: Jul 24, 2019
External file pictures are now drawn in the topic editor

For HTML based documentation formats, it is now possible to optionally clean the output directory before generating documentation: select build settings to never clean, always clean, or ask before cleaning

Library items now display an icon overlay when they are imported from a file at generation time, or an URL at viewing time

The hyperlink analyzer now selects the full hyperlink in the topic editor when an item is selected, making it easier to spot problematic hyperlinks

Imported documents now correctly import anchors to that document

Imported split documents now correctly re-create hyperlinks to other topics from anchors in that document

Copying topic content between two instances of HelpNDoc didn't correctly copy images

Unicode characters having codes greater than $FFFF (E.g. symbols, emoticons...) were not correctly exported to HTML based documentation formats

After importing a CHM help files, anchors could be broken when exported to another documentation format

An error message is now displayed when trying to install a dictionary in a location which cannot be written to

Editing a script in the template editor didn't warn when closed without saving

Improved speed and memory usage when generating all HTML based documentation formats (CHM, HTML, ePub, Kindle and Qt Help) for projects using at least one picture library item

Optimized topic loading speed when they contain tables
See also
---