Technical writers rely on hyperlinks to organize and reference multiple parts of their printed user manuals, eBooks or help files. Making sure hyperlinks are up to date is very important as broken hyperlinks can disrupt the learning flow of the end-user, who might be overwhelmed as she couldn't find the information needed: this can lead to increased support costs if a support ticket is opened. Thankfully, the HelpNDoc help authoring tool includes a straightforward hyperlink analyzer to help technical writers quickly spot and fix problematic hyperlinks.
Find problematic hyperlinks in your documentation project
HelpNDoc includes a very powerful project analyzer which can assist technical writers by checking the consistency of their documentation projects, such as broken hyperlinks or media elements.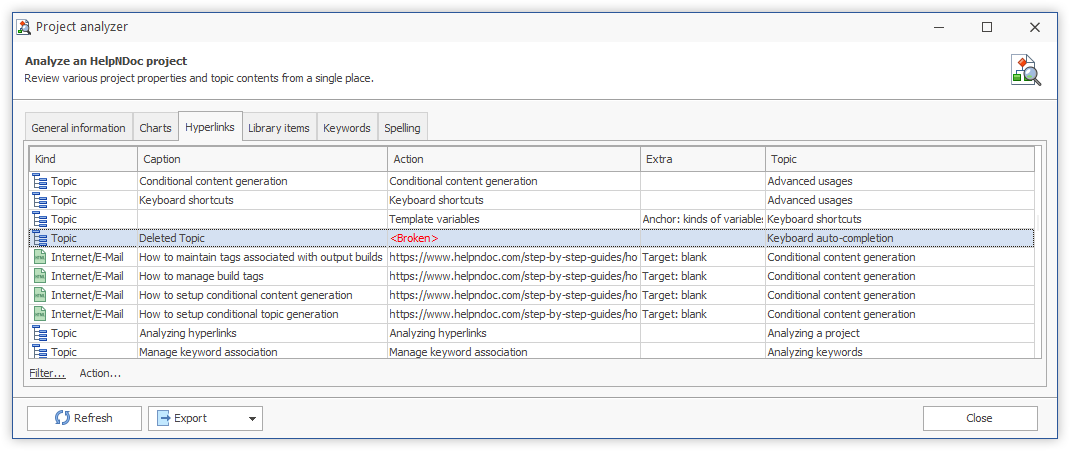 While working on a documentation project, click "Analyze project" from HelpNDoc's "Home" ribbon tab to access the project analyzer. Every hyperlinks found in that project are listed in the "Hyperlinks" tab, with a description of their location, action… To quickly locate and fix broken hyperlinks, simply:
Click "Filter…" then "Show broken items only" to only show the broken ones
Double-click on a row to select the problematic hyperlink in HelpNDoc's topic editor
Use HelpNDoc's hyperlink editor to update the link
Hit the "Refresh" button to make sure that everything is OK, and voilà! It only took a few seconds to correct all the problematic hyperlinks and feel confident about the consistency of your documentation project.
You can now concentrate on the most important part: writing great documentation and help files.
Export the list of hyperlinks to PDF or Excel spreadsheets
A second opinion might be required to make sure that all links are pointing to the correct topics. Once again, HelpNDoc's project analyzer can help by exporting the list to PDF or Excel.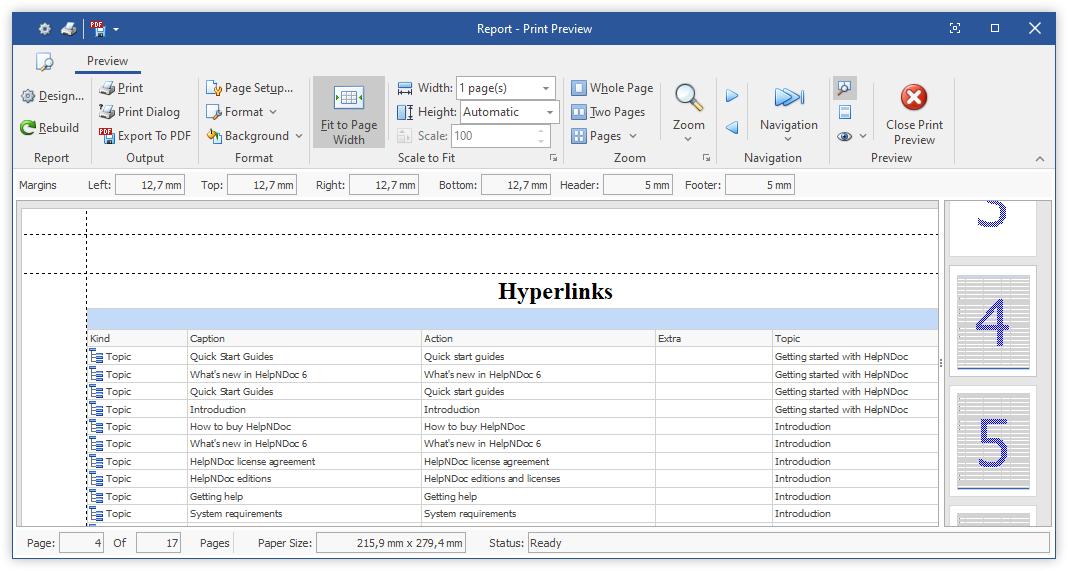 Why stop there when you can do more: HelpNDoc's project analyzer has recently been improved to export its content to PDF documents or Excel spreadsheets. This can be useful to create an archive of all hyperlinks in your project, or meticulously inspect them using a third party tool such as Microsoft Excel, or send them to your boss or co-worker for clarification… HelpNDoc's project analyzer really is an incredible documentation assistant.
Try it now!
Did you know that the HelpNDoc help authoring tool is free and fully functional for personal use and evaluation purposes ? Download your copy now to try it for yourself and see how this powerful software can help you write the most amazing help files, eBooks, user manuals and documentations!
See also
---