We are glad to announce the release of HelpNDoc 6.9, a major update of the popular help authoring tool which can be downloaded completely free for personal use and evaluation purposes. This major update includes many new features such as the addition of a Bar codes and QR codes editor, the ability to analyze all anchors used within your documentation project, improved documentation importers, and much more. Read on to learn more and download your free version of HelpNDoc now.
Add Bar codes and QR codes to your help manuals
Bar codes and QR codes are extremely useful to produce a machine-readable visualizations: a bar code reader or smartphone camera can be used to quickly and safely interpret them, making it easier to share complex data with your readers.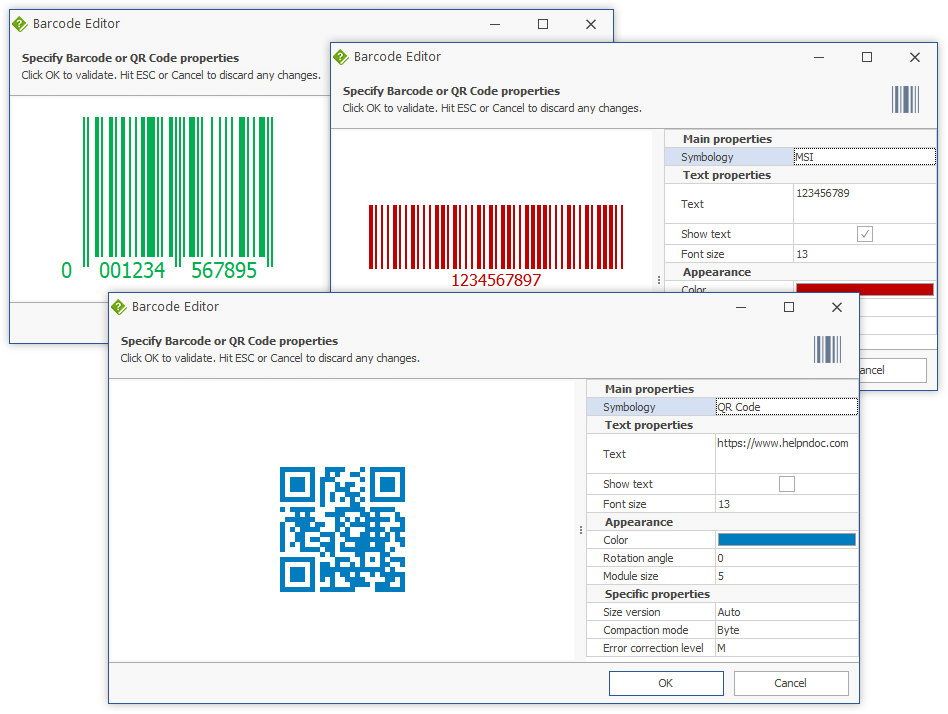 It is not uncommon for technical writers to have to share lengthy URLs or alpha-numeric data in their user manuals. This can be cumbersome for some documentation formats (such as printed Word and PDF documents, eBooks…) as it can lead to multi-line, hardly-readable and cryptic content that the end-user need to understand or type without mistakes.
Thankfully, the newly released HelpNDoc 6.9 includes a very powerful bar code and QR code creator: technical writers can easily and rapidly encode complex information as machine-readable images, and let their audience use bar code readers or smart-phones to decrypt them! HelpNDoc can currently create the following bar code formats: EAN-8, EAN-13, MSI, QR Code, UPC-A and UPC-E.
Furthermore, HelpNDoc treats bar codes and QR codes as reusable library items, meaning that they can be shared between topics and rapidly modified from the project's central library: any changes will be automatically replicated wherever they are used.
Enhanced project analyzer: list and locate all anchors in your documentation projects
HelpNDoc's project analyzer is a wonderful assistant which helps produce the most perfect documentation: it provides project statistics, list of hyperlinks, library items and keywords, spelling mistakes… It can now also list all anchors created anywhere in the project.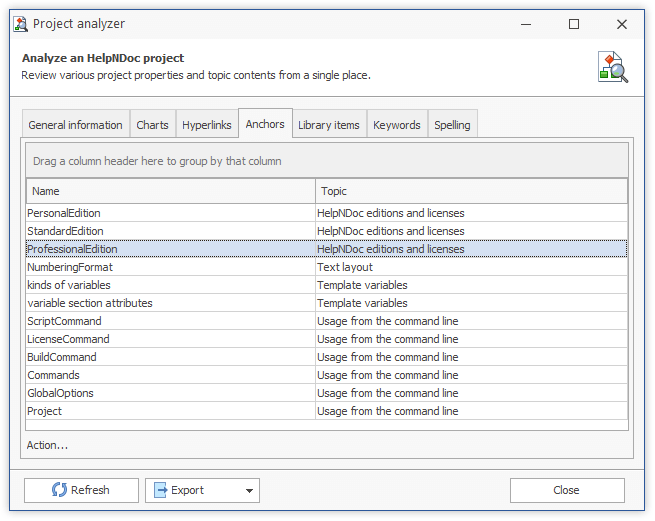 Anchors are very helpful to mark and locate a specific part of a topic. As user manual projects grow, it becomes harder to manage them and use them effectively: they can be all over the place and follow different rules on different topics. Fortunately, HelpNDoc's updated project analyzer now lists all anchors created within the current project, making it easier to spot them and navigate to wherever they are located.
Improved cohesion between topic editor and ribbon toolbars

Ribbon tabs are now optimized when selecting a picture or a table within the topic editor: they could flicker and loose focus when moving the cursor in various parts of a topic.
The different picture properties available from the ribbon toolbar are now correctly updated when picture selection changes, and pictures inserted from the toolbar are now correctly placed where the cursor is located.
Enhanced command line, importers, exporters and bug fixes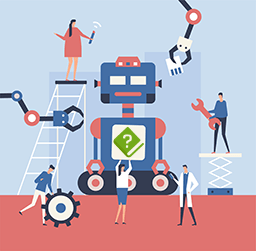 HelpNDoc's command line interface has been improved to correctly handle the selection of builds by name and relative paths overrides.
The CHM help file importer has been optimized to be faster for large CHM help files and use less system memory. Word and HTML importers have also been improved as well as table generation for Word and PDF documentation formats.
This release includes additional enhancements and bug fixes as can be seen on the change log below.
As always, HelpNDoc is completely free for personal use and evaluation purposes so download your free version now to get started and experiment with this update, and feel free to contact us to share any thought you might have about HelpNDoc.
Change log
Version 6.9.0.577 – Release date: May 5, 2020
New BarCode library item: create and customize EAN-8, EAN-13, MSI, QR Codes... and place them within your topics

Project analyzer now lists all anchors defined within the project and provides a way to rapidly locate them

Project analyzer reports the number of anchors and Barcodes used throughout the project

Inserting new library items using the "Insert" ribbon tab, placed them at the start of the topic instead of the cursor position

Picture properties (Alt text, size, position...) were not always updated when selecting pictures in the topic editor

Picture format and table layout ribbon tabs now keep focus when selecting images or tables in various parts of a topic (e.g. moving in, out and between table cells...)

Command line interface didn't always work when selecting builds by name as part of the following options: -except; -only; -output; -status; -tags; -template

Overriding output path from the command line could fail for some documentation formats when using relative paths

Focusing topics in the table of contents could be slow for large projects

Fixed incorrect column width saving for some projects for Word and PDF documentation format

Changing URL of "URL topics" or File path of "External file" topics could cause exceptions

Optimized and removed flicker of "Picture Tools" and "Table Tools" ribbon groups when moving the cursor in various parts of a topic

Fixed memory leaks when importing CHM help files which could produce "Out of Memory" errors when importing large files

Resized images could be distorted when exported to PDF

Faster import of large CHM help files

Improved HTML and RTF/Doc/DocX importers

Various user interface tweaks, fixes and enhancements, including for High DPI screens
See also
---