We are glad to announce the release of HelpNDoc 7.1, a major update of the popular help authoring tool which can be downloaded completely free for personal use and evaluation purposes. This major update includes many new features such as the ability to define default image settings, an enhanced spell checker which now supports snippets, new barcode symbologies, and much more. Read on to learn more and download your free version of HelpNDoc now.
Define default image settings
Adding an image into one of your documentation's topic usually implies setting up its alternative text, its alignment, its preferred size, margins… Wouldn't it be nice if you could set it up once and let HelpNDoc do the hard work for you? Now you can!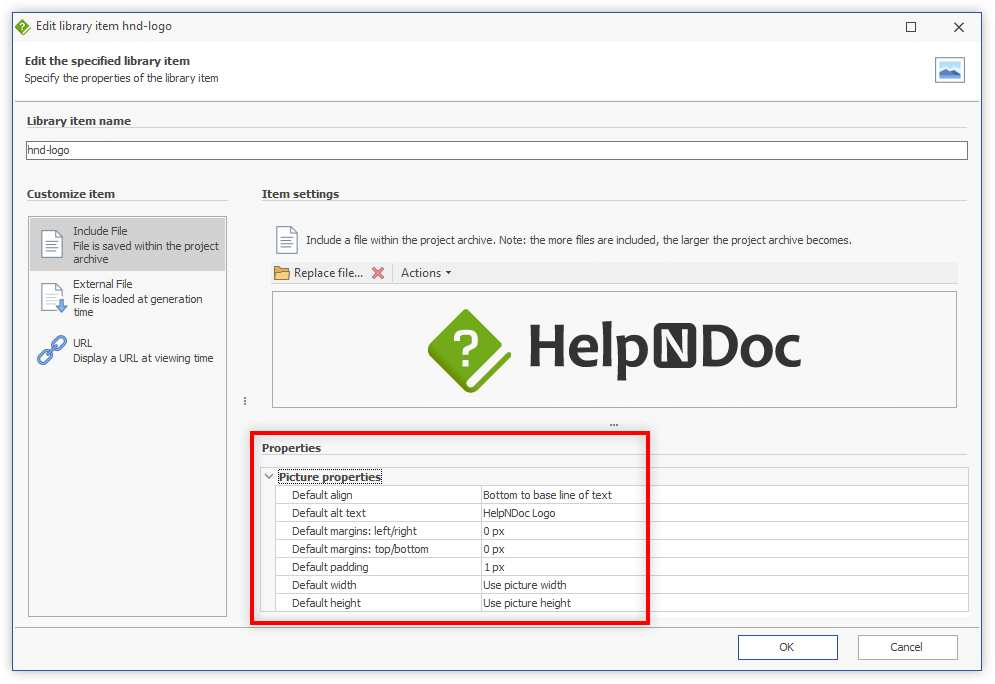 HelpNDoc's image and image map editor now includes default picture properties such as "default align", "default alt text", "default margins"… Once specified, those properties are stored alongside the image in your project's library, and used whenever you insert that image into a topic.
Those settings can still be customized for each image instance if needed. This makes it easier, faster and more reliable to define default image properties in your documentation projects.
Use the project analyzer to spell check your snippets
HelpNDoc includes a live spell checker with dozens of dictionaries, as well as a project-wide spell checker. Up until now, it wasn't possible to check snippets in the project's library. This has been implemented in HelpNDoc 7.1.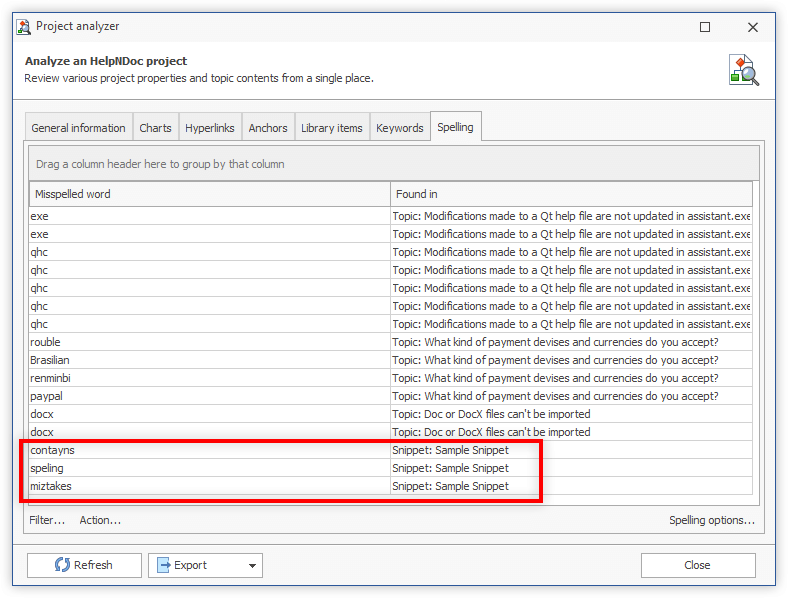 Technical writers need to make sure that their help file, user manual or eBook is as error-free as possible. That's why checking the spelling of their documentation project is crucial. HelpNDoc can provide live spelling suggestions while you enter your content and spell check the whole project at once using the project analyzer… and starting with version 7.1, it can also spell check snippets present in the project's library.
Support for additional barcode symbologies
HelpNDoc already supports multiple barcode symbologies as well as QR codes to easily and rapidly produce machine-readable visualizations. This new update adds 7 new barcode symbologies.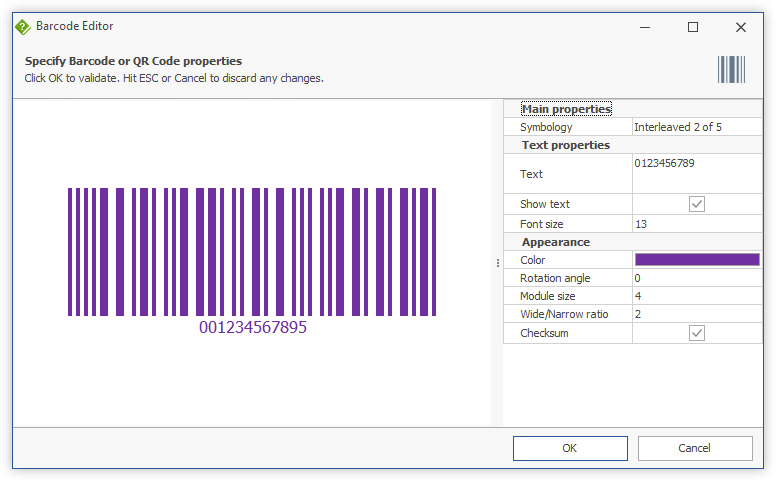 HelpNDoc already support the following barcode formats: EAN-8, EAN-13, MSI, UPC-A, UPC-E and QR Code. Starting with HelpNDoc 7.1, it also supports the following symbologies: Code 11, Code 39, Code 39 Extended, Code 93, Code 93 Extended, Code 128 and Interleaved 2 of 5.
Documentation generation enhancements, user interface improvements and bug fixes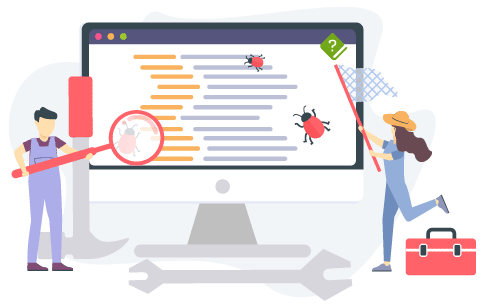 The default HTML template can now optionally include an alternative text for the logo. It properly handles e-mail addresses hyperlinks and its search engine returns better results.
Rotated cells generation has been improved for the PDF documentation format, while Word and PDF documentation generation is now more reliable.
The Microsoft Word DocX importer has also been improved to support a wider variety of documents and better support some Word features.
Selected items in trees and grids could be hard to spot due to the use of alternate row colors: they have been disabled in this update. We have also improved high resolution screen support in the topic editor and overall user interface.
This release includes additional enhancements and bug fixes as can be seen on the change log below.
As always, HelpNDoc is completely free for personal use and evaluation purposes so download your free version now to get started and experiment with this update, and feel free to contact us to share any thought you might have about HelpNDoc.
Change log
Version 7.1.3.270 – Release date: Feb 15, 2021
Brand new installation could crash without any errors when creating or opening a project
Change log
Version 7.1.2.266 – Release date: Feb 12, 2021
Table of contents and other tree editors were not always showing the typed content when edited
Change log
Version 7.1.1.256 – Release date: Feb 3, 2021
An EInvalidGraphic "Bitmap image is not valid" exception could be shown at program startup

Smaller icons were not always correctly scaled
Change log
Version 7.1.0.253 – Release date: Feb 2, 2021
It is now possible to define default image and image map settings from the library: they will be used when image is inserted into topics

Added support for additional bar codes symbologies. New bar code types include: Code 11, Code 39, Code 39 Extended, Code 93, Code 93 Extended, Code 128 and Interleaved 2 of 5

Project analyzer's spell checker now checks misspelled words in snippets

MacOS version of the Floating license server is now a universal binary which supports both the Intel x64 and Apple ARM64 processors

Default HTML template can now optionally add an Alt text for the logo

Generating a PDF with rotated cells containing text could produce an exception

Activating the "Force image sizes as Inches" CHM option could generate very small pictures

Strengthened script execution: functions returning null objects could return non-null objects and therefore failed the Assigned() check

HTML search engine could return invalid results for some words

More reliable handling of temporary folders: should be able to better clean after itself

Enhancements and fixes in DocX importer: compatible with more DocX documents, enhanced theme color and font names import...

Optimized project analyzer which is now faster in most cases

Trees and grids do not show alternate row colors anymore as they made it hard to see the selected item

Topic editor's header and popup menu could be displayed too small on high DPI screens

Improved image scaling for semi-transparent images in topic editor

Improved speed, security and reliability of licensing library

Under some rare conditions, exported Word or PDF documents could be empty or partially generated

Improved OpenOffice spell dictionaries compatibility

Default HTML template incorrectly opened a new tab when clicking a link to an e-mail address
See also
---