We are glad to announce the release of HelpNDoc 7.4, a major update of the popular help authoring tool which can be downloaded completely free for personal use and evaluation purposes. This major update includes many new features such as the ability to produce an inline table of contents in HTML topics, a new kind of hyperlink to "counters" instances, an enhanced HTML documentation format with better Core Web Vitals, a better syntax highlighter, improved documentation generation, and much more. Read on to learn more and download your free version of HelpNDoc now.
Inline table of contents
Most documentation projects have an extensive table of contents with many topics. But when topics are large, they could require their own table of contents: that's now possible with HelpNDoc 7.4.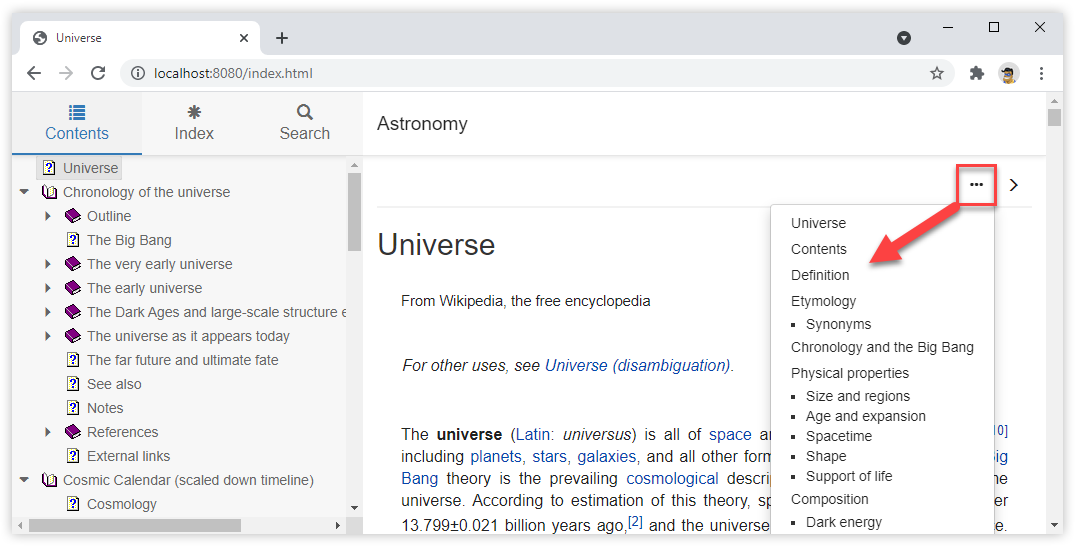 When activated, HelpNDoc's HTML generator will automatically produce an inline table of contents for each topic by iterating over its headings. The end-user can then rapidly access a section of that topic via a popup menu. To activate this features:
Make sure that your topics are using headings styles (e.g. "Heading 1", "Heading 2"…) or contain paragraphs with an "Outline level" defined
Customize the project's HTML documentation settings to activate the "Show inline table of contents" option
Generate your HTML documentation: and voilà! Every topics now have an inline table of contents
Create hyperlinks to "counter" library items
Counters are very useful to count items in your project, such as figures, tables… This new update adds a new kind of hyperlink to reach a specific counter instance, no matter where it is located.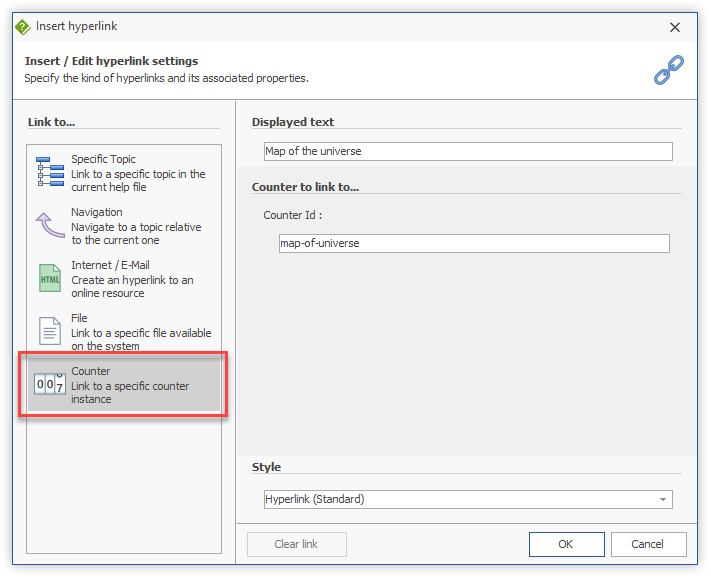 Once you've added counters throughout your project, you won't have to worry about anything: HelpNDoc will automatically handle them at generation time to update their caption. But what if you'd like to create a link to a specific counter instance ? Up until now, this would imply the creation of an anchor where that instance is located, and a hyperlink to that specific anchor in a specific topic. If the counter is moved somewhere else, this would result in a broken link.
Starting with HelpNDoc 7.4, it is now possible to create a hyperlink to a specific counter instance by simply indicating its uniquer identifier: HelpNDoc will do the hard work of locating it, and producing the correct link to that counter, no matter where it is located in the project, and even if it is moved to another topic.
Enhanced documentation generation
When your documentation project is maintained in HelpNDoc, you can rest assured that the output generated will always be optimal as we constantly improve HelpNDoc's documentation generation capabilities.
Starting with HelpNDoc version 7.4, it is now possible to rapidly add custom CSS code for ePub, Kindle and Qt help file formats right within HelpNDoc's user interface. This was already possible for the CHM and HTML formats, and it provides a great way to perform minor modifications without having to create a new template.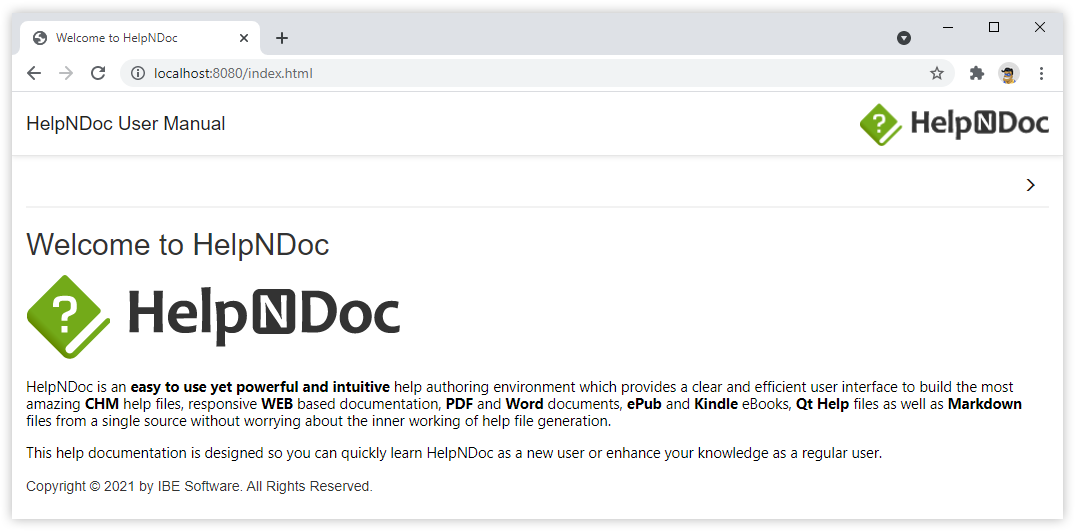 The default HTML template has been greatly enhanced too, as it will now correctly scroll the table of contents if the current topic is not visible or when the user performs actions related to the web-browser's history (e.g. next and back navigation). The left panel is also now fully hidden when its width is set to 0 pixels or when all tabs are hidden, thus allowing the creation of a full-page HTML documentation.
Finally, all HTML based formats can now optionally export images width and height properties to avoid web-browser's content shifting and therefore enhance Core Web Vitals reports.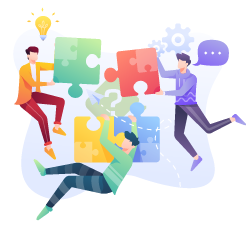 Improved user interface, additional enhancements and bug fixes
And that's not all for this major update as we've added and enhanced many features, such as the syntax highlighter which is now faster and more reliable and can have customized fonts.
The topic editor has been improved too and supports the SHIFT + TAB keyboard shortcut to decrease bullets indentation level amongst other fixes and enhancements, as detailed in the change log below.
As always, HelpNDoc is completely free for personal use and evaluation purposes so download your free version now to get started and experiment with this update, and feel free to contact us to share any thought you might have about HelpNDoc.
Change log
Version 7.4.0.390 – Release date: Jun 15, 2021
Optional "In this article" inline table of contents in the default HTML template

New kind of hyperlink "counters": it is now possible to create a link to a specific counter's instance using its ID

Ability to force image size generation for HTML based format to avoid content shifting and enhance Core Web Vitals

Added the ability to specify a default font name and size for the syntax highlighter

It is now also possible to define custom CSS style from HelpNDoc's user interface for the ePub, Kindle and Qt help file formats

The SHIFT+TAB keyboard shortcut can now be used to decrease bullets indentation level

Snippet editor and template cover editor windows can now be maximized to occupy the full screen

Clicking a link to another topic in the default HTML template will scroll to that topic in the table of contents of the default HTML template

Navigating through the web-browser's history will scroll to the proper topic in the table of contents of the default HTML template

Default HTML template will now correctly hide the left panel if all tabs are hidden

Default HTML template was shown when its width was set to 0 pixels

Some panels could be randomly very large at application start, hiding any content in the main window

Exception could be raised at startup if some settings were incorrect

Improved syntax highlighter: faster highlighting, ability to undo the conversion of paragraphs to line breaks, do not convert tab to spaces anymore

When "Show non printing characters" was enabled, some library items could display gibberish text in the topic editor

Warn users that the Microsoft Word DocX format doesn't support distinct first page headers/footers and distinct even pages headers/footers to avoid confusion
See also
---