We are glad to announce the release of HelpNDoc 7.6, a major update of the popular help authoring tool which can be downloaded completely free for personal use and evaluation purposes. This major update includes many new features and enhancements such as a brand new analyzer which can list conditional content throughout the project, a completely redesigned project analyzer with faster navigation and enhanced accessibility, an improved HTML importer which can download remote images, an enhanced Word importer, better documentation generation, and much more. Read on to learn more and download your free version of HelpNDoc now.
Analyze conditional content throughout the project
Thanks to HelpNDoc's conditional content generation, it is possible to produce multiple variations of a single project for various target audiences. The new "conditions" analyzer helps locate conditional content throughout the project.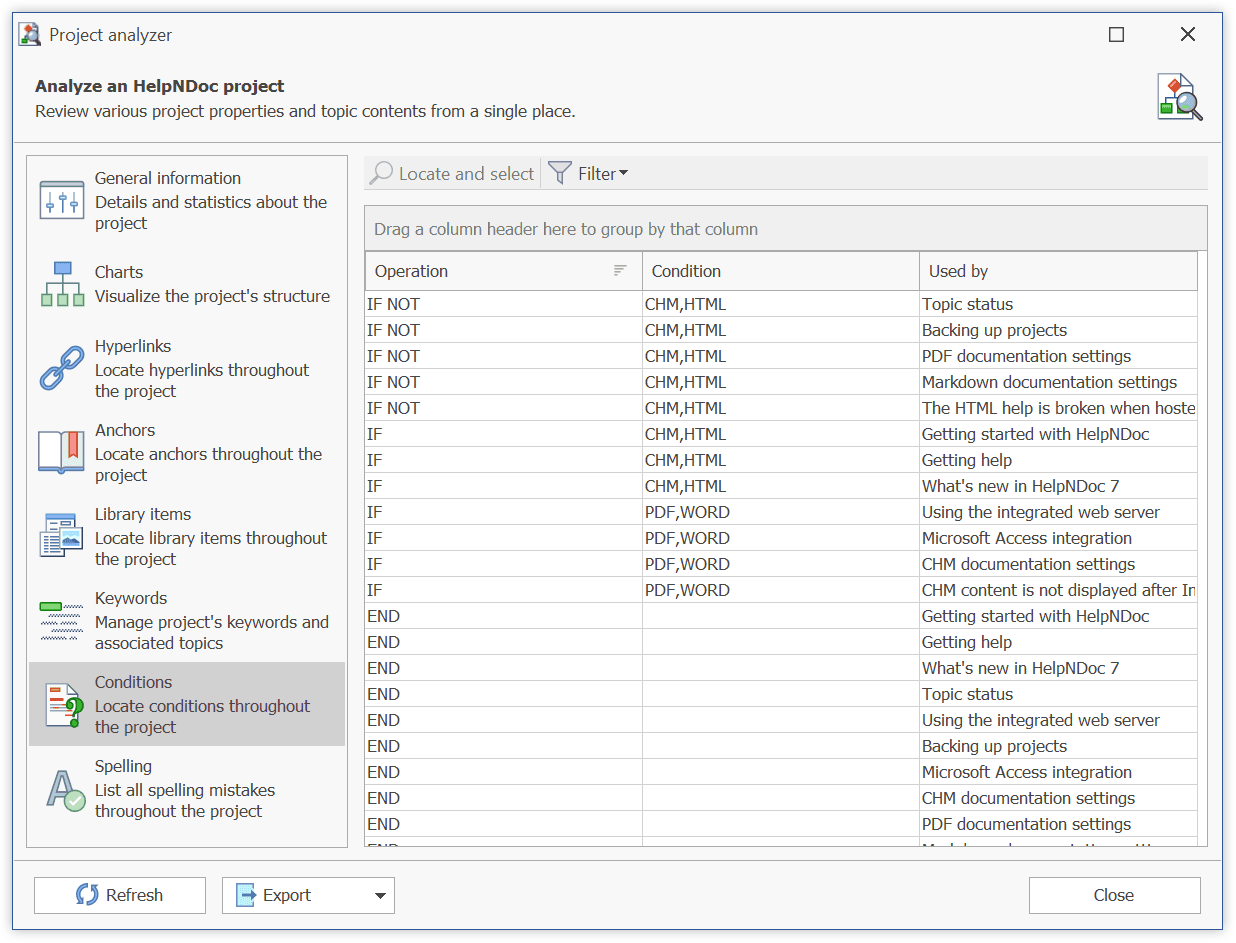 Once you've setup conditional content generation in your documentation project, maintaining it could be a daunting task as conditional tags could be located anywhere in the project. That's where the brand new "conditions" analyzer comes in handy: it automatically lists and locates all conditions throughout the project for quick and easy modifications. And it even includes advanced filtering (e.g. by operation, or condition), grouping and search options to make conditional content maintenance a breeze.
Redesigned and improved project analyzer
HelpNDoc's project analyzer is a powerful tool which can produce in-depth reports about a documentation project's content such as stats, list of valuable items, spelling mistakes… It has been redesigned to be clearer, easier to navigate and more accessible.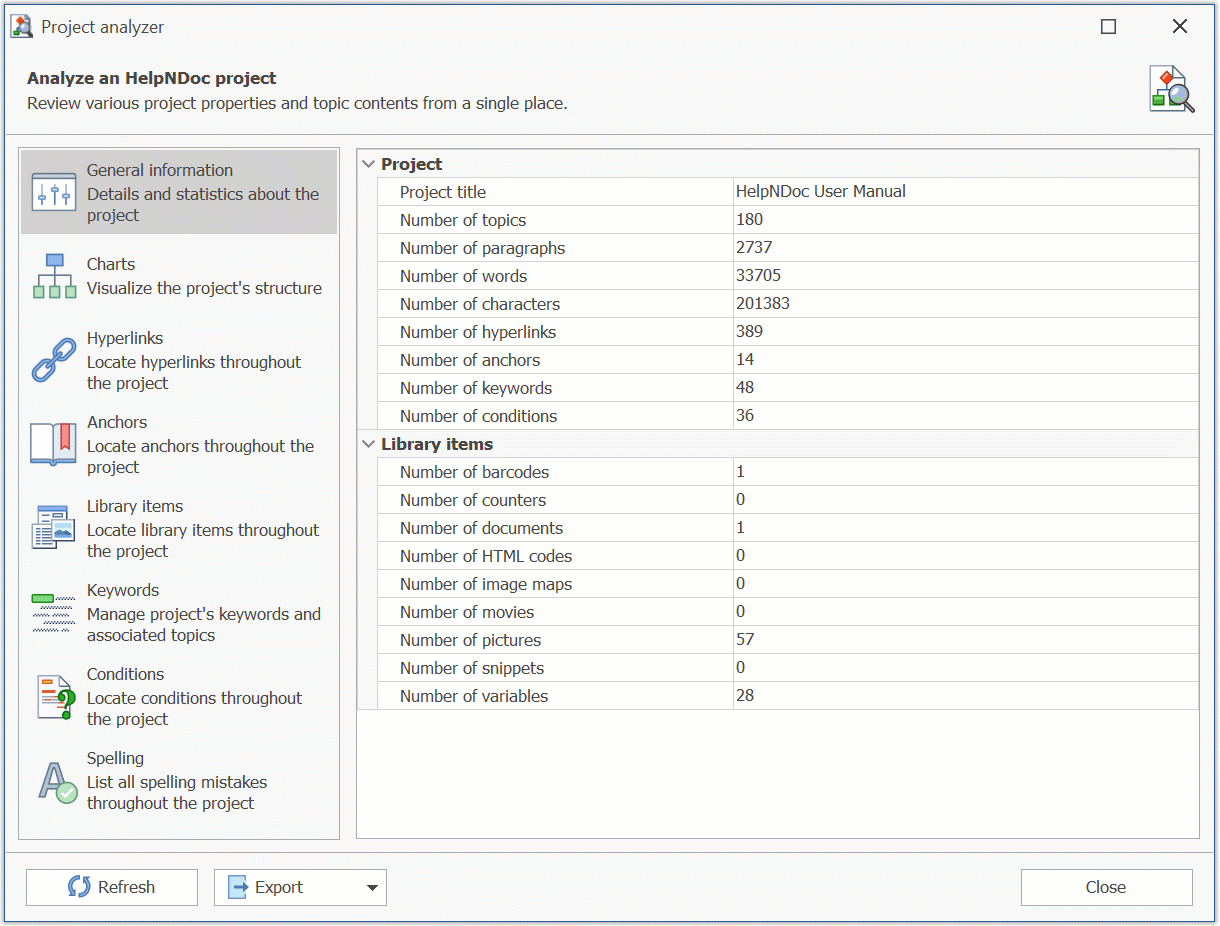 Technical writers praise HelpNDoc's project analyzer for its insightful reports which greatly help avoid mistakes to produce the most perfect documentation. It can report broken hyperlinks or library items, it can list misspelled words and, starting with this major update, it can even locate conditional content throughout the project. It is an invaluable and relentless assistant to technical authors.
And that's why we spent time to completely redesign its user interface to make it easier, faster to navigate, and more accessible thanks to:
A new navigation sidebar with icons and descriptions for each individual reports
New toolbars for most reports, which adapts to screen size and clearly lists actions and filtering operations
Improved and streamlined context menus for all reports
Improved import experience
Technical writers frequently need to import from various sources to produce truly outstanding help files, user manuals and eBooks. That's why we have enhanced HelpNDoc's import experience in version 7.6.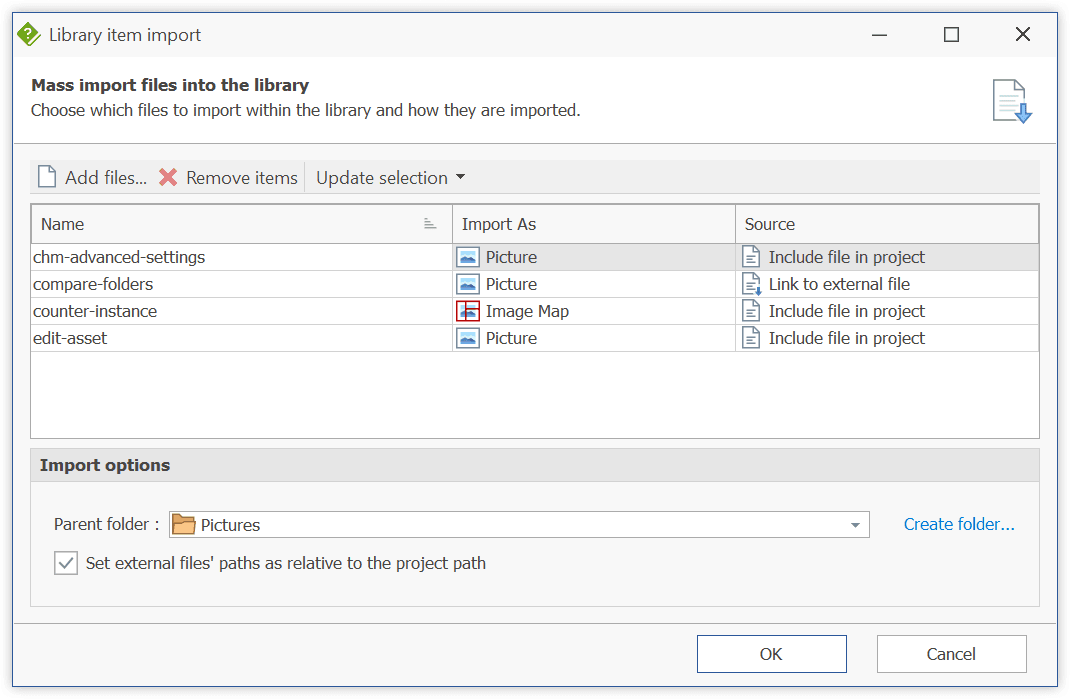 HelpNDoc's HTML importer has been improved in this major update: when copying content from an external web-browser, it now automatically downloads remote images and include them in the content pasted in your topics.
We have also improved the "Import files" dialog which can now import multiple files faster, and remembers the last selected folder. It will also automatically select the folder where an item is dropped from a third-party application for a faster importing experience.
The Microsoft Word DocX importer has been improved to more reliably import successive documents with various numbered lists.
Last but not least, the progress bar dialog displayed for lengthy import operations will not appear over other applications anymore.
Enhanced user interface, better documentation generation and bug fixes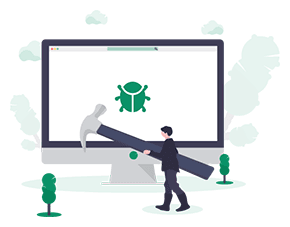 Because this is the place where technical writers spend most of time, we have improved multiple parts of HelpNDoc's user interface to improve efficiency, and fix bugs.
Starting with the topic editor, which now keeps showing the currently selected content and doesn't loose focus when another window is opened anymore. It also now better displays library items content at all zoom levels.
We have also fixed various color pickers which could return black or gray colors instead of the desired custom color.
Regarding to documentation generation, we have improved HelpNDoc's PDF generator to better render images when Windows' screen scaling was set to 150% or more, as well as the HTML generator which now sorts the list of topics related to a specific keyword.
As always, HelpNDoc is completely free for personal use and evaluation purposes so download your free version now to get started and experiment with this update, and feel free to contact us to share any thought you might have about HelpNDoc.
Change log
Version 7.6.0.479 – Release date: Sep 9, 2021
New "Conditions" analyzer will now list all conditions used throughout the project with the ability to locate them and filter by operation

Completely redesigned the project analyzer window for easier and faster navigation and operations, clearer reports and enhanced accessibility

HelpNDoc now downloads and imports pictures from content pasted from a web-browser

Dropping a file within a folder of the library panel will automatically select that folder in the library item import dialog

Library item import dialog now remembers which folder was selected last time it imported a file

Project analyzer now reports the number of conditions used within the project's topics

Topic editor now keeps showing the selected content grayed out when a dialog is shown

The topic editor does not loose its focus after a dialog is closed anymore

Resized images could be displayed outside of the PDF document's bounds if screen scaling was set to 150% or more

Default HTML template now displays a sorted list of topics related to the select keyword

Fixed DocX import when multiple documents with numbering were placed on the same topic: numbering could start with an incorrect number

Choosing a custom color could result in a black or gray color when the color dialog was closed

Selecting a custom color for font, paragraph or picture could remove the focus from the topic editor

Wait status form used during lengthy operations is not displayed over other applications anymore

Completely rewritten form position saving/loading logic to make it more robust on multi-resolution screens and frequent screen configuration changes

Improved speed of the library item import dialog when multiple files where imported at the same time

Improved drawing of library items in topic editor: speed optimization and fixed textual content which could be incorrectly or partially drawn
See also
---