We are glad to announce the release of HelpNDoc 7.9, a major update of the popular help authoring tool which can be downloaded completely free for personal use and evaluation purposes. This major update includes many new features and enhancements such as the ability to update every pictures with their default settings; A new font selector with recently used fonts, font preview and search support; An improved Word importer; A new API method to list library items used in a specific editor; and much more… Read on to learn more and download your free version of HelpNDoc now.
Apply default picture properties to every instances
When adding a picture to the project's library, it is possible to set its default size, margins, position, alternative text… It is now possible to apply these settings to every existing instances throughout the project.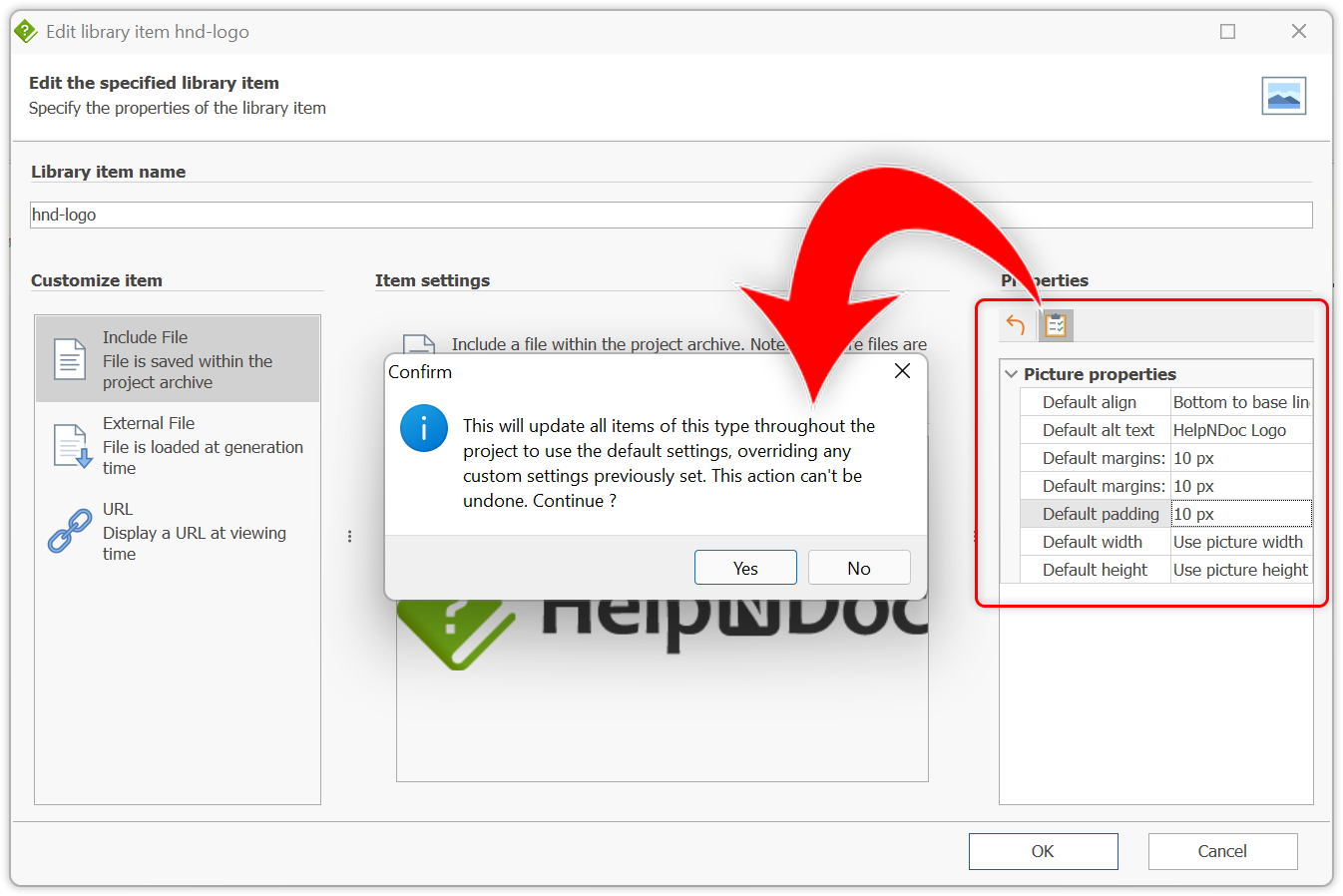 HelpNDoc's library is the central place where reusable contents such as pictures, movies, documents… are stored and managed. It is possible to define default picture settings in the library, which will be applied to future instances of that item when placed in a topic. However, when those default settings need to change, it wasn't possible to update existing instances without manual and error-prone work. HelpNDoc 7.9 changes that: it can now automatically update every instances of that picture throughout the project with the newly defined settings.
We have also enhanced the library item's editor to make the properties easier to see and manage, and we've added the possibility to reset those properties to their default values.
We've also improved the reset picture actions: resetting pictures' sizes and properties will reset them using the default settings defined for that library item, and we've added the option to reset them to the picture's default values.
New font selector with font preview and search support
This major update includes a greatly improved font selector which shows a preview for each font, a list of recently used fonts, and provides font searching capabilities.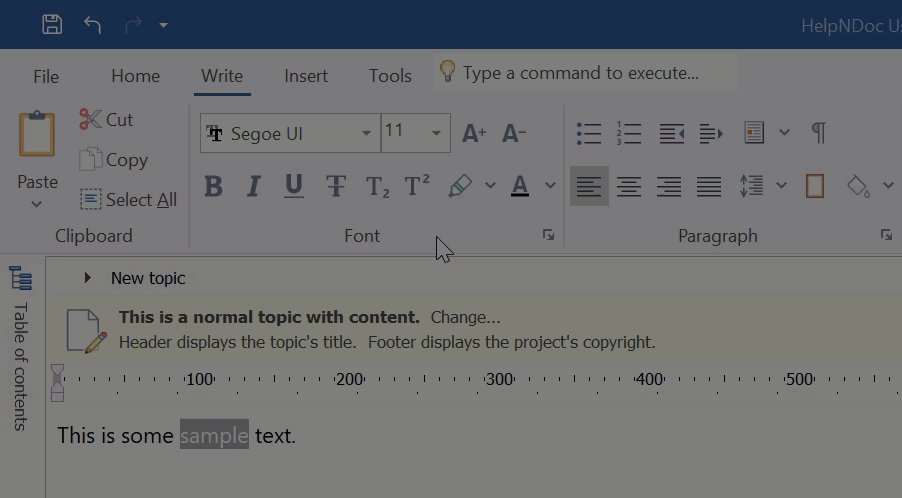 To help technical writers concentrate on producing the most insightful help file, user manual or eBook, HelpNDoc includes multiple useful features to save a lot of time. One of them is the newly redesigned font selector with three main new features:
Hovering over a font in the list shows a preview of that font, making it easy to select the right font for the intended purpose;
Typing on the keyboard filters the font list, showing only fonts starting with and containing the typed content, for fast and easy font selection;
Most recently used fonts are displayed at the top of the list, and stored within the HND project file for rapid access between working sessions;
User interface and overall experience enhancements
HelpNDoc 7.9 includes multiple fixes and enhancements to simplify and help improve the workload of technical writers.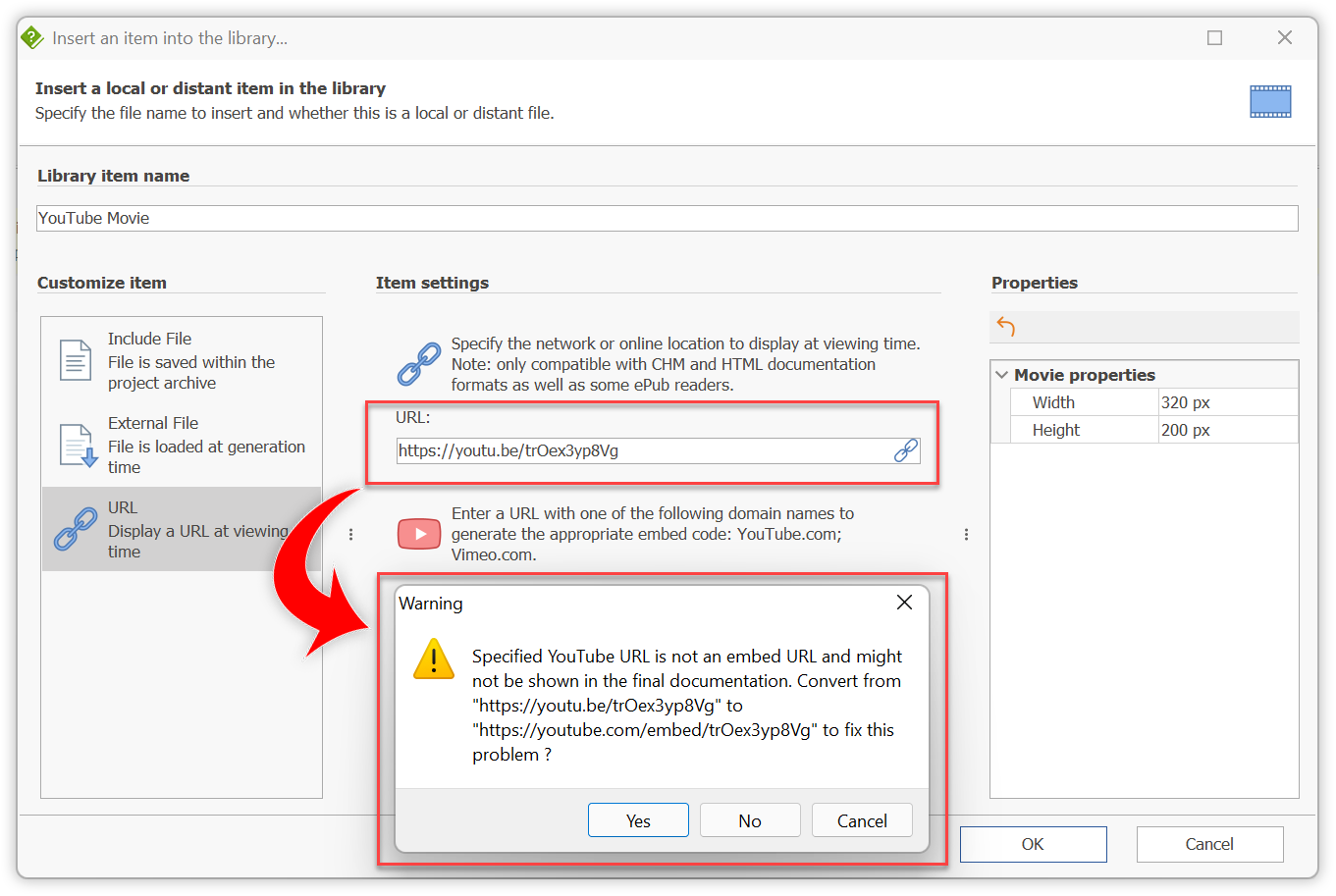 In the scripting area, we've added an option to automatically close the script editor when a script is successfully run from the ribbon bar: this makes it fast and easy to run frequently used scripts. The script editor now also includes a popup menu for quick access to common clipboard and selection actions. And we've added a new API method to get a list of library items used by a specific editor, accompanied by a sample script to list every library items used by the current topic.
The Microsoft Word DocX and RTF importers have been improved to handle hyperlinks to documents' headings and better handle paragraph borders.
This major update now automatically detects problematic YouTube URLs and optionally converts them to the proper format to make sure that the videos are correctly shown on all supported documentation formats.
We've also greatly improved the topic editor which could create corrupted snippets when converted, couldn't always accept library items dropped within tables cells, or could use incorrect font settings for text placed after a variable or a counter.
This update also includes multiple other enhancements and bug fixes as you can see in the change log below.
Happy new year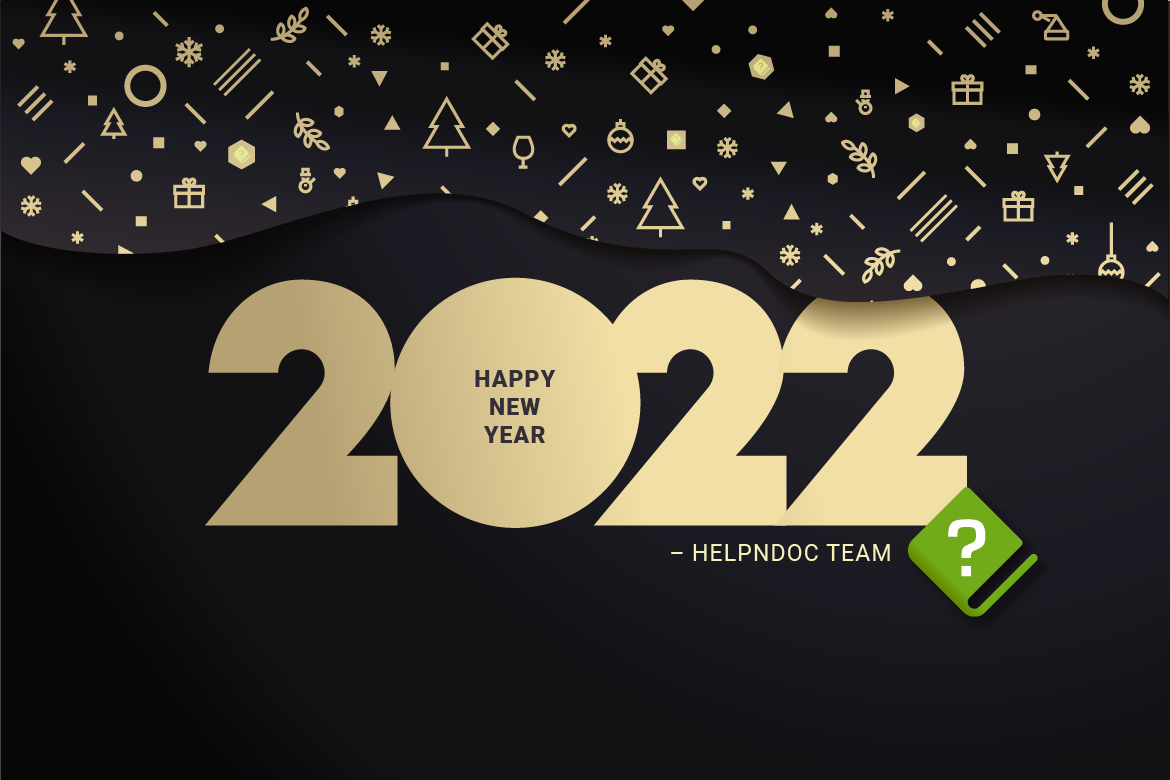 We'd like to take this opportunity to send you our best wishes for a happy new year 🎉 and to thank you for your continued support throughout the years: the consistency and quality of your feedback is fantastic and greatly helps us refine and enhance HelpNDoc with each new update!
As this newly released version 7.9 is the last of the 7.x series, we're already hard at work on the next major update of HelpNDoc and we can't wait to show you what's in store. We're confident that 2022 will be a great year for HelpNDoc and we're looking forward to present the new features and enhancements which will hopefully help you Enjoy Documenting 😉
Meanwhile and as always, HelpNDoc is completely free for personal use and evaluation purposes so download your free version now to get started and experiment with this update, and feel free to contact us to share any thought you might have about HelpNDoc.
Change log
Version 7.9.1.631 – Release date: Feb 8, 2022
After deleting library items from the project analyzer, the number of successfully and unsuccessfully deleted items are shown

After deleting library items from the project analyzer, user is asked if the analyzer should be refreshed

Updating pictures' default properties when they are placed within tables could fail

Pasting content in the topic editor could move the edit cursor at the beginning of the topic editor and back

Refreshing the project analyzer after deleting library items could report incorrect data in the library items' analyzer

Deleting multiple versions of the same library items from the project analyzer incorrectly displayed an error message

Possible exception under some rare circumstances when deleting a bullet or a numbered item in a table cell

Improved speed when pasting large content with pictures in topic editor
Change log
Version 7.9.0.612 – Release date: Jan 19, 2022
Added the ability to apply the default picture properties of a library item to all instances throughout the project

New font selector with list of recently used fonts, font preview and font searching support

Recently used fonts are saved within the HND project file and restored next time it is opened

Hyperlinks to document's headings are now correctly imported when importing Microsoft Word DocX or RTF document

Inserting a YouTube URL without the embed parameter in the library items editor warns and optionally converts the URL to the correct format

New option to automatically close the script editor when script is successfully run

Image, image maps and movies default properties can be reset from the library items editor

New API to get a list of library items used in a specific editor

New script to list all library items used in the currently selected topic

Added right-click popup menu to script editor

Added new popup menu to reset picture properties and size based on original picture, overriding library item's defaults

Topic editor content converted to snippet could create corrupted snippets which were not always correctly replaced at generation time

Resetting the currently selected picture's properties or size now uses the library item's default values

Resetting the currently selected picture's properties could leave the old values in the ribbon bar editors

Dragging a library item over the topic editor could cause an exception

Dropping a library item within a table cell could fail without warning

When changing the font style of some library items such as variables and counters in the topic editor, the rest of the paragraph could be incorrectly drawn with that style

Updating styles is now more easily accessible: added button in ribbon bar, and entry in command finder

Removed warning from the Microsoft HTML Help Workshop compiler when a topic's kind was set to empty

Optimized drag and drop operations from the library items panel

Improved paragraph border importing for DocX documents

Improved Microsoft UI Automation (UIA) support for enhanced screen reader / narrator experience
See also...
---