We are glad to announce the new major version of the popular HelpNDoc help authoring tool, which can be downloaded completely free for personal use and evaluation purposes. This major update includes a ton of new features and enhancements, such as a completely revised architecture as HelpNDoc is now a 64-bit application for improved speed and memory usage; It can now sign, encrypt and password-protect both Word and PDF documents; It supports scalable SVG graphic images in all documentation formats; It allows for styles to be overridden for each documentation output; and much, much more… Read on to learn more and download your free version of HelpNDoc now.
Encrypt and sign Word and PDF documents
Ensure the integrity and security of HelpNDoc's generated Word and PDF documents by signing them using a digital signature, and encrypt them using strong encryption algorithms.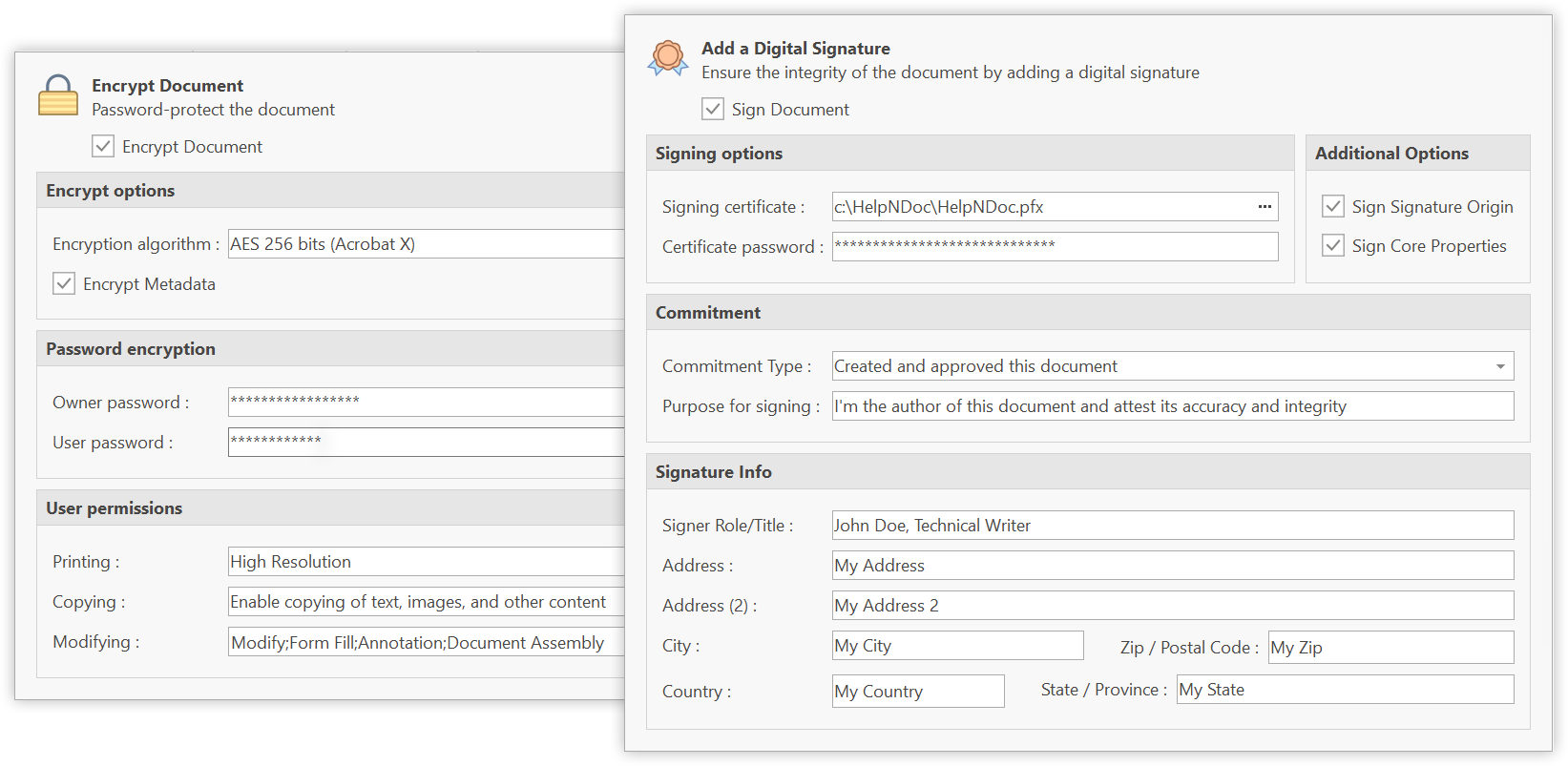 HelpNDoc's generated Word and PDF documents can now be signed using an invisible digital signature, to prove their authenticity, authorship, ownership, accuracy… and make sure that they haven't been altered in any ways. Recipients will be reassured as they can safely trust that the produced Word and PDF documents are exactly the ones produced by its original authors: Microsoft Word, Adobe Reader and all other viewing applications will display a reassuring message that the document is properly signed and that it hasn't been modified in any ways.
For increased privacy, Word and PDF documents can also be encrypted and optionally password-protected using a selection of strong, state-of-the-art encryption algorithms such as RC2, RC4 40 bits, RC4 128 bits, DES, 3DES, AES 128 bits, AES 192 bits, AES 256 bits and AES 256 bits with hardened key generation.
PDF documents can also have end-user's restrictions such as disabling printing, only allowing low resolution printing, as well as disabling copying, modifications, annotations, document assembly…
Override styles for each documentation output
HelpNDoc can produce multiple documentation formats and, thanks to its conditional generation system, multiple variations of each of those formats. It is now possible to override any style to produce even more customized variations.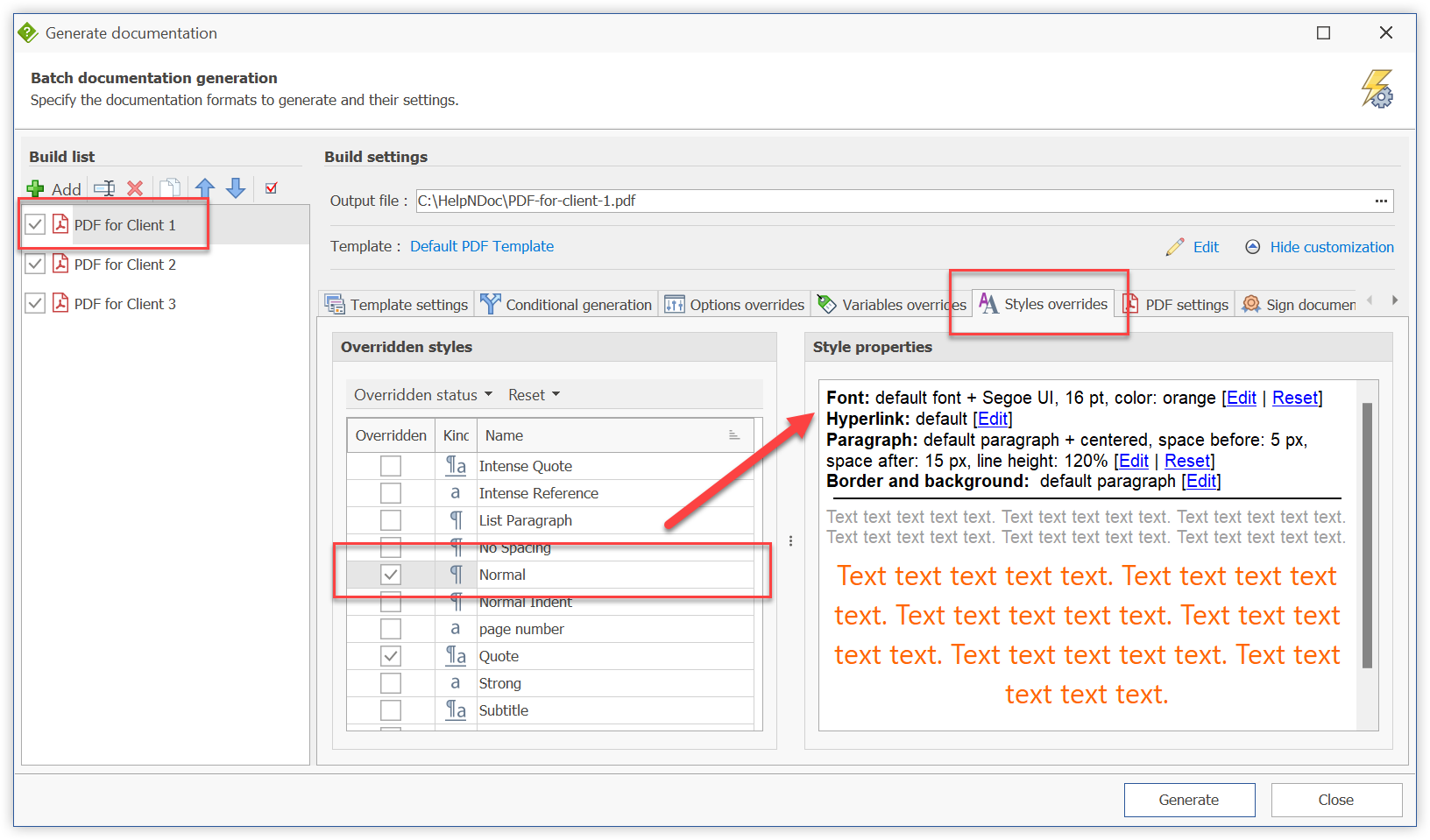 Technical writers rely on text and paragraph styles to create consistent documents, help files and eBooks. They use HelpNDoc's centralized style manager to rapidly update the styles used throughout the documentation project from a single location. They also rely on HelpNDoc's conditional generation capabilities to target multiple audiences.
They can now also override any style defined in the project on a per-build basis to generate truly unique documentation builds for specific audiences: the number of variations which can be produced out of a single HelpNDoc project is truly limitless.
Scale your graphics from tiny to giant screens thanks to SVG support
Scalable Vector Graphics (SVG) are vector images which are displayed smoothly on all screen resolutions, sizes, and accessibility settings. HelpNDoc 8 now supports SVG images.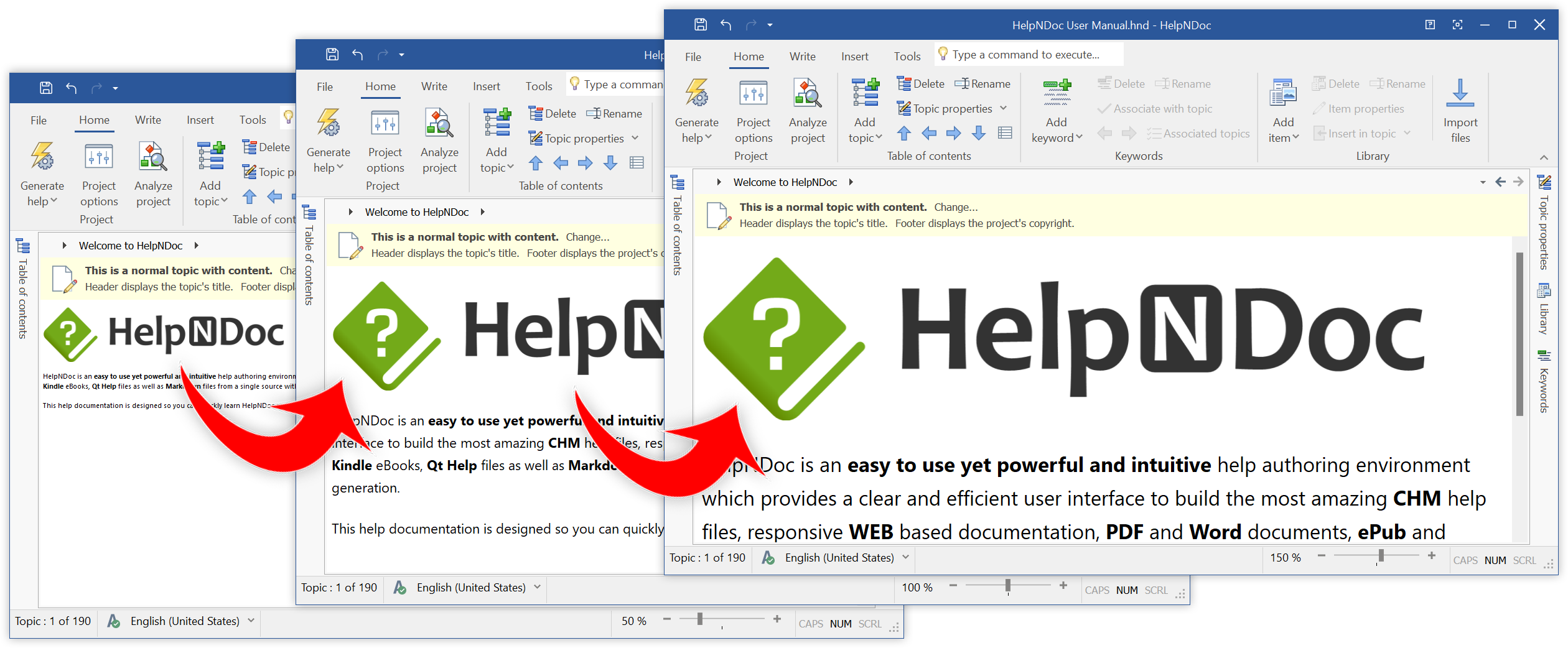 Images and graphics are indispensible for technical writers to clarify and explain specific tasks. They pose a challenge nowadays as end-users can use a wide variety of devices and screen sizes to read a documentation, help file or eBook. Fortunately, HelpNDoc now supports the SVG image format, which can seamlessly and reliably adapt to any screen size, resolution and accessibility settings, for clearer and high quality image representation no matter the device used.
Brand new 64-bit architecture
Technical writers can expect enhanced performance during the creation, edition and generation of their documentation project thanks to HelpNDoc's new 64-bit architecture.

HelpNDoc has been optimized from the ground-up to use modern hardware and is now a fully 64-bit application. This means that it has access to all the available system memory and is faster and more responsive, particularly for larger projects and documentation building tasks.
Moving up to the Ultimate Edition
We are glad to introduce the Ultimate Edition of HelpNDoc, a brand new edition which includes all available features in a single package.

The Personal, Standard and Professional Editions of HelpNDoc are glad to welcome their new friend, the Ultimate Edition 😍, offering a wide range of prices and features for all budgets, requirements and team sizes.
The Ultimate Edition includes all the features available in HelpNDoc, from the most basic to the most advanced ones such as its new Word and PDF document signing and encryption capabilities, and many more to come!
To celebrate this new edition, for a limited period of time you can purchase the Ultimate Edition at a discounted price 🎁
Improved security, better documentation generation…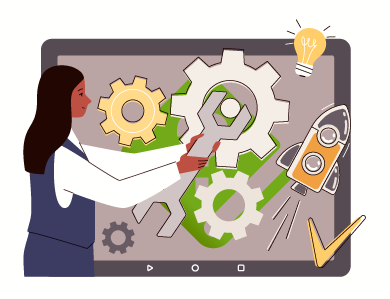 This major update includes many other additions and enhancements all over the place, such as strengthened security, improved documentation generation, and more…
We have developed a secured way to store sensitive information, such as passwords, in HND project files as they are now encrypted using a strong encryption algorithm. We've also extended available API methods to allow the secure storage of custom secrets in HND project files.
HelpNDoc's user interface has been revised for enhanced clearness and simplicity and its windows placement is now more reliable.
We've updated and enhanced all documentation formats to produce even more stunning, usable and consistent help files, documents and eBooks. And we've improved various importers for faster and more reliable import of external documents and files.
This update also includes multiple other enhancements and bug fixes as detailed in the change log below.
As always, HelpNDoc is completely free for personal use and evaluation purposes so download your free version now to get started and experiment with this major update, and feel free to contact us to share any thought you might have about HelpNDoc.
Change log
Version 8.0.0.187 – Release date: Jul 19, 2022
New Ultimate Edition of HelpNDoc: includes all features available

HelpNDoc is now a 64-bit software: It has access to more system memory, is more resilient and faster to operate

Added the ability to override any style for each specific build

Generated Word documents can be encrypted with a custom password and strong encryption algorithms

Generated Word and PDF documents can be signed using an invisible digital signature to insure their integrity

New strong encryption algorithms for PDF documents: RC4 40 bits, RC4 128 bits, AES 128 bits, AES 256 bits and AES 256 bits with hardened key generation

Added support for SVG images in both the editor, and supported documentation formats

Secrets such as passwords are now securely stored in HND project files using a strong encryption algorithm

New API methods to store any number of secrets securely in HND project files

When pasting content with library items into a snippet, problematic content will be converted and removed and the user warned about it

New TStringList.WriteBOM property to control if BOM is written when saved to file

Documentation generation dialog can now be maximized

Faster, more reliable, more memory efficient and more secure HND project file handling library

Script editor dialog now has keyboard shortcuts for its main actions

Improved application startup time

Improved overall application responsiveness

Project analyzer incorrectly reported some library items as being used by a ghost topic after they have been pasted into snippets

Windows positioning is more reliable and precise across sessions and different screen resolutions

Recent versions of Qt assistant didn't always show the vertical scroll bar when showing topics content which didn't fit the visible area

Some versions of Qt assistant displayed a black header for each topic instead of the defined base color

Images are now responsive in the Qt help documentation format: they will resize to fit the visible screen area

Improved table borders drawing in PDF documents

Dropping a topic over the root project topic could cause an error message

Default HTML template now correctly uses the template's defined default extension, making it easier to generate extensions such as HTM, PHP...

Default HTML template will now use the correct file extension for the specified logo file instead of forcing the PNG file extension

HTML search engine now correctly uses the template's defined default extension to avoid generating broken links

Better HTML export of paragraphs with borders and hanging first

Various improvements in RTF importer for East Asian texts

Faster and more reliable script and template execution

Importing some WinHelp HLP file could produce corrupted topics: editing those topics resulted in an error message

Find and replace operations for the whole project have been optimized and are now faster

Table of contents string was hard-coded in the default Markdown template: it can now be translated

Using HndGeneratorInfo.TemplateInfo in templates caused an error

Improved panels docking behavior on screens with different DPI settings

Transform text popup menu could stay visible even when another control was focused

HelpNDoc is not tested on Windows 7 anymore: Microsoft dropped extended support for Windows 7 on January, 2020
See also
---