Help authors, technical writers, and documentation specialists, we have some exciting news for you! The latest release of HelpNDoc, the powerful and user-friendly help authoring tool, introduces several new features and bug fixes that will improve your documentation workflow and enhance your overall experience with the software. Whether you are looking to perform HTTP requests before or after the generation process, manage keywords more efficiently, or benefit from a more intuitive user interface, HelpNDoc 8.4 has something for everyone. In this article, we will highlight the most significant new features and improvements in this release and show you how they can help you create better documentation, faster and more efficiently. Read on to learn more and download your free copy of HelpNDoc now.
New build action: perform HTTP requests during the documentation generation process 🌍
HelpNDoc's new HTTP request build action feature enables external data inclusion in the log, and call URLs through GET/POST requests before or after documentation builds.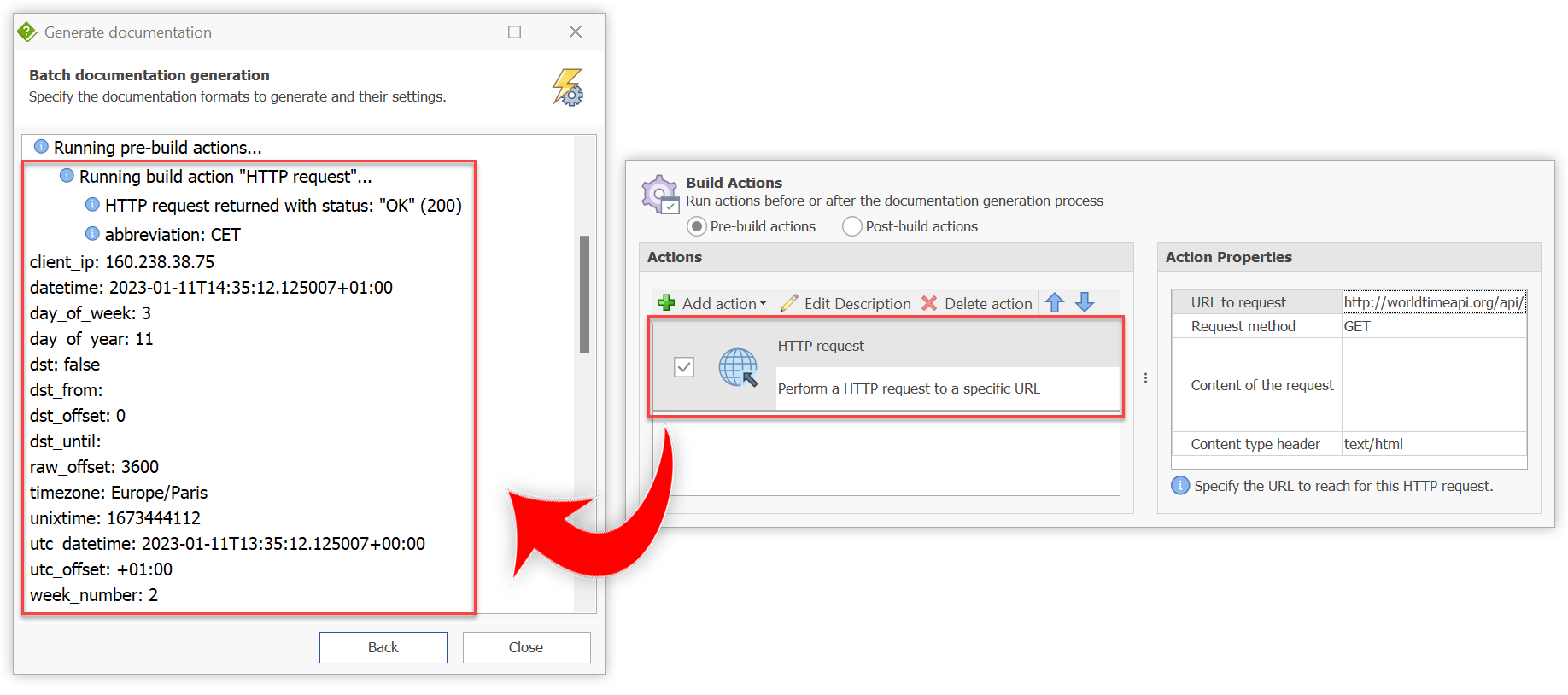 In addition to the ability to run scripts/programs and show messages during the documentation generation process, HelpNDoc build actions can now be used to perform a HTTP GET and POST requests to any URL. This new feature has multiple possible use cases such as:
Sending callback message: A post-build HTTP POST request can be used to send a message to an external URL when a documentation build is complete, which can be used to trigger other actions, such as starting a deployment process;
Logging data: A pre-build HTTP GET request can be performed to call a reliable URL and retrieve the current timestamp, computer IP… the server's response is logged in the build output for archiving purposes;
Notifying users: You can use post-build HTTP requests to send a notification to a user or a group of users when a documentation build is complete;
External tracking and analytics: Multiple HTTP requests can be made before and after the generation process to a custom server-side script to track documentation generation statistics such as the number of builds, latest generation date/time…
And much more! This new feature can be used in a variety of ways to streamline and improve your documentation workflow, making it faster and more efficient than ever. If you're ready to experience the power of this new feature for yourself, we encourage you to download the latest version of HelpNDoc and try it for free and see how it can take your documentation to the next level.
Merge multiple keywords into a single one 🔑
Keyword management is an essential aspect of creating effective and well-organized documentation, and HelpNDoc 8.4 makes it even easier to manage your keywords by allowing multiple of them to be merged into a single one.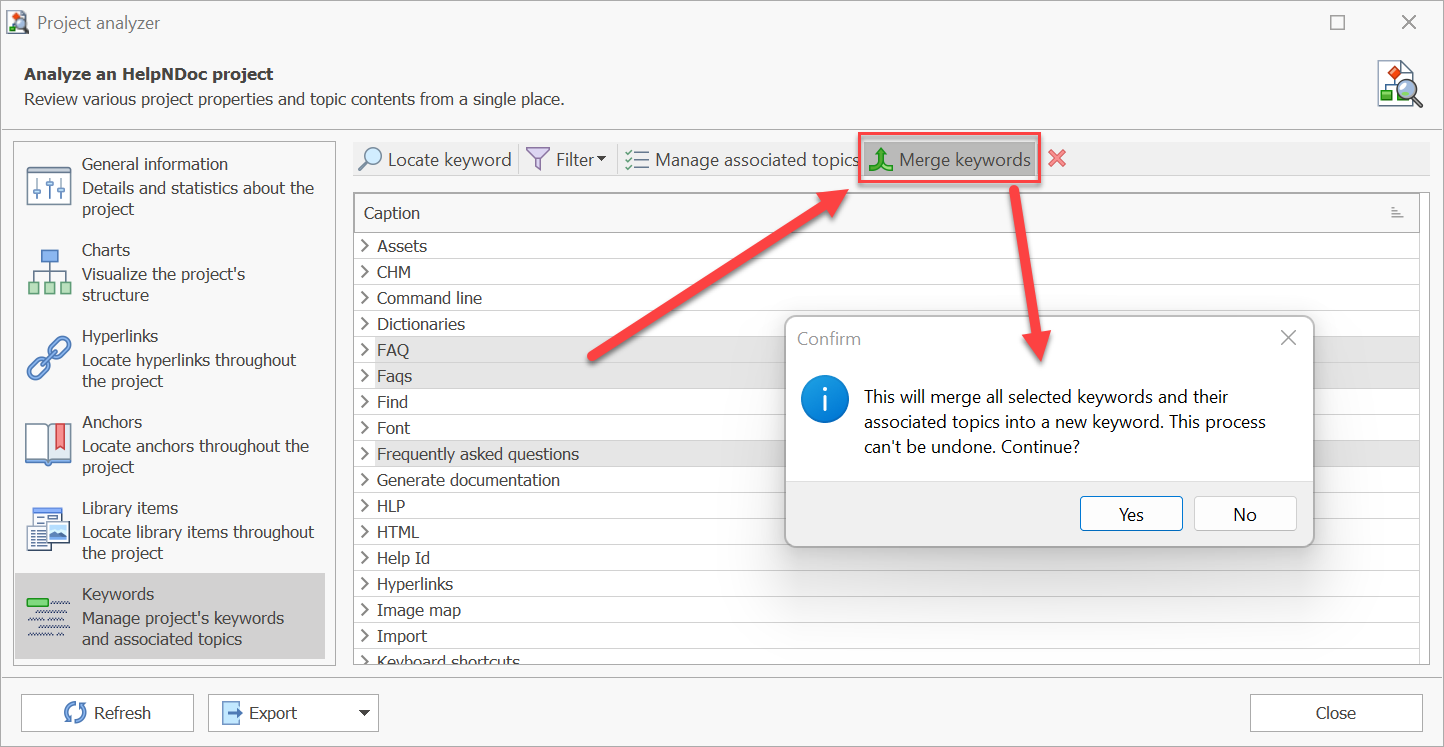 This powerful new feature allows users to merge multiple selected keywords into one, so you can easily combine related or duplicate keywords and streamline your documentation. When you merge keywords, all previously associated topics will be associated with the new keyword, making it easier to update and maintain your documentation. This feature gives you more control over your keywords and helps you create more accurate and organized documentation for your audience. It can be used to:
Combine similar keywords: Merging keywords that have similar meanings or are related to the same topic, the documentation content is more organized and consistent. This can make it easier for users to find and understand the information they are looking for;
Merge synonyms: Merging keywords that have different spellings or variations, all topics related to that keyword are correctly linked and searchable. This could also help with SEO of the documentation;
Merging keywords that were added incorrectly: Merging keywords that were added by mistake or in the wrong category can improve the organization and accuracy of the documentation;
Simplifying keyword categorization: Merging keywords into larger, more general categories, you can create a more intuitive and organized system of keywords and categories, making it easier for users to find the information they need;
When keywords are merged, the associated topics will be automatically linked to the new keyword, reducing the need to manually update the topic-keyword associations, thus reducing the maintenance time.
If you're ready to see the benefits of this powerful new feature for yourself, we encourage you to download the latest version of HelpNDoc, which is free for personal use and evaluation purposes.
Improved build action properties: better naming, description, localization, custom editors… 🔎
Defining build action properties is now much faster and easier thanks to localized properties names and descriptions, as well as improved property editors.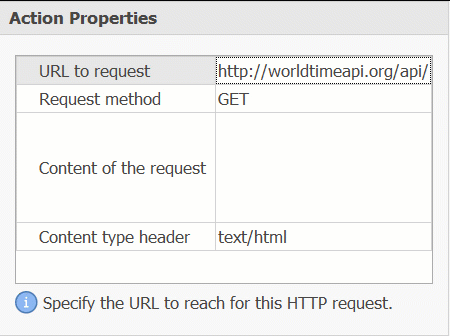 HelpNDoc 8.4 includes a completely rewritten build action properties panel. All properties now have a clear name and description, which are translated to all available languages. They also provide an appropriate editor when needed, such as a "File browser" button for easier file input, a "Memo" editor for larger content, and a "Numeric" editor for numbers. The live spell checker has also been disabled where it doesn't make sense.
Redesigned anchor editor: live validation and modern UI ⚓️
Better anchor management experience with the redesigned anchor insertion and edition window in HelpNDoc, featuring an intuitive and modern UI, live validation, and improved reliability.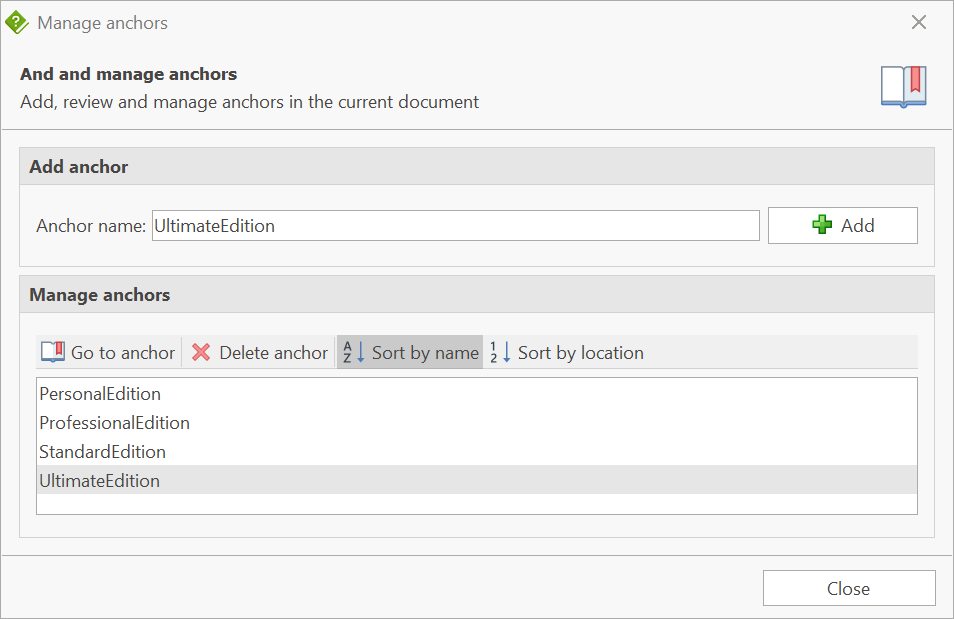 The redesigned anchor insertion and edition window in HelpNDoc not only provides a modern and intuitive interface, but also live validation, improved navigation and accessibility, and better consistency, making it easier than ever to manage and organize your anchors. It now warns when trying to add a duplicate anchor in a topic, and fixes a bug where the dialog could appear empty on some displays.
Enhanced documentation generation and import processes ⚡
This new update now generates more accessible HTML documentation, thanks to the addition of multiple ARIA attributes. It also warns when trying to generate a Qt help file with an incorrect file extension as it could cause an error from the Qt help generator.
It also features an improved Microsoft Word DocX importer which can now better handle mixed-case bookmarks for better hyperlink importing.
The documentation generation dialog is now faster to open in medium to large size projects.
And much more 😍
In addition to the new features, this latest release of HelpNDoc also includes a number of important bug fixes to improve the stability and functionality of the software. We encourage you to take a look at the detailed change log below to see all of the new features and improvements in this latest version of HelpNDoc. From the powerful new project analyzer feature that allows you to merge keywords, to the redesigned build action properties with improved naming, descriptions, translation support, and enhanced editors, there are many new tools and features that will make your documentation workflow faster and more efficient. Whether you are a beginner or an experienced user, you will find something new and useful in this latest release, so don't miss out and take a look at the change log and download your free version now.
Happy new year! ✨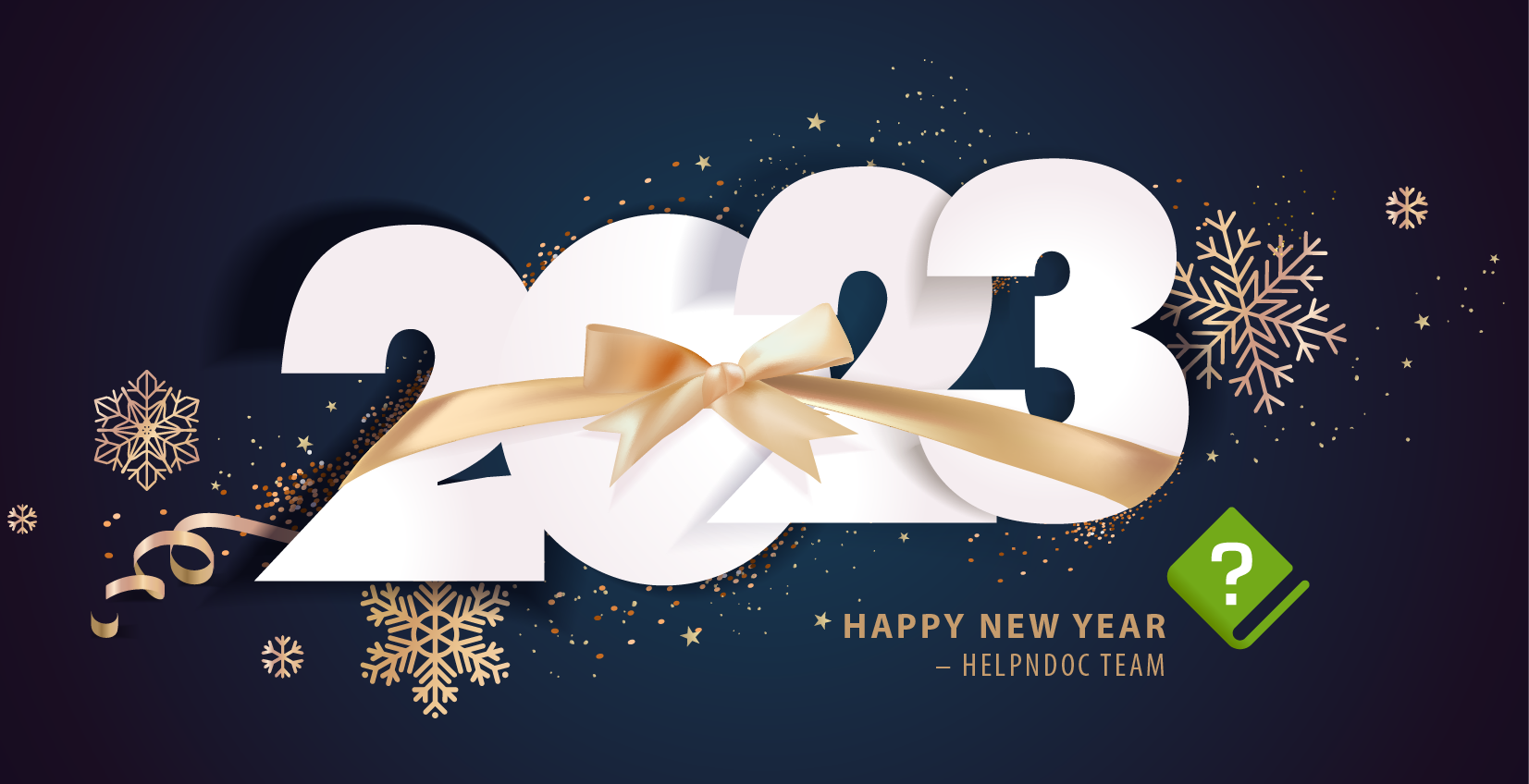 We want to express our gratitude for your unwavering support and wish you a happy new year 🎉. Your valuable feedback has consistently helped us improve and perfect HelpNDoc with each update, and we appreciate it.
One of the major achievements of 2022 was the release of HelpNDoc version 8, which brought exciting new features like the ability to sign and encrypt Word and PDF documents, support for SVG graphics, a fully redesigned 64-bit architecture, and more. We are eagerly looking forward to revealing more exciting developments in the coming year, and encourage you to stay informed by subscribing to our social media channels, YouTube, or RSS feed to stay informed of new releases 👍
Want to create great documentations?
HelpNDoc is free, fully functional, and easy to use.
Produce your first multi-format documentation in the next minute or so.
Meanwhile and as always, HelpNDoc is completely free for personal use and evaluation purposes so download your free version now to get started and experiment with this major update, and feel free to contact us to share any thoughts you might have about HelpNDoc.
Change log
Version 8.4.0.372 – Release date: Jan 17, 2023
New HTTP request build action: perform GET and POST requests to any URL before or after a specific documentation build

Project analyzer can now merge multiple selected keywords into one keyword: all previously associated topics will be associated with the new keyword

Every build action property now has a description to explain its use

File and path related build action properties now have a button to open the standard file and folder selection dialogs

Redesigned the anchor insertion / edition window to make it easier to operate and more reliable: it provides live validation and rethought clearer modern UI

Qt generator now warns if an extension other than *.qhc is used for the output file name as it could cause generation errors with the Qt help generator

Default topic's build override is now easier and faster to select as it displays the full topic hierarchy and an enhanced selection dialog

Improved Word importer which could create broken hyperlinks and can now handle mixed-case bookmarks

Build action properties' names and description are now clearer and localized to all languages supported by HelpNDoc

Live spell checker is not activated on build action properties where that doesn't make sense (e.g. script content, path selection...)

It wasn't possible to toggle the activation status of build actions for languages other than English

Adding a duplicate anchor in a topic now asks for confirmation before deleting the previous one

Anchor manager's window could be incorrectly displayed with empty on some display resolutions and settings

Improved accessibility of default HTML template by adding multiple missing ARIA (Accessible Rich Internet Applications) attributes

When the default topic was deleted, it could be difficult to select another one from the project options panel

Greatly improved documentation generation dialog opening time for medium and large projects

Some parts of the user interface incorrectly referred to bookmarks instead of anchors
See also
---