HelpNDoc, the popular help authoring software, has just released its latest version, HelpNDoc 8.5, packed with several new features and improvements to help authors create even better documentation. Among the new additions are an Equation library item that allows mathematical expressions to be defined and reused throughout a project, a project analyzer that lists individual characters and their number of occurrences throughout the project, and an updated build actions panel that saves and restores properties group positions and column widths. The new version also includes improvements to the scripting engine, documentation generation, and user interface. Let's take a closer look at some of the most notable updates in HelpNDoc 8.5 but first if you haven't used HelpNDoc before or haven't updated yet, we encourage you to download the free personal edition to try out the software and experience these new features for yourself.
📐 Introducing the equation library item: easy mathematical expressions for technical writers
The new equation library item allows technical writers and developers to easily create, manage, and reuse complex mathematical expressions and formulas throughout their documentation.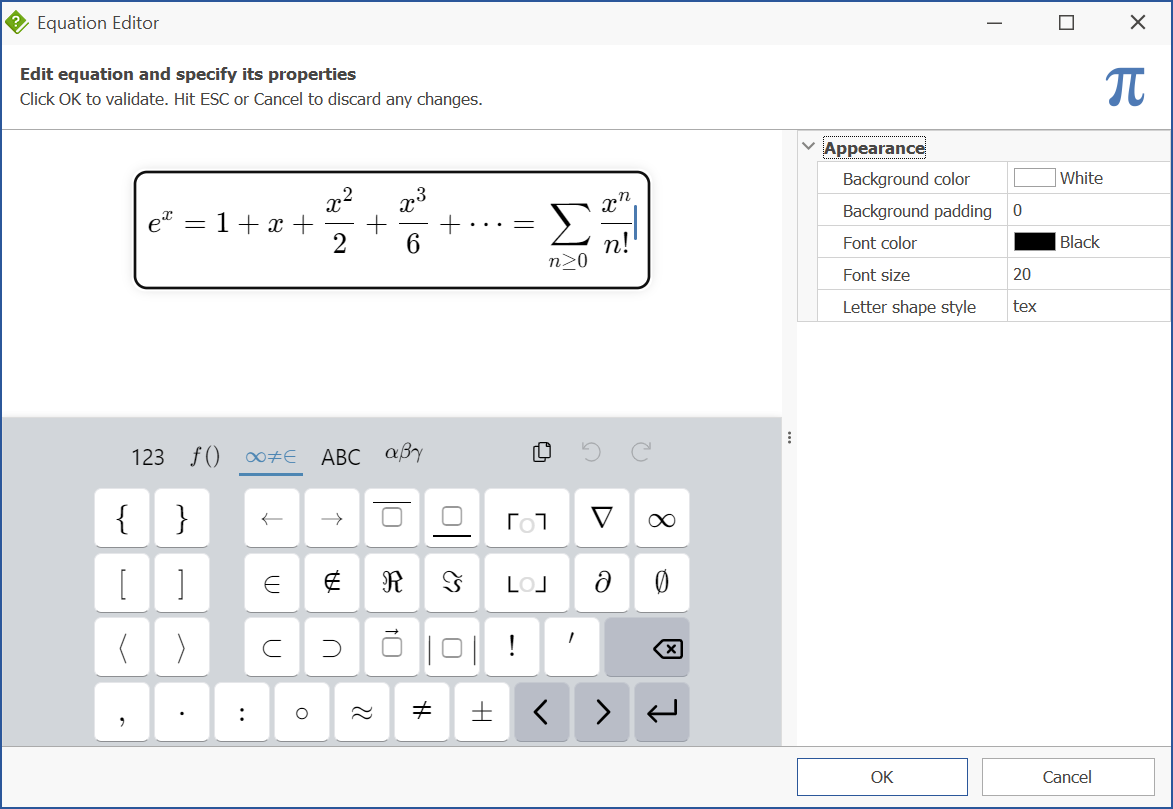 HelpNDoc 8.5 introduces a new equation library item, allowing authors to define mathematical expressions and reuse them throughout their projects. With HelpNDoc's built-in visual equation editor, technical writers can easily create and format complex equations and formulas within their documentation, without the need for specialized software or coding.
The Equation editor supports a wide range of symbols, mathematical operators, and functions, making it easy for authors to create expressions that are precise and visually appealing. This new feature is especially useful for technical writers and developers who need to document complex equations and formulas, as it allows them to easily manage and update them across the entire project.
🕵️‍♀️ Cleaning up your documentation: HelpNDoc's project analyzer helps identify invalid characters
HelpNDoc 8.5's updated project analyzer allows technical writers to quickly identify and correct invalid characters throughout their documentation project, potentially saving significant time and effort for authors.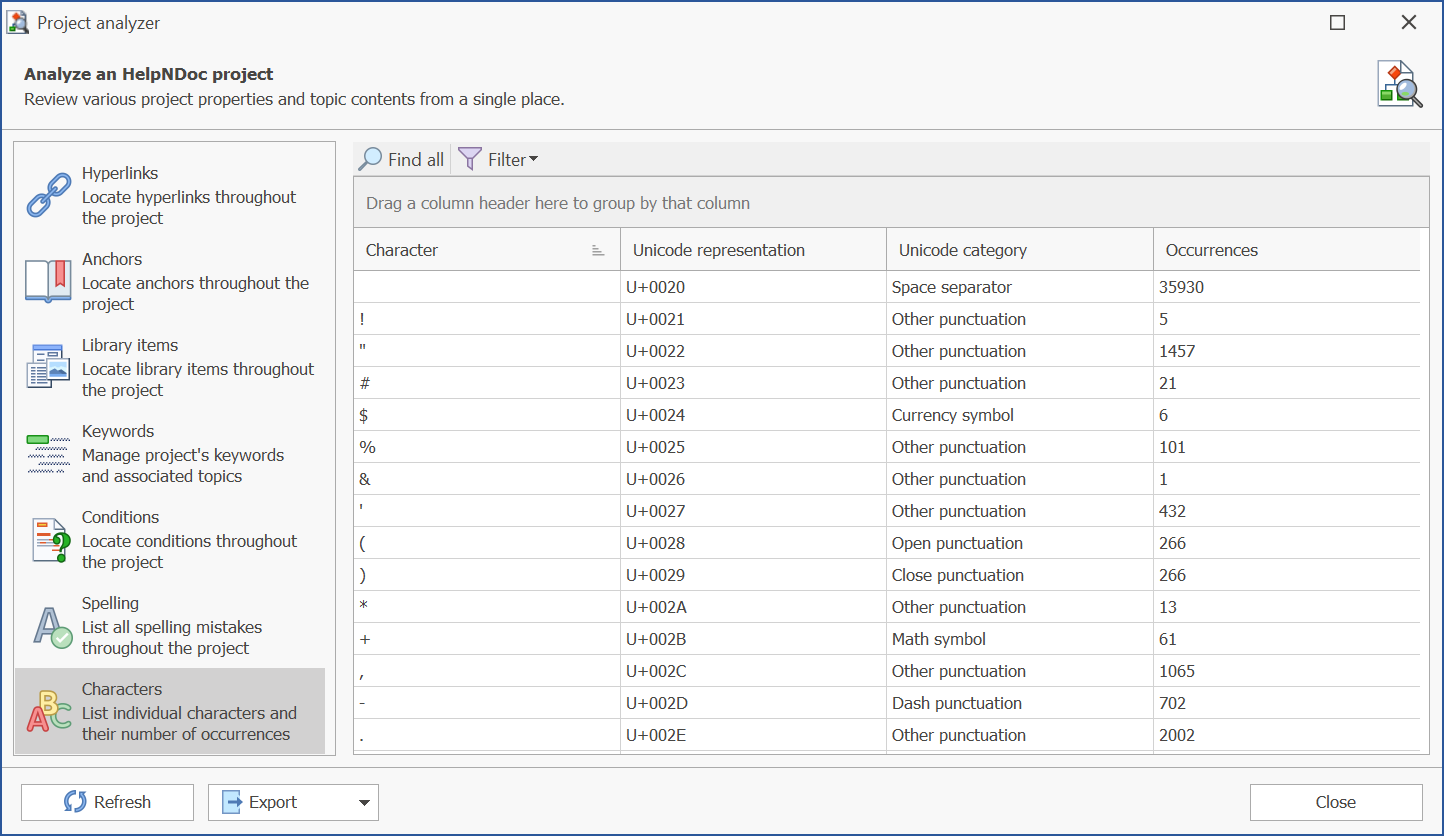 Another major addition to HelpNDoc 8.5 is a new section to the project analyzer which allows authors to view a list of individual characters throughout their project, along with their number of occurrences. With this new analyzer, technical writers can quickly identify any invalid characters, such as quotes, dashes, or tabs, that may cause errors or formatting issues in their documentation. Additionally, the project analyzer now reports the number of characters including and excluding spaces, giving authors a more accurate picture of the size and complexity of their project.
This new feature can save technical writers a significant amount of time and effort in manually identifying and correcting invalid characters, making it an essential tool for anyone working with complex documentation projects.
🚀 Improving the documentation process: other HelpNDoc 8.5's features and improvements
HelpNDoc 8.5 enhances existing features, including a more powerful scripting engine and better keyword generation. With improved UI, bug fixes, and scalable icons, HelpNDoc is a powerful and user-friendly tool for any documentation expert.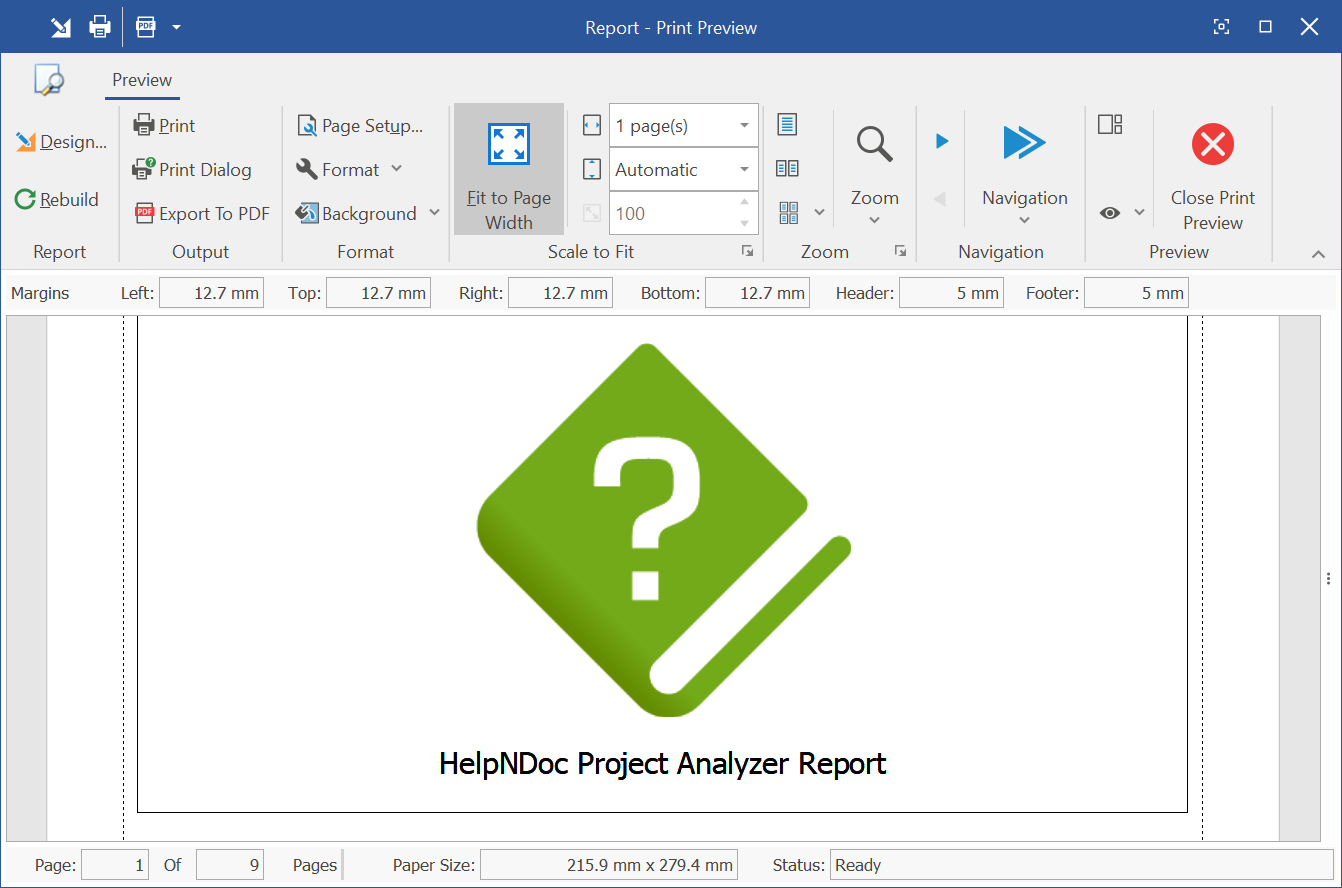 HelpNDoc 8.5 also includes several improvements to existing features, including the scripting engine, which now offers better performance and improved array support, and keyword generation, which is now more accurate and better able to associate keywords with hidden topics. These improvements make it easier for authors to create complex documentation and improve the discoverability of their content.
It also includes many user interface improvements, including changes to the grid lines, headers, and borders to make them more subtle, as well as the extended use of scalable SVG icons. Furthermore, the latest version of HelpNDoc also includes multiple various bug fixes and enhancements.
Want to create great documentations?
HelpNDoc is free, fully functional, and easy to use.
Produce your first multi-format documentation in the next minute or so.
HelpNDoc 8.5 offers a range of new features and improvements designed to streamline the documentation process for authors. From the equation library item and improved project analyzer to the updated build actions panel and improvements to existing features such as the scripting engine and keyword generation, HelpNDoc 8.5 provides users with a comprehensive suite of tools for creating high-quality, accurate, and user-friendly documentation.
Whether you are a technical writer, developer, or documentation expert, HelpNDoc 8.5 is a valuable tool for enhancing your documentation workflow - so why not download the free personal edition today and experience these new features and improvements for yourself?
Change log
Version 8.5.0.413 – Release date: Feb 28, 2023
New equation library item: define mathematical expressions and reuse them throughout the project

New project analyzer: list individual characters throughout the project with their number of occurrences to quickly spot invalid characters

Project analyzer now reports the number of characters including spaces, and excluding spaces

Build actions panel now saves and restores the position of the size of the action properties group and the width of its columns

Project analyzer's character counter is now more reliable: multi-byte characters are now correctly counted as one character when appropriate

Improved keyword generation for CHM, HTML and Qt help documentation formats: keywords are now correctly associated to topics hidden from the table of contents and their children

It wasn't possible to resize the "Action Properties" group in the "Build actions" panel: splitter bar didn't work

Possible error exceptions when using keyboard shortcuts on the ribbon bar

Improved scripting engine with performance improvements, improved parser and better array support, including ForEach method for arrays

Grids lines, headers and borders are now more subtle for a more modern and discreet UI

Some icons were not scalable and are now replace by SVG icons so that they can scale seamlessly to any screen size and resolution

The browse file button in the build action properties now correctly defaults to the field's directory

Fixed some German translation errors

HelpNDoc is not tested on Windows 8 or Windows 8.1 anymore: Microsoft dropped support for Windows 8 / 8.1 and strongly recommend to update to a newer version of Windows
See also
---