We are thrilled to announce the release of HelpNDoc 8.6, a major update that introduces a powerful built-in multi-layered image editor, designed to significantly enhance your documentation workflow. This latest version allows you to create, edit, and manage multi-layered images directly within HelpNDoc, providing a seamless and efficient experience. But that's not all! HelpNDoc 8.6 also comes with a host of improvements, bug fixes, and performance enhancements to ensure a smoother and more reliable help authoring process. Let's dive into the exciting new features and updates that await you in HelpNDoc 8.6, so you can unleash your documentation potential like never before! But first, if you haven't used HelpNDoc before or haven't updated yet, we encourage you to download the free personal edition to try out the software and experience these new features for yourself.
🎨 Introducing a Non-Destructive Multi-Layered Image Editor
HelpNDoc's built-in image editor allows the seamless creation and editing of multi-layered images while preserving original image data for future modifications.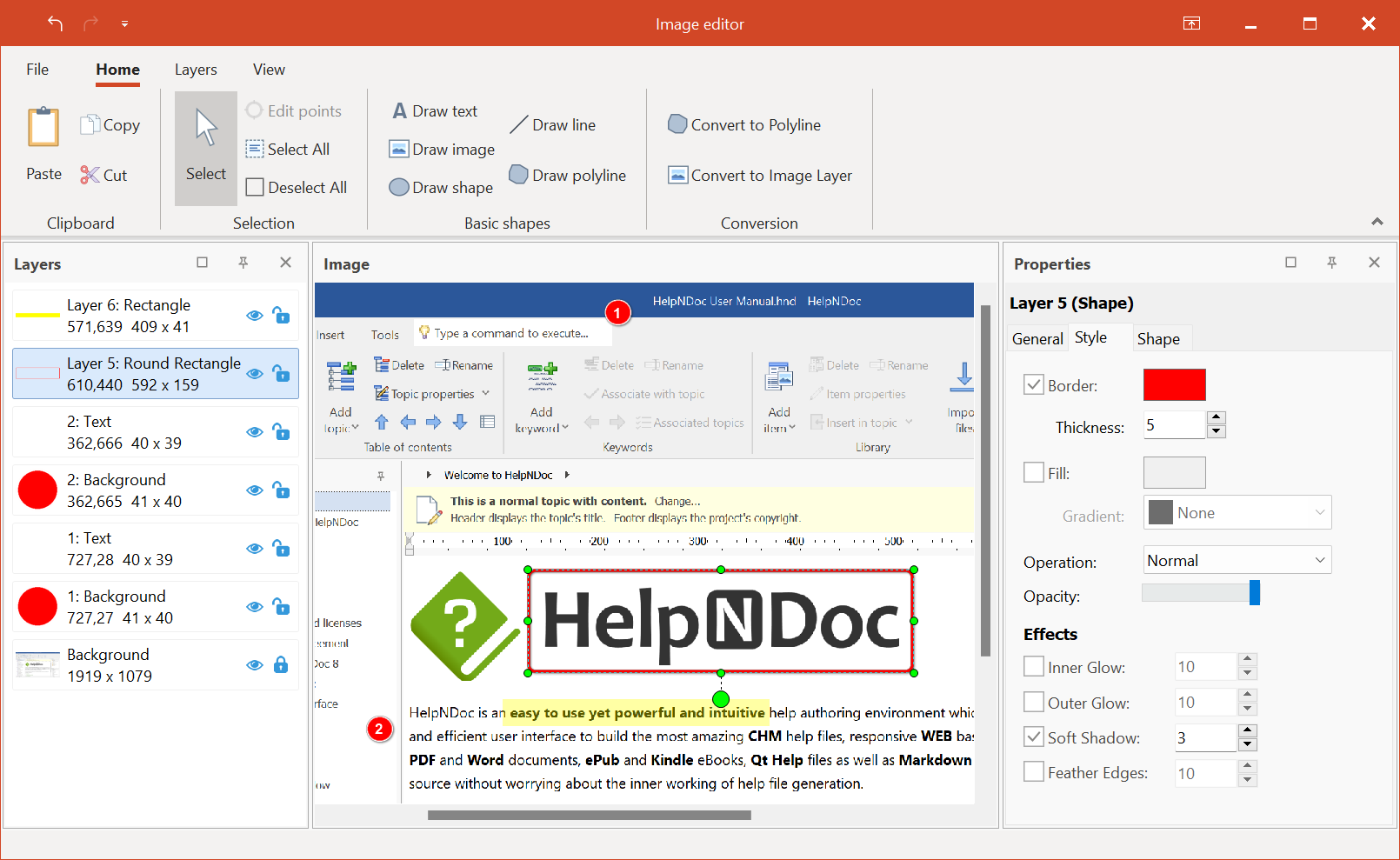 HelpNDoc 8.6 features a powerful new feature: a non-destructive multi-layered image editor designed to elevate your documentation workflow. This powerful built-in tool allows you to create and edit multi-layered images directly within HelpNDoc while preserving the original image data, ensuring that the source of all layers remains intact for future modifications. With its intuitive interface, you can easily add, modify, and reorder layers, insert shapes and other images, apply effects, and experiment with various adjustments, all without altering the original image files. This innovative approach to image editing streamlines your help authoring process and offers unparalleled flexibility, enabling you to create visually stunning illustrations so that your help files, user manuals, and documentation truly stand out.
📜 Script and Template Enhancements: Boosting Efficiency and Flexibility in HelpNDoc 8.6
HelpNDoc 8.6 brings enhanced scripting and template capabilities for a more efficient help authoring experience. This update introduces a new script, resolves bugs, and improves HTML-based templates for streamlined workflows and robust documentation.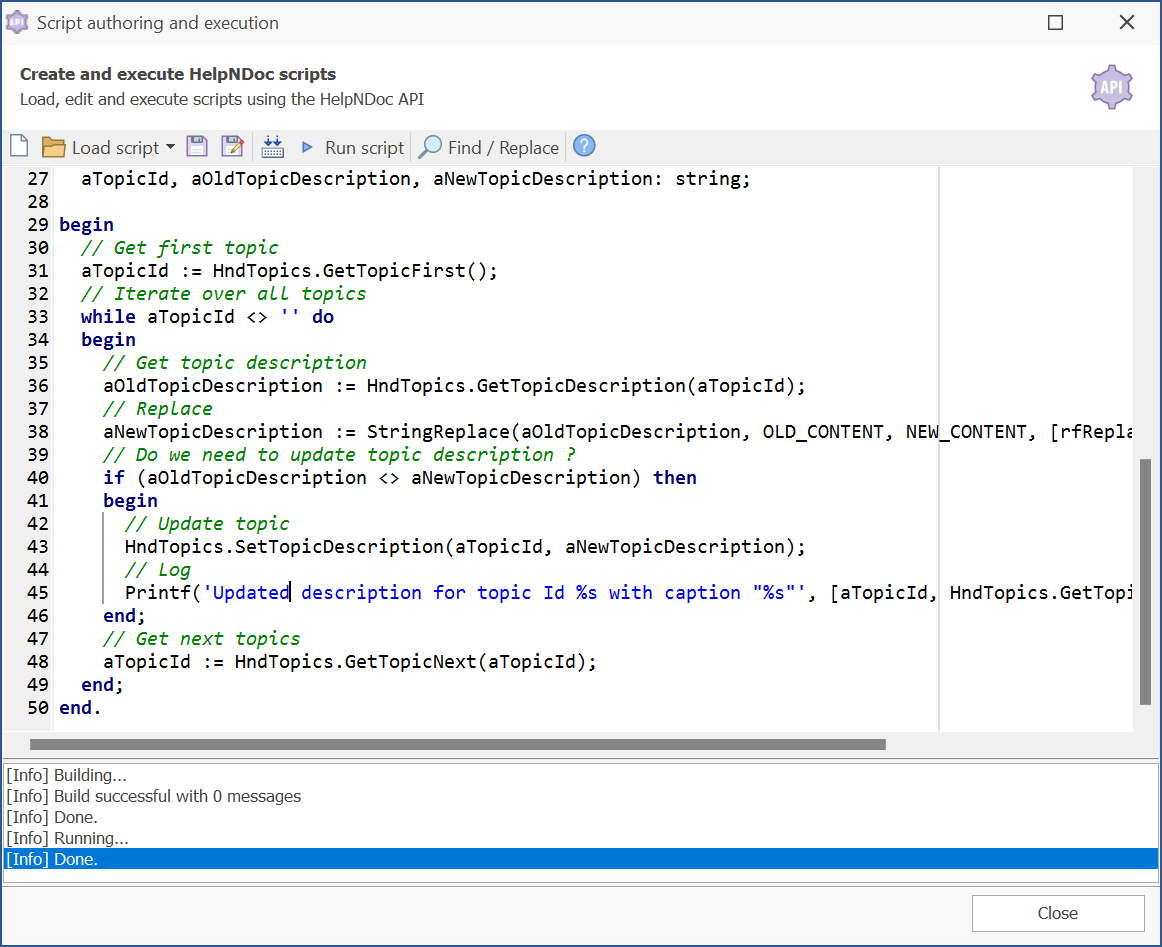 In HelpNDoc 8.6, we've focused on refining the scripting and template capabilities, providing you with an even more efficient and flexible help authoring experience. This update introduces a new script for updating topic descriptions across your project by effortlessly replacing old textual content with new content. Alongside this, we've resolved bugs and improved the reliability of the script engine, ensuring faster operations when working with the equation library items.
We have also addressed issues in HTML-based templates, including fixing hooks and enhancing the default HTML template for better security and hyperlink handling. These improvements in scripting and templates enable you to automate processes, streamline your workflow, and create more robust, polished documentation with ease.
🚀 Performance and Reliability Improvements: Smoother Experience in HelpNDoc 8.6
HelpNDoc 8.6 delivers a smoother help authoring experience with performance and reliability improvements. This update includes optimizations, bug fixes, and stability enhancements for efficient and high-quality documentation creation.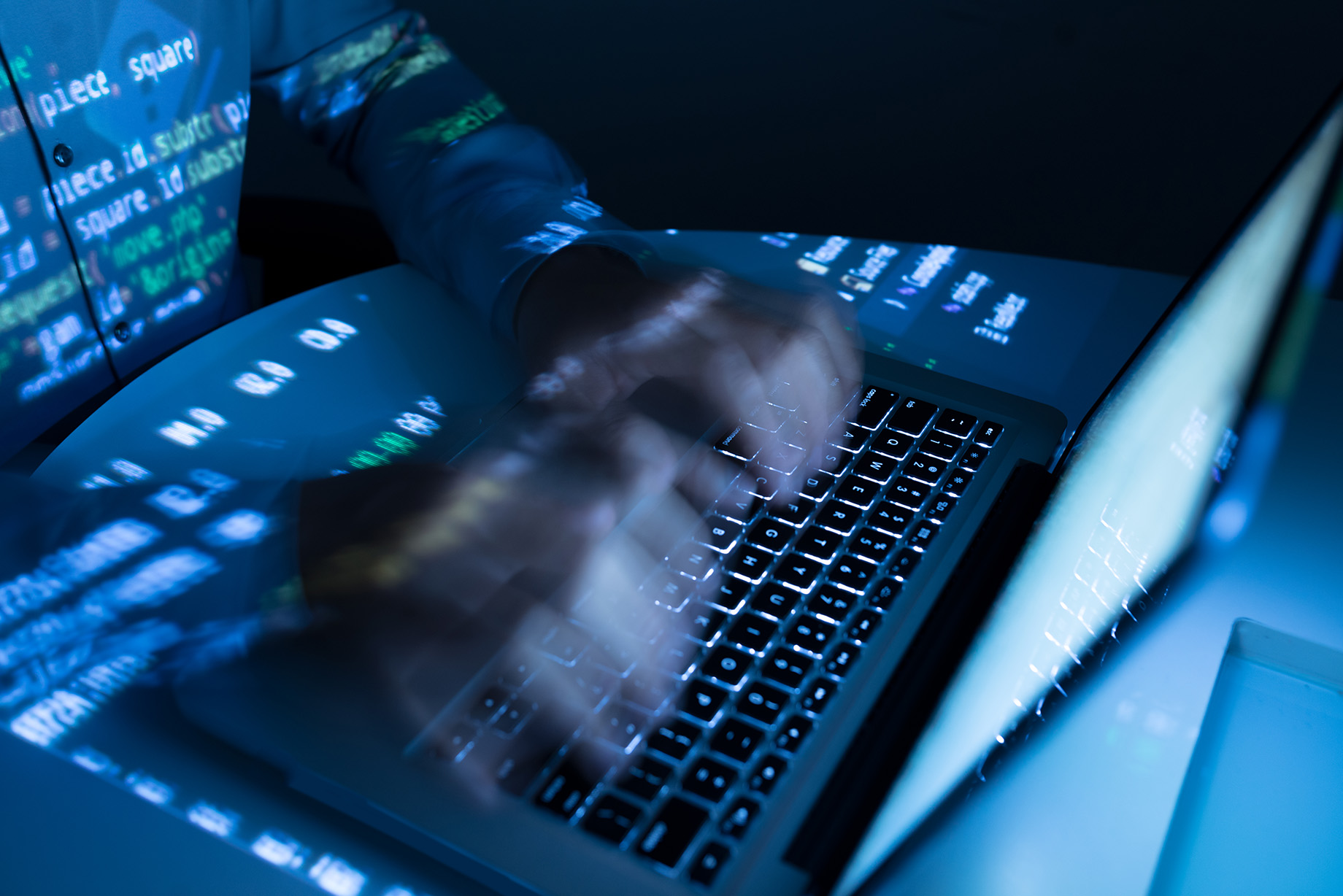 HelpNDoc 8.6 is dedicated to providing you with an even smoother and more reliable help authoring experience. We've addressed a range of issues to enhance overall performance, including optimizing memory usage in the TStringList script API, improving the speed and dependability of the documentation generation process, and implementing performance improvements in the HND project file format handler. Additionally, several bug fixes and stability enhancements have been applied across various aspects of the software, such as the library item's project analyzer, anchor editor, and custom template handling. With HelpNDoc 8.6, you can now enjoy a faster, more stable, and more efficient help authoring environment, empowering you to create high-quality documentation with ease.
Want to create great documentations?
HelpNDoc is free, fully functional, and easy to use.
Produce your first multi-format documentation in the next minute or so.
We encourage you to download the free personal edition of HelpNDoc and experience these remarkable improvements for yourself. If you find that HelpNDoc meets your needs and elevates your documentation projects, consider purchasing a license to unlock the full potential of this versatile help-authoring tool. By investing in a HelpNDoc license, you'll gain access to even more advanced features and dedicated support, ensuring that you can continue to create exceptional documentation that sets you apart from the competition. Don't miss out on the opportunity to revolutionize your help authoring experience – try HelpNDoc today!
Change log
Version 8.6.0.462 – Release date: Apr 18, 2023
New built-in image editor which can be used to produce multi-layered images from within HelpNDoc while maintaining the ability to edit layers at any time (Beta)

New script to update topic's description throughout the project by replacing an old textual content with a new one

Fixed security vulnerability issue with the default HTML template

Library item's project analyzer incorrectly reported equations as broken throughout the project

Hooks were not working anymore in HTML based templates

When using the default HTML template, hyperlinks to Internet addresses were always opened in a new tab / window

Application could crash at startup when the custom template folder included sub-folders with unknown template kinds

Using the anchor editor, it was not always possible to navigate to an anchor, or delete it when it was placed within a table

Fixed HndUI.GetCurrentLibraryItemId which wasn't available from scripts

Script property TStringList.Objects didn't work as expected

Clarified confusing license related messages to make them more helpful

Faster operations when software and scripts are dealing with the equation library item

Bug fixes and reliability improvements in script engine

Improved memory usage of TStringList script API

Improved speed and reliability of generation documentation process

Performance and reliability improvements in the HND project file format handler

Improved documentation for the built-in script and template engine
See also...
---