In the realm of technical writing, having robust, efficient, and user-friendly tools at our disposal is paramount. That's where HelpNDoc shines. As a remarkable help authoring tool, it makes the intricate process of documentation more streamlined and effective. Staying true to our commitment to continuous improvement, we're thrilled to present the latest version of HelpNDoc – Version 8.7. It's not just about adding new functionalities; we have also dedicated efforts to enhance the user experience by rectifying issues and optimizing overall performance.
HelpNDoc 8.7 is packed with powerful features that redefine the way technical writers manage their documentation. The new version significantly enhances the process of importing folders and sub-folders by recreating the folder hierarchy in the project's table of contents. Alongside, we've introduced advanced template overrides, offering an exceptional level of customization to meet your diverse documentation needs and much more.
In the sections to follow, we'll walk you through these exciting updates and delve into how they empower technical writers to create and manage documentation more efficiently. But first, if you haven't used HelpNDoc before or haven't updated yet, we encourage you to download the free personal edition to try out the software and experience these new features for yourself.
📂 Redefining Import Functionality: Hierarchical Folder Imports
The enhanced folder import feature now recreates the original folder hierarchy in your project's table of contents, boosting efficiency and organization in managing complex documentation projects.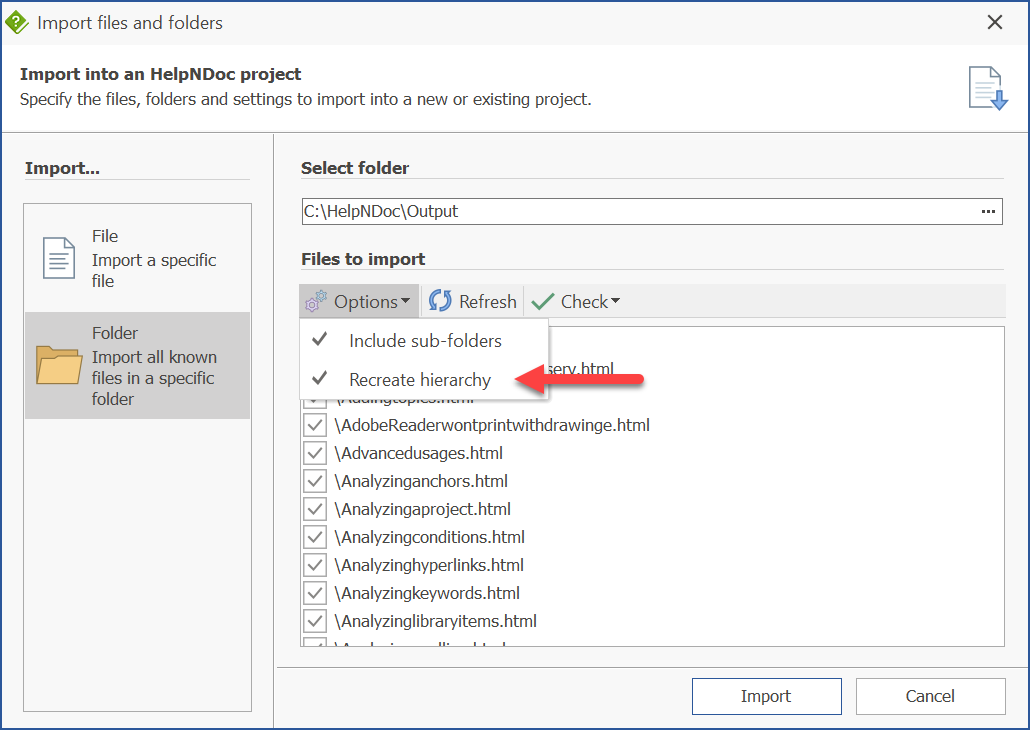 In the latest HelpNDoc 8.7, we've made substantial improvements to our folder-importing functionality. Now, when you import multiple files in folders and sub-folders, the tool can recreate the same folder hierarchy in the project's table of contents. This feature is designed to enhance organization, save time, and reduce manual labor in your documentation process. It saves valuable time by eliminating the need to manually reorganize topics, as it automatically mirrors the original folder hierarchy in the project's table of contents.
🛠️ Advanced Template Overrides: Avoid Creating Custom Templates
HelpNDoc 8.7 introduces advanced template overrides, a time-saving feature that allows for flexible and efficient customization of HTML-based templates without the need for creating brand-new custom templates.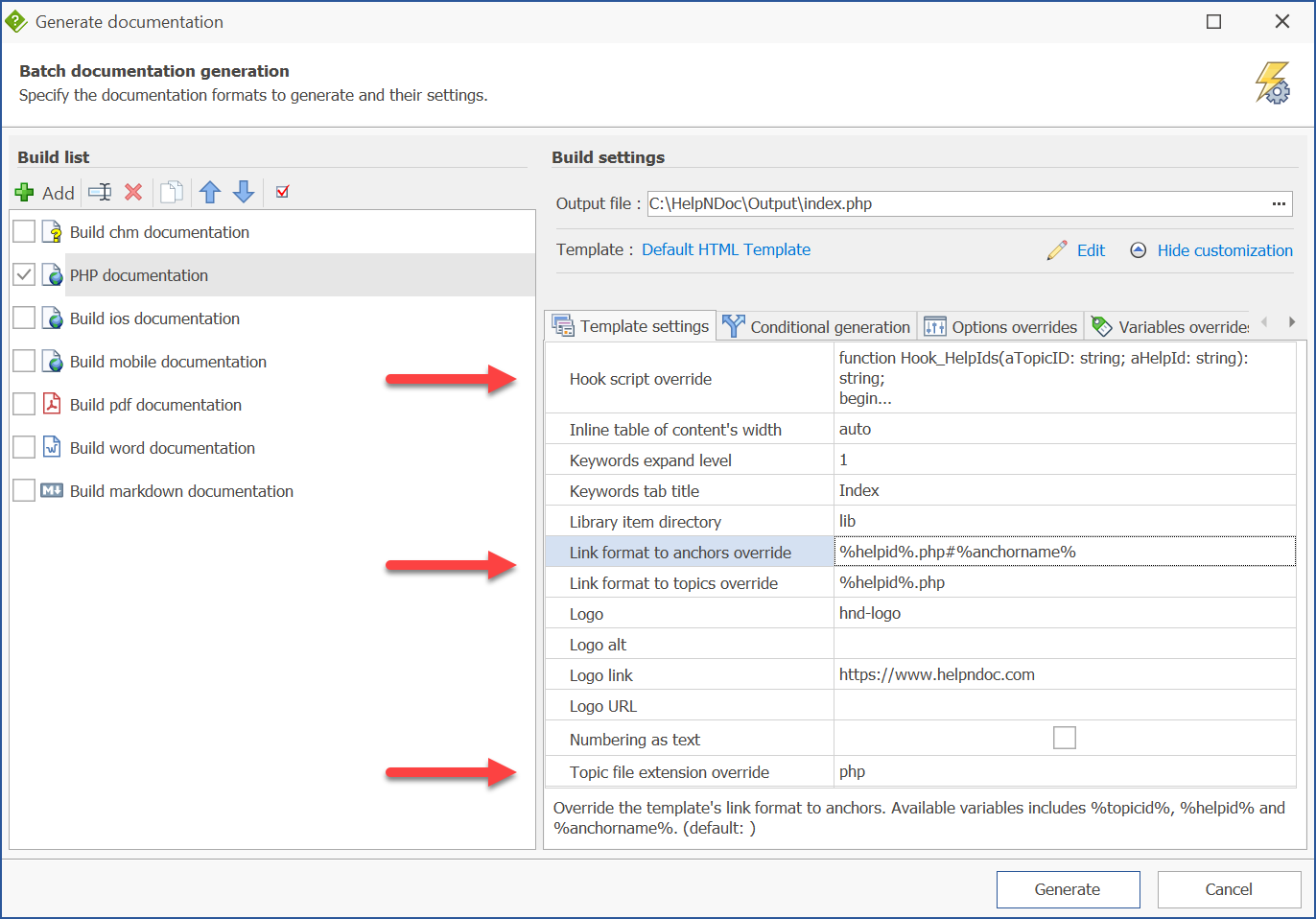 In our continuous effort to streamline and enhance the customization process, HelpNDoc 8.7 introduces the feature of advanced template overrides. This powerful upgrade allows you to tweak the settings of HTML-based templates, such as hook scripts, link formats to topics and anchors, as well as topic file extensions, right from the template settings tab. The beauty of this feature is that it eliminates the need to create an entirely new custom template, thereby saving you time and effort. It offers a more flexible and efficient way of managing template customization, ensuring that your documentation perfectly fits your requirements while reducing the workload involved.
Thanks to this feature, technical writers can easily and rapidly customize the filename of topics for SEO purposes, without the need to create a new custom template.
➗ Unleashing Mathematical Potential: Enhanced Math Editor in HelpNDoc 8.7
The HelpNDoc 8.7 update introduces notable enhancements to the math editor, including a more intuitive virtual keyboard layout, improved expression drawing, better navigation, and faster overall performance, simplifying the inclusion of precise mathematical content in your documentation.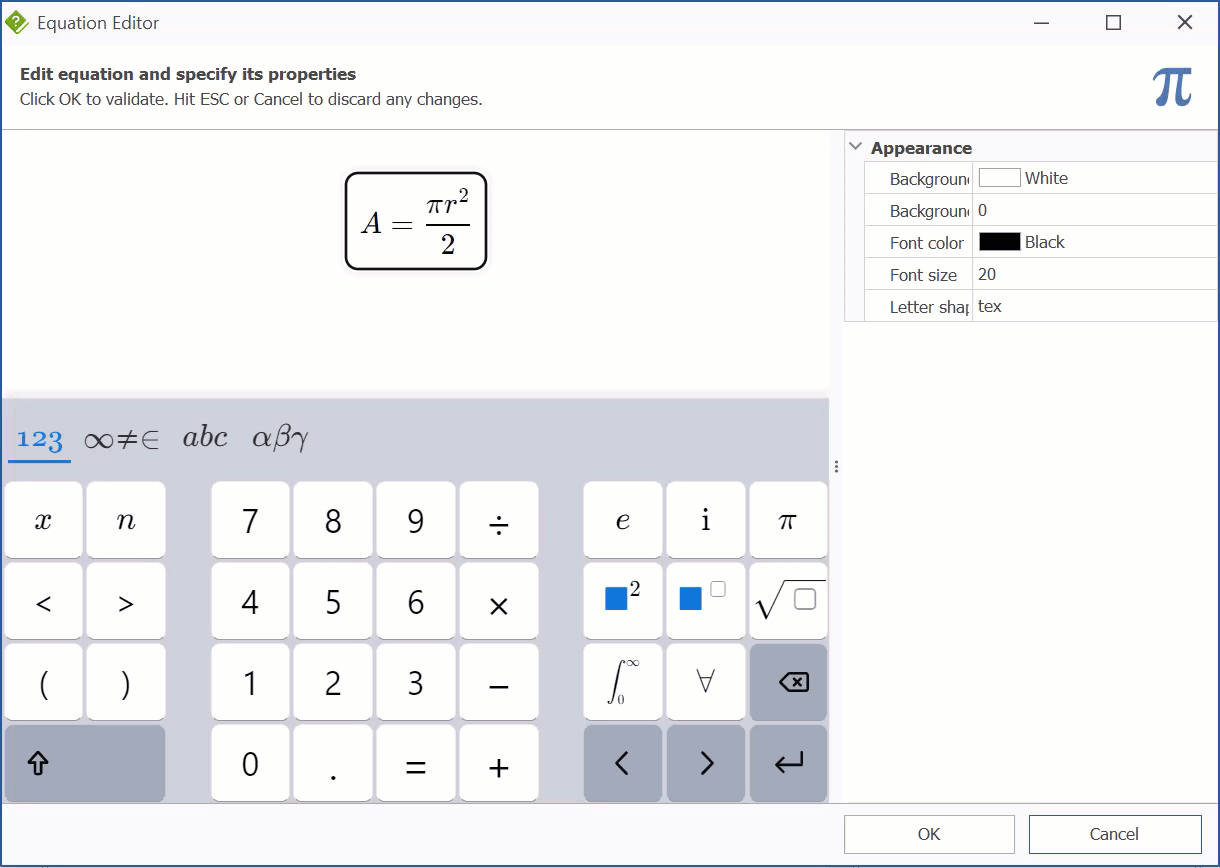 To further empower technical writers dealing with mathematical content, we've introduced significant improvements to the math editor in HelpNDoc 8.7. The mathematical equation's virtual keyboard has been revamped, offering a better layout, support for alternative keys display using the SHIFT shortcut, and overall, faster performances. This means you can craft complex mathematical expressions with more ease and efficiency. Additionally, we have made substantial improvements to the drawing of mathematical expressions and better handling of arrow navigation keys. These enhancements, combined, offer a more intuitive and responsive user experience, making it easier than ever to incorporate precise, high-quality mathematical content into your documentation.
🔥 Additional New Features and Fixes in HelpNDoc 8.7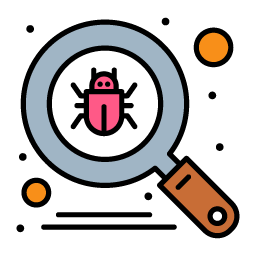 HelpNDoc 8.7 introduces additional new features and fixes including enhanced zoom control in the topic editor, improved conversion of topic content to library items, resolved issues in anchor editor dialog, more reliable ePub generation, fixes for memory leaks, and more…
In addition to the major improvements discussed, HelpNDoc 8.7 also brings a host of other new features and bug fixes to further enhance your user experience. A notable feature is the ability to control the zoom level of the topic editor using a combination of the CTRL keyboard shortcut and the mouse wheel. This gives you finer control over your workspace view, helping you focus on the details that matter.
On the bug fix side, we've resolved issues with the anchor editor dialog and improved the process of converting topic content to library items. We've also fixed the problem with the CTRL + 0 shortcut, which now correctly resets the topic editor's zoom level. Furthermore, the ePub generator now handles empty topics correctly, and we've addressed memory leaks in the snippet editor. Additionally, we've enhanced scripting API definitions and documentation, providing better clarity and guidance for those who utilize these features.
Want to create great documentation?
HelpNDoc is free, fully functional, and easy to use.
Produce your first multi-format documentation in the next minute or so.
We are continually committed to making HelpNDoc a powerful and reliable tool that meets the evolving needs of technical writers worldwide. We believe that these updates further strengthen our commitment and provide our users with a tool that truly helps them create high-quality documentation with ease. We invite you to experience these new enhancements and fixes yourself. Download the free version of HelpNDoc 8.7 now to explore its features. If you find it useful and require it for commercial use, please consider purchasing a license. By doing so, you will gain access to the full suite of features that HelpNDoc offers, and you will be supporting the ongoing development of this valuable tool.
Change log
Version 8.7.0.500 – Release date: May 25, 2023
Importing folders and sub-folders can now optionally recreate the folder hierarchy in the project's table of contents

Revised the folder import user interface to make it clearer and easier to use

Improved LaTeX expression support in the mathematical equation editor

HTML based Templates can now specify the topic files extension to customize how topic files are generated

It is now possible to override hook scripts, link formats to topics and anchors, as well as topic file extensions for all HTML based templates from the template settings tab without the need to create a new custom template

Use the CTRL keyboard shortcut and the mouse wheel to control the zoom level of the topic editor

Template hook scripts do not need to start with "<%" and end with "%>" anymore

Greatly improved mathematical equation's virtual keyboard: improved layout, support for alternative keys display using the SHIFT shortcut, faster overall performances

Multiple bug fixes in mathematical equation editor: fixed and improved expression drawing, better handling of arrow navigation keys...

Better conversion of topic content to library items as some items were not converted, and the number of converted/deleted items wasn't disclosed

The anchor editor dialog wasn't always able to locate and delete anchors

Faster and more reliable file and folder import process

The CTRL+0 keyboard shortcut didn't reset the topic editor's zoom level

ePub generator didn't correctly handle empty topics

Fixed memory leaks in snippet editor

Improved scripting API definitions and documentation

Anchor editor now gives focus to anchor name input field when shown
See also
---