HelpNDoc help file
HelpNDoc's documentation is available in multiple formats for online browsing or for download. Browse HelpNDoc's help files — created by HelpNDoc — to learn how to use it.
Step-by-step guides
Follow the guides to learn how to use HelpNDoc and be more efficient when creating help and documentation projects.
Manage HelpNDoc projects
Manage the table of contents
Maintain properties of your topics
Manage keywords
Manage the library
Generate documentation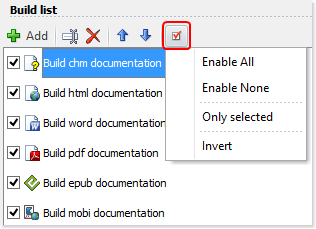 HelpNDoc gives you the flexibility and control to determine which of your builds are published when you generate documentation. When you enable a build, it is generated when you use your build list. You also have the option to temporarily disable a build to prevent it from being generated. This flexibility permits you to maintain builds in your build list without requiring you to publish them each time you generate documentation.
Read More →
Use the live spell checker
Manage hyperlinks
Using the report template editor
Using the project analyzer
Conditional content generation
Use the script editor
Manage styles
Image Editor
Format conversion
License management