Step-by-step guide: How to access the keywords panel
HelpNDoc's user interface is very flexible: it is possible to show or hide some panels to save some space and avoid distractions. Let's see how to access the keywords panel.
There are two simple ways to access the keywords panel: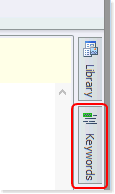 Option 1
Click Keywords along the side of your page. This displays your keyword panel.
Option 2
Press the control key on your keyboard, and then press F5. This displays your Keyword Panel.
---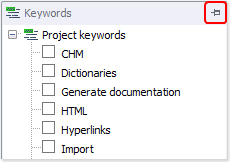 To pin the keyword panel, click the thumbtack in the upper right-hand corner. To collapse the Keyword Panel, click the thumbtack again.
---
Now that the keywords panel is accessible, let's see how to create new keywords to provide organization in your help and documentation projects.