Step-by-step guide: How to maintain your spell check settings in HelpNDoc
HelpNDoc puts you in control of the spell checker settings. It is easy to view and maintain your dictionary settings, update your custom dictionary, and activate the dictionaries that you'd like to use to spell check your projects.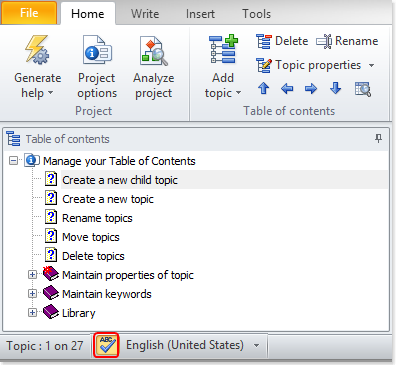 Step 1
Click the change spelling options in the lower left-hand corner of HelpNDoc's main window.
---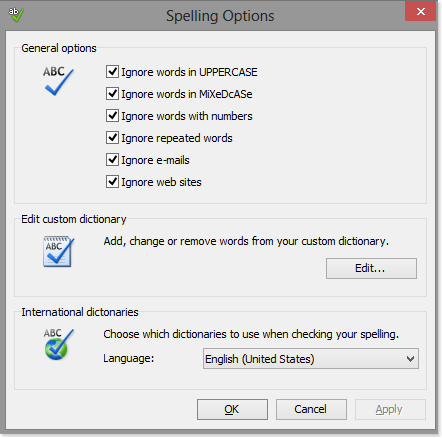 Step 2
This displays your spell check settings.
General options Select the options that you'd like to apply when HelpNDoc checks spelling. This displays a check mark in the box, indicating that the condition is active.
To deactivate a condition, click the check mark to remove it.
Edit custom dictionary
Click Edit to view, add, update, and remove words in your custom dictionary.
This displays a window that lists the words in your custom dictionary.
Click OK to save your updates and close this window.
International dictionaries
You may activate and deactivate dictionaries to determine which one(s) will be used to spell check your project.
Click the downward arrow to the right of the current dictionary to activate or deactivate dictionaries.
---
HelpNDoc's live spell checker can easily be configured to fit your specific requirements and help you write your documentation projects: with customized spelling options, custom words and a wide range of dictionaries available, you're ready to produce the most reliable help and manual files.
See also