Overview of the ePub eBook format
The ePub – or Electronic Publication – format is a free and open eBook standard which can be open and viewed on the vast majority of tablets and e-readers such as the iPad.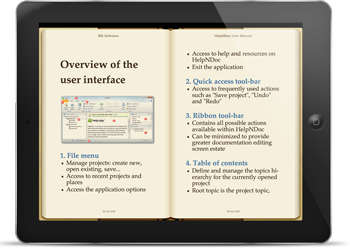 Creating an ePub file is usually a lengthy and error prone process. It involves following strict specification rules which can be summarized as follows:
Code and write multiple XHTML files, one per chapter
Link to external pictures, videos and other medias without visual feedback
Handle complex configuration XML files to order chapters
Package the whole content as specified to make it widely compatible
eBook authoring tools reduce the time and efforts needed to produce ePub files by providing all the necessary features to write and publish eBooks in a single self-contained application.
How writers and editors produce ePub eBooks
Single source authoring tools such as HelpNDoc allow writers and editors to concentrate on writing the most amazing books without losing time to produce deliverables for the multiple tablets and e-readers available on the market. HelpNDoc simplify the authoring process by providing a full environment to write and publish standard ePub eBooks effortlessly.
Why HelpNDoc ?
HelpNDoc is very easy to use
HelpNDoc provides a complete WYSIWYG authoring environment
HelpNDoc can generate multiple eBook formats such as ePub and Mobipocket / Kindle
HelpNDoc can also generate PDF and Word documents without any extra work
HelpNDoc is fast and robust, handling hundreds of chapters efficiently
HelpNDoc is versatile and allows extreme tailoring of the generated eBooks' look and feel
HelpNDoc is completely free for personal use and evaluation purposes
Download HelpNDoc now – No trial period, no sign-up, it's Free !
See also