Make your books, documentation and manuals readable on the move
The Amazon Kindle is one of the most popular e-reader world-wide but it doesn't support the most popular eBook format: the ePub standard. Fortunately, HelpNDoc can generate eBooks compatible with the Kindle.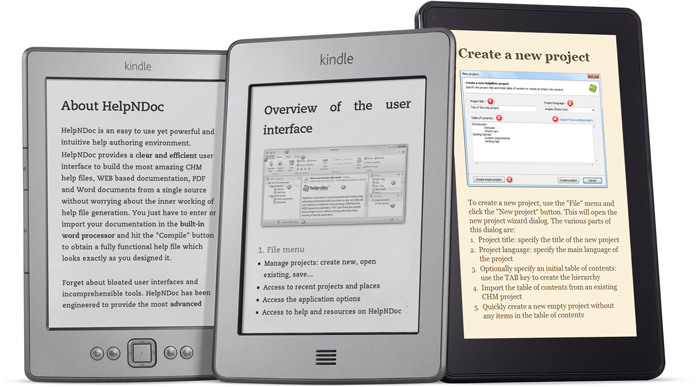 Kindle users love it for its great readability, amazing battery time and small weight. Its characteristics make the Kindle a great reading device either at home or on the move and most Kindle owners won't stand reading anything on a computer screen and would rather transfer and read on their e-reader.
No matter which model you are targeting: the Kindle, Kindle Touch and Kindle Fire will be happy to display the book, manual or documentation you have been writing using HelpNDoc for its reader's pleasure.
Simplify your eBook writing process to gain time
HelpNDoc provides all the tools needed to simplify the writing process and concentrate on the most important part of your publication: its content.
Define and refine the table of contents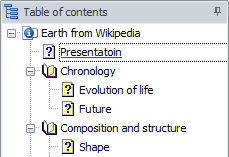 The table of contents defines the logical flow of the publication by focusing on the hierarchy of chapters and topics. HelpNDoc simplifies that process by providing a one-click operation for topic creation and easy drag and drop topic movements to refine the table of contents: changing the whole order of a book's chapters takes only a few seconds. HelpNDoc also provides a live spell checker for topic captions as well as management actions such as topic renaming and deletion.
Write content in a productive environment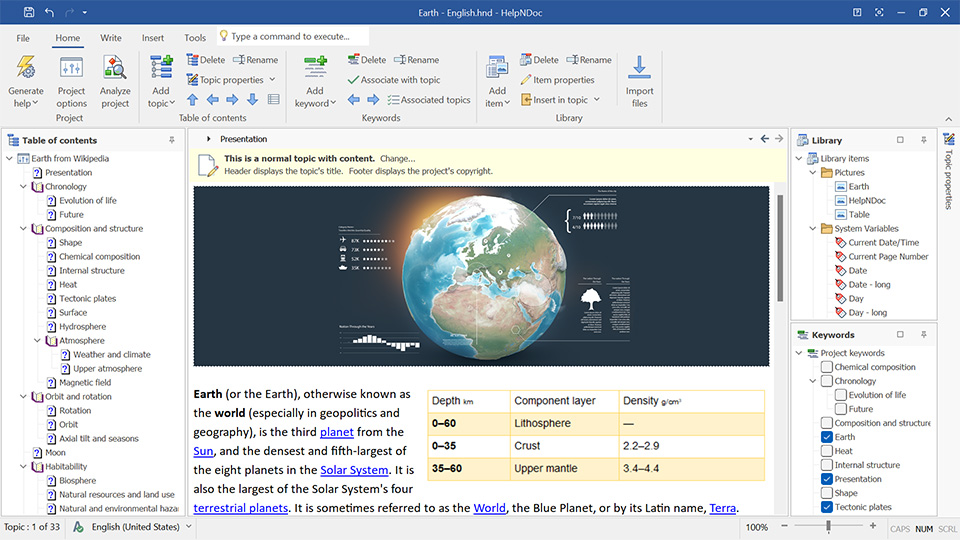 HelpNDoc provides all the tools needed to concentrate on what matters: writing great content. From the library of reusable media items to the fully WYSIWYG Word-like editor, speed up your writing process by focusing on the content of your publication. HelpNDoc handles global reusable styles, advanced text and paragraph formating. It supports tables, pictures, user-defined variables and much more in a clean, elegant and well-thought user interface.
One-click Amazon kindle eBook generation
Once you're satisfied with the content and layout of your publication, you'll need to generate a file compatible with the Amazon Kindle — it can't read the standard ePub format, only the MobiPocket format. And once again, it couldn't be easier than hitting a button to generate the whole eBook: HelpNDoc will take care of everything for you by producing and packaging all the files necessary to create your own Kindle compatible eBook. That's it! Just upload your creation to your Kindle or share it online with your family, friends, peers or customers.
And there's more: HelpNDoc can also produce an ePub, PDF, Word, CHM or HTML version of your publication just as easily and without any further action on your part. Just choose the format you'd like to generate and HelpNDoc will do its magic.