Overview of Help Authoring Tools
Help Authoring Tools are used by technical writers (also called technical communicators) and software authors to design, create, publish and maintain help files, manuals and documentations.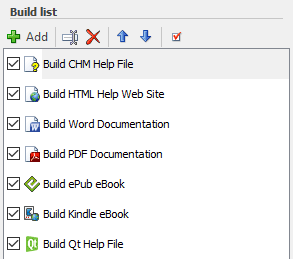 Help and manuals are often used to:
Provide technical assistance and user guidance for a specific product or product suit
Teach the use of a software, hardware or other goods
Provide educational course support during training sessions
Showcase a product or a service for advertisement purposes
Help authoring tools reduce the time and efforts needed to produce help files and documentation materials by providing all the necessary features to write and publish help manuals in a single self-contained application.
How technical writers use Help Authoring Tools
Single-source help authoring tools such as HelpNDoc allow technical writers to concentrate on writing the most complete and accurate help and documentation manuals without losing time to produce documentation for multiple supports. HelpNDoc can automatically produce online help (HTML help web-sites, compiled CHM help files, iPhone web-sites) and offline documentation (PDF and Word manuals, ePub and Kindle eBooks) effortlessly.
Why HelpNDoc ?
HelpNDoc is very easy to use
HelpNDoc provides a complete WYSIWYG authoring environment
HelpNDoc can generate multiple help and documentation formats from a single source
HelpNDoc is fast and robust, handling hundreds of help topics efficiently
HelpNDoc is versatile and allows extreme tailoring of the generated documentations' look and feel
HelpNDoc is completely free for personal use and evaluation purposes
Download HelpNDoc now – No trial period, no sign-up, it's Free !